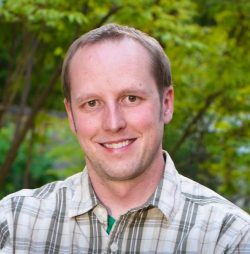 I woke up and looked out the bedroom window and my heart sank—another wet and dreary day. A few clicks on my iPhone didn't help the situation as the extended weather forecast for Portland, Oregon showed nine straight days of rain ahead. 
My wife and I were going stir-crazy trying to entertain our two young children indoors. We had to get out! I pulled up a weather forecast for the broader region and found sun predicted less than two hours away on the dry side of the Cascade Mountains. 
Day-packs and snacks were hastily thrown in the car. I grabbed my camera and a couple lenses and we headed east towards the desert and our best chance at a brief dose of vitamin D. 
We had no formal plan but to get some exercise and explore. I had an ulterior motive lingering in the back of my mind, though: I hoped to come home with one or two great stock images.
I've been selling stock photography for more than a decade now, specializing in outdoor-recreation-themed images. Many of my best-selling images were captured in situations like this one—a trip planned for fun and not specifically photography.
Through years of trial and error, I've developed a simple recipe for successful images that has suited my style perfectly. The first ingredient is to look for authentic situations that show people engaged in an activity. Overlay a visually stimulating setting and underlying themes like exploration, success, or togetherness, and the image will have strong sales potential. 
I've had many images top $1,000 in royalties, and I've lost track of how many are in three figures. Few of these shots were carefully planned out in advance, and most resulted from being prepared when the situation was right.
Back on our family outing, the day was waning and I had some great family memories captured but nothing I thought worthwhile to submit as stock. As we were getting ready to head back to the car, I turned around and there it was: the perfect stock photo opportunity.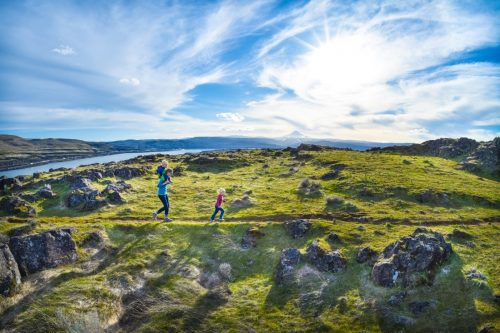 The sinking sun was shining through the clouds and providing beautiful backlight to the green grass and subtle topography of the terrain. Mt. Hood and the Columbia River loomed behind providing a sense of both place and scale. I had my wife and two children walk through the scene a few times to make sure I caught the perfect strides.
A quick review on the back of the camera for exposure and focus confirmed I got it. We bee-lined for the car and pizza on the drive home. My heart felt satisfied from a fun day with the family and at least one image that I knew had great potential as stock. Maybe the rain wouldn't be so bad tomorrow after all.
[Editor's Note: Learn more about how you can fund your travels and make an extra income with photography, travel writing, blogging, and more in our free online newsletter The Right Way to Travel.  Sign up here today and we'll send you a new report, Five Fun Ways To Get Paid To Travel: A Quick-Start Guide, completely FREE.]