Breakfast Stock Club reader, Steve Collender, recently reached a pretty major milestone with stock photography…
He made his 100,000th stock photo sale on Shutterstock!
Congratulations, Steve — that's HUGE!
And to think he almost gave up after he was rejected in the beginning…
This kind of success is within reach for all of us as long as we keep photographing, uploading, and pushing forward with our goals. I've asked Steve to share some tips from his journey, below, to help us all catch up with him.
Finding Success with Shutterstock
Interview with stock photographer, Steve Collender
Bonnie: Overall, how would you say that stock photography has affected your life?
Steve: Stock photography has not only increased my income by about a third but it has also helped me be more critical of my own work. I can really see the difference in comparing the photos from when I started to now. Also, it helped me keep goals that I had with photography that I know I wouldn't have achieved if I did not get started with stock.
Bonnie: That's great! What are some things you've been able to do with your stock photo income?
Steve: I've been able to upgrade my equipment continuously, and buy a few toys — like a Harley Davidson and a nice motorhome that I wouldn't have bought without the extra income. I put my daughter through school, and I was also able to pay rent on an extra apartment in New York when I was transferred there. Income still continues to come in every month even though I haven't uploaded much in the last couple years.
Bonnie: If you could go back and give a piece of advice to yourself when you were just starting, what would it be? Would you do anything differently?
Steve: If I could go back to when I started, I would have kept trying to get into the top agencies instead of quitting after the first rejection like I did. It took me almost two years before I got up the guts to try Shutterstock again and that is two years of income that I lost because I did not have the guts to try again right after the first rejection.
Bonnie: What's next for you?
Steve: I originally was a cinematography major in college, so I would like to start getting a large video portfolio going, while also growing my photography portfolios at all the agencies I contribute to.
Bonnie: Could you share your best-selling photo on Shutterstock?
Steve: I have several best-sellers at Shutterstock. Here's one of them: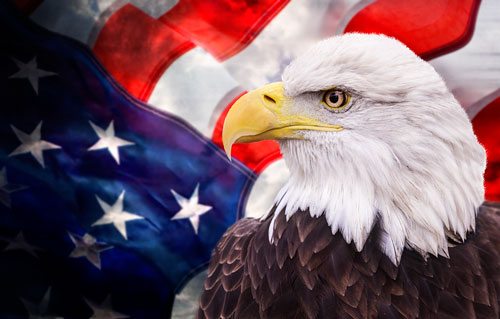 Bonnie: And could you share your favorite photo you took for stock?
Steve: This is one of my favorites: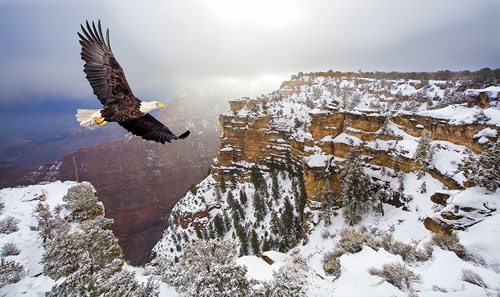 It's another composite, but the eagle in the photo has sold thousands of times and has made the cover of a National Geographic book and several other publications.
Bonnie: Wow! Finally, can you share your favorite moment through this whole journey?
Steve: I think my favorite moments have been meeting the people I have met along the way and being able to help people get started in stock and watch their success.
Bonnie: Thanks Steve, and congratulations!
Editor's Note: Learn more about getting started selling your photos online in stock agencies – no matter how much or little photography experience you have – in the Breakfast Stock Club e-newsletter. It's once a week, and it's free to join, here.