Cornilleau (France) Catalog, 2014-2015 English Edition, page 7. Sometimes the strangest scene turns out to be one that wins the academy award. And the winner is…a Ping Pong® table on the wharf in Seattle? Who would have thought…
As an anthropologist, I enjoy learning about and interacting with new cultures. But, as a photographer, my interests focus mostly on landscape and historic architecture. Luckily, living overseas provides me with ample opportunities for both. But in early 2014, I decided to spend time with family in the Seattle, Washington area to photograph the historic waterfront.
During a mid-morning walk along the waterfront, I came upon something that seemed out-of-place, even for Seattle. The table tennis bench was unlike any I had ever used or seen. This was an industrial-strength, competition-grade bruiser of a table, permanently affixed to the wharf through steel cables and a cement-filled bucket.
Aside from the table and a few seagulls, the dock was empty, so I began taking pictures from different angles and exposures. I was just about to leave when I realized one of the signature icons of the waterfront—a large car ferry—was coming into frame. I quickly repositioned myself and began taking shots as the ferry glided past.
Later, I searched on Cornilleau and discovered the French company's website. After browsing the company's website and catalogs, I found the same high-end table tennis bench used for competitions and professional players. I thought it might be fun for the company to see where one of their pro tables ended up, so I sent a couple of the images to the public relations team. While my original intent was just to share the experience, the marketing manager returned my email with an offer to purchase the images for use in their 2014-2015 product catalog.
Below is the image that was used for their catalog: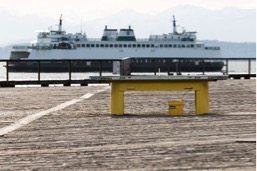 This spontaneous opportunity taught me a few tips on getting a photo published that I'd like to share:
Expected the unexpected. Always be ready to shoot. I almost never venture outdoors without my camera — even if I'm just taking the pooch for a stroll, it's with me.
Ordinary or extraordinary: Both sell. Don't just look for the most amazing objects, beautiful people, or spectacular sunsets. Sometimes, the ordinary or weird, is just (if not more so) what someone is looking for.
Get creative and have fun. If something catches your eye, then follow it through. Approach the scene from different angles (e.g., close-ups, from above, from below, from an angle, etc.). Try to get a mental picture of the scene as it would appear in a magazine, catalog, newspaper, or on television.
Take advantage of your own surroundings. You don't have to travel across the globe to get that award-winning shot. Photographers tell a story, and there are stories to be found on every street corner in every town or city. It's up to you to find those stories and bring them to life for others to enjoy through your photography.
Cold-calling doesn't have to be scary. Researching your client's audience or industry before a shoot is critical. But don't think you can't make a sale if you haven't already received the assignment. I had a company name, and, after I researched the company and identified the public relations point of contact, I sent a cold-call email—which leads to tip #6.
Watch out for logos, trademarks, license plate numbers, etc. Especially when engaged in street photography, scour your image for any possible logos, trademarked items, or legible license plates. For example, the yellow bucket that serves as the table's anchor had a bumper sticker for the Seattle Seahawks football team. This doesn't mean the image is unusable. You just need to go through a few more steps. In this case, I contacted the Seattle Seahawks front office and public relations team asking for permission to remove the logo (in post processing). I explained the purpose for the image and sent them the before and after for approval.
Know your pricing. One of my big lessons-learned from this experience was to know the value of my own work. I was completely unprepared for the quick response email asking for my terms for sale of an image that would appear in multiple-language catalogs for shipping around the world. If you're unsure, search out pricing on one of the many microstock websites to get a ballpark figure.
[Editor's Note: Learn more about how you can fund your travels and make an extra income with photography, travel writing, blogging, and more in our free online newsletter The Right Way to Travel.  Sign up here today and we'll send you a new report, Profit From Your Photos: A Quick-Start Guide, completely FREE.]