If you were a stock photo buyer, which of these two photos — taken in the exact same spot — would more likely catch your eye?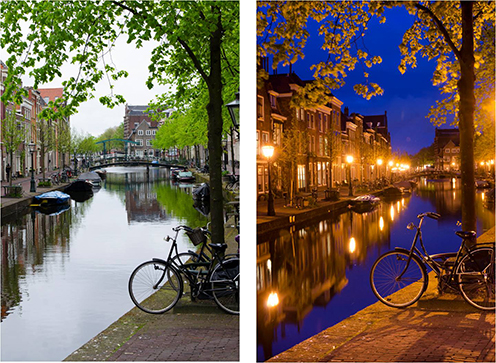 The second photo stands out and looks more "professional" than the first because of the deep blue hue in the sky. That's because I took it during what's called the "blue hour." One of the main reasons photos get rejected from stock sites is "bad light." It's easy to simply lift your camera, snap a shot, and leave without thinking about what kind of light you're getting. To sell more stock photos, try to do these two things, whether you're traveling or staying close to home:
Walk around with your camera and scout locations. Look for things you'd like to shoot and snap a few shots.
Go back to those spots when the light is just right and shoot again.
So when will the light be "just right"? For the above photo, I shot during what's called the "Blue Hour." In photography, the Blue Hour is the time just before sunrise and shortly after sunset, when the sky turns a deep cobalt blue. This usually works even if it's cloudy (as it was in the photo above). Our cameras do a great job of capturing the brilliant colors during this time of day. This is a perfect time for cityscape photography and reflections in water. You will, however, need a tripod, since it will be pretty dark out. Plan ahead by knowing sunrise and sunset times, and scouting your location. Arrive early to figure out your composition so that you'll be ready to make the most of the light and create some stunning photographs that could be great sellers for stock. Next week, I'll tell you about another magical time of day that's especially great for people photography. — Bonnie Bonnie Caton Creator, Breakfast Stock Club P.S. Did you know that by becoming a Premium Member of Breakfast Stock Club you join a community of people working to improve their photography skills through monthly Challenges and group photo critiques? You'll also get access to an ever growing library of photography guides, tips, and advice to help you along the way to selling your photos as stock. Check it out here.
Your Weekly Breakfast Dish
The Latest from Your Breakfast Stock Club Facebook Page From Candace Sinclair:
 Sold my first photo at Fotolia after getting approved one week ago. Yay! And PJ wrote in to say, "I took this photo at the Miami workshop a few years ago and thought it was interesting a property management company is using it in New York to advertise their business."