The alarm rang at 6:30 and I dragged myself out of bed, mentally preparing to start work early. It was going to be another full, hectic day with a lot to get done.
But while the sky was just starting to turn blue, I saw a mix of clouds and clear sky – the makings of a good sunrise.
Tossing work aside, I ran around the house looking for my tripod, shoes, memory card… and raced out the door, trying to beat the clock.
30 minutes later, I captured this: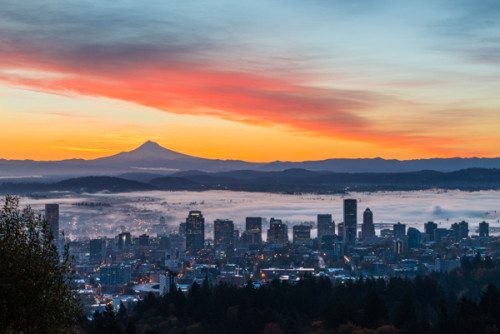 Bonnie here, again. This week, we're sharing photos of the things we're thankful for. If you missed yesterday's issue on how giving thanks makes you happier, you can read it here.
Today, I'm thankful for two things:

1. Those magical moments you get to yourself in the midst of a whirlwind life. Even if you have to race to the top of a hill at sunrise to get them.
2. Serendipity. That mixture of luck and will that gets you stuff like this. Lucky moments are around us all the time. But you have to actually get out of bed and put your shoes on to encounter them.
What are you thankful for today? Take a few photos of it and see if you can submit them to stock agencies… write an article… include them on your blog… or otherwise find the motivation you need! 
This one above is already up for sale in my portfolio at Shutterstock.com – yours could be selling somewhere by next week, too!
I'd love to see you post a photo of something you're thankful for on Facebook.  With all this political back-and-forth, it'd be a good reminder to those around you that we have a lot to be thankful for right here at home.
[Editor's Note: Learn more about how you can fund your travels and make an extra income with photography, travel writing, blogging, and more in our free online newsletter The Right Way to Travel.  Sign up here today and we'll send you a new report, Five Fun Ways To Get Paid To Travel: A Quick-Start Guide, completely FREE.]