Drum roll please… we have named our 2015 Photo Challenge Winner and recipient of the $1,000 Grand Prize!
And that Grand Prize winner is… Ian Carter for his photo titled "Break of Day on the Li Jiang."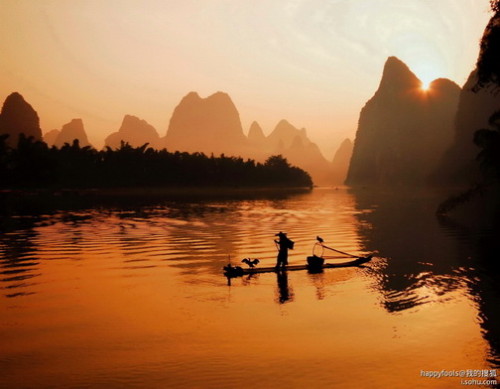 Here's what Ian had to say about the photo:
"The timeless beauty of the Guilin landscape and an alarm clock set for 3:30am rewarded me with this 'wish I was there' image of a Li River fisherman.  
"The city of Guilin is the gateway to this scenically rich region of Southern China.
"It is particularly attractive to photographers when the morning mists rise to reveal vistas of the Lijiang winding through the enchanting karst mountain-scape, or at sunset, when its celebrated panoramas are bathed in a warm, golden glow.
"It's been the inspiration of poets, artists, and philosophers for centuries, and today this breathtaking landscape is a photographer's paradise, where awe-inspiring images await you and your camera at every turn of the river."
And here's what a few of our pros had to say:
"The orange light is beautiful and the composition–with the fisherman on lower right side of the image–makes the picture more dynamic than simply centering everything." –Efrain Padro
"This is a stunning shot to be proud of, with great composition and perfect sun position and color. The spread wings of the bird really make it stand out. A perfect scene at the perfect time with great composition and subject." – Shelly Perry
"Great lighting, great placement of subject and lots of layering." –Mark Langford
Congratulations Ian!
You can see all seven finalist photos, as well as the semifinalist entries and staff favorites here. Feel free to add your own comments about the finalist photos at the bottom of the page.
Again, to all the participants, thank you!  This was not an easy decision as there were so many great entries.