After 12 weeks of maternity leave, I'm finally back in my broadcasting seat here at The Right Way to Travel, so I thought to pass along a few baby pictures (and some tips for getting better family photos).
I'm also back just in time to introduce our annual New Year's Eve Countdown…
Over the years, I've collected a number of travel tips that I've shared with you in this e-letter. Tips like using a key-ring as a luggage lock or a button to carry earrings. So it's become a tradition that we count down to the New Year with a travel tip-a-day where I share my latest finds.
For the next 16 days, from now until New Year's Eve, in lieu of your regularly scheduled e-letter, I'll send you a short, useful travel tip. Some will be about traveling. Some about writing. And some about photography — like today's (somewhat longer) tip where I conveniently threw in a couple holiday pictures of Charlie, my little girl.
Don't forget to scroll down.
Enjoy!
— Lori
Lori Allen
Director, Great Escape Publishing
P.S. In addition to our travel tip-a-day, I'm going to include in each day's dispatch a short profile of one of our favorite resources, too. A proven tool you can use to help you transform your dreams of getting paid to travel into a reality in 2010.
*******************************
December 16, 2009
The Right Way to Travel
Holiday Travel, Writing, or Photo Tip #1
*******************************
Holiday Tip #1: Lighten Up
By Shelly Perry in Portland, OR
Whether you're working with bright studio lights, natural light through a window, or in the shade under a tree, it's important to check your camera's histogram to be sure you're getting the correct amount of light on your subject.
Usually hidden in one of the menus on your camera is a histogram function you can choose to show up on the back of your camera when you take a picture. It looks like a simpler version of the histograms you see below — a rectangle with peaks and valleys in it.
If your image is over- or under-exposed, the peaks and valleys inside the rectangle will be "clipped" on either end, looking as though they extend beyond the edges of the histogram. "Clipped" means that there are areas of total black or total white in your picture. And sometimes, this can affect the sale of your image. Especially if you're planning to sell your photo as stock (fine art buyers and magazine editors are usually more forgiving).
Take this photo, for instance…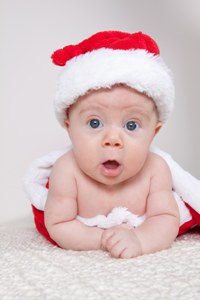 In a photo editing software program like Adobe Lightroom, you'll find a histogram in the "develop" mode.
One look at the histogram for this above image, and we can see that the peaks in the histogram move toward the right but don't go over the edge. They go just up to it: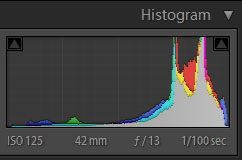 This means that there's white in this picture but it isn't so white that it doesn't have any detail left. You can still see fur in the hat and blanket — they're not completely blown out.
Look what happens when I lighten a similar photo up and the peaks on the histogram fall all the way over to the right…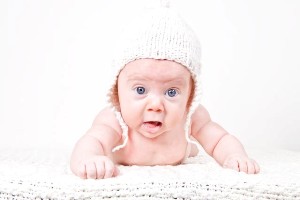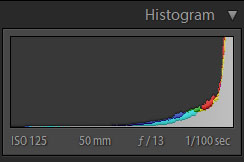 Notice how you can barely distinguish the white in the baby's hat from the white on the wall behind her. That's what we call "blown highlights," or whites that are "blown out."
This is something that's easy to see when we look at the full picture on our computer AFTER the shoot. But nearly impossible to see on the small LCD screen on the back of our cameras while we're shooting.
That's why it's important to set your camera up to show you the histogram when you first take the picture. While you may not be able to tell whether or not the hat is distinguishable from the wall on your camera screen, you can certainly see that your histogram falls too far over to the right. Check your manual to find out how to see your histogram after you take a picture.
Here's another tip…
On most cameras, you also have the option of seeing "blinking highlights" on the screen after you take a photo. When you turn your blinking highlights on, he bright white areas blink red so you can see which areas of your photo are too light.
One look at the blinking highlights in this picture tells me that there's too much light on the main subject (the baby). The blown highlights (that is, those that fall off the edge of the histogram and contain no detail) are shown in red here and will blink on and off on the back of your camera: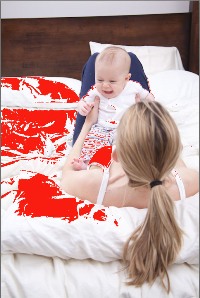 Having areas of no detail on your subject is a bad thing when it comes to selling your photos as stock (again, it's not as bad when you're selling to magazines or fine art buyers).
If I see this kind of blinking on my subject, I know I need to adjust my exposure.
In this next picture, the red area indicates that we've lost some detail in the white wall in the back — but mom and baby are ok: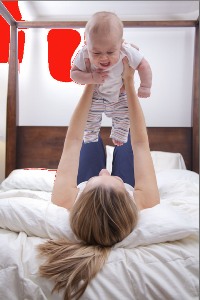 As long as the blown out areas aren't on your subject, sometimes you can get away with this in stock. That is, if all your other elements are ok, including composition, interest, and focus.
So, take some time to find these tools in your camera manual and learn how to turn them on and off.
And, most importantly, break out your camera this month and get some holiday photos. One of the great things about honing your photography skills is that it's not just about making money with your photos. It's about cherishing times like this with your family and friends.
Happy Holidays and Happy Shooting!
[Editor's Note: Learn more about how you can turn your pictures into cash in our free online newsletter The Right Way to Travel. Sign up here today and we'll send you a new report, Selling Photos for Cash: A Quick-Start Guide, completely FREE.]