How to Photograph Performing Art: Day 2, AWAI Photo Expedition in Bali, Indonesia
In Bali, men and women will often wear a Western-style shirt on the top and a traditional sarong on the bottom, like our guide Wayan: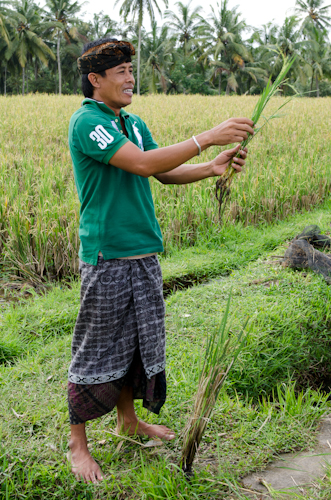 Certain statues and trees wear sarongs, too, but theirs are made of black-and-white checkered cloth. The white squares represent good, the black squares represent evil, and the gray squares represent the balance between the two. Bonnie here, again, coming to you from our photo expedition in Ubud, Bali. Today we photographed the famous Barong Dance, watching the balance between good and evil play out in dance form. I'll let our instructor, professional photographer Rich Wagner, tell you more about it, along with a few tips for taking great travel photos of performance art, below. Take it away, Rich… ———————————– We are in the middle of the artistic and cultural center of Bali here in Ubud. Many of the surrounding villages specialize in one, and only one, craft. There's a stone-carving village, one for wood-carving, another has only weavers, and yet another is full of jewelry-makers. The one common denominator, however, is that everybody dances. The Balinese learn the history of their culture through elaborate dances. Starting at a young age, they watch and participate in the performances. Later some of them become dancers professionally. Others will choose a different craft or find another vocation. We've been fortunate enough to see two performances. At one we were even given access backstage to watch and photograph the dancers as they put on their elaborate makeup and costumes. Photographing performance art can be tricky. If you are to truly capture the spirit of the motion, you can't use a very fast shutter speed. That would be like photographing a waterfall and freezing each droplet in time. I prefer to show the fluid motion in a waterfall by slowing the shutter. But dancers are tricky. Too slow and they are nothing more than a blur. Too fast and they are frozen statues. I find a speed between 1/30th and 1/80th of a second to be just right most of the time. At that setting, only the faster motion is blurred, like the swirl of a dress or the blur of arms in motion. But the important parts — particularly the head and eyes — remain in perfect focus. To make life easy, I set my ISO to auto and let the camera decide when it needs to boost the sensitivity. With my mode dial set to TV (time value) or S (shutter), I can decide what shutter speed I want and let the camera automatically choose the aperture. I have nothing to worry about but concentrating on my composition and looking for the "decisive moment" all photographers seek. Here are two examples from our journey. In each case, the majority of the photo is perfectly focused, but a part shows the motion blur. Like cooking, you can season to taste with this effect, just vary your shutter from 1/30 to 1/80.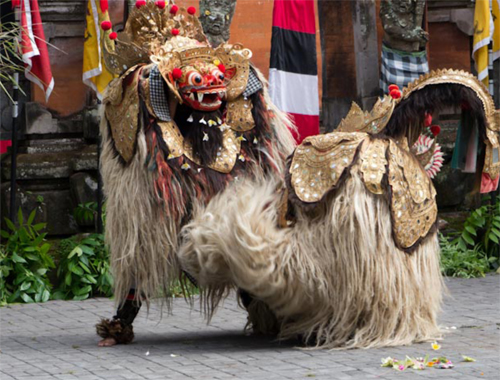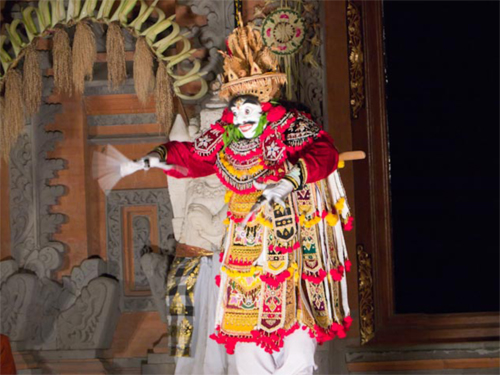 — Rich ———————————– Tomorrow we're headed north to Besakih, or what Balinese call "The Mother Temple," passing through rice paddies along the way and stopping to shoot the countryside. Stay tuned — I'll send you a new tip for taking great travel photos you can sell. Every day, we're discovering new things about Balinese culture, sampling different foods, and taking the kinds of photos our friends will drool over.  The best part, though, is looking forward to making an income from this amazing, fun-filled, freewheeling life. What could possibly be better? [Editor's Note: Learn more about how you can turn your pictures into cash in our free online newsletter The Right Way to Travel.  Sign up here today and we'll send you a new report, Selling Photos for Cash: A Quick-Start Guide, completely FREE.]