How to read a histogram… in Thailand
We've got plenty of sunshine here in Chiang Mai. My friends are home in D.C. bundled in jackets, hats, and scarves, and I'm here in Thailand welcoming a sweet 87 degrees, riding elephants in a tank top. But 87 degrees isn't all fun and games in photography.  In fact, the harsh light makes it very hard to see the back of our cameras to know if we got the exposure right. It's never a good situation when you arrive home after a day of shooting and upload your photos onto your computer to realize they are all mostly overexposed or underexposed. To avoid this, our expedition photographer, Daniel Nahabedian, gave us a mini course on how to read a histogram. Here's how it works… By definition, a histogram is a visual representation of the light and dark pixels in your photo. It looks like this…
The left side of the graph represents the shadows, the middle part of the graph represents the midtones, and the right side represents the highlights. The closer to the left edge the pixels are, the darker they are, and the closer they are to the right side, the brighter they are. In an ideal shot, the histogram should cover the whole graph from edge to edge. This means that you are covering a wide tonal range which makes it easier to work on images.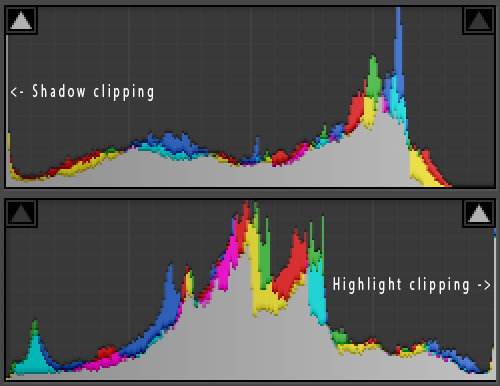 When a lot of your pixels are pressed against the very left or very right edges of the graph, it's called "clipping" and is something that should be avoided. Those pixels are either pure black or pure white and contain no information, making them unrecoverable during post-processing. (Note: Sometimes it's just unavoidable, especially when you have a lot of sun like we do this week or a completely black sky like we did at the Yi Peng festival.) Because every photo is different, there's no ideal shape of a histogram and every histogram is going to be different. Here are a few of Daniel's images with an explanation of the histogram that goes with each: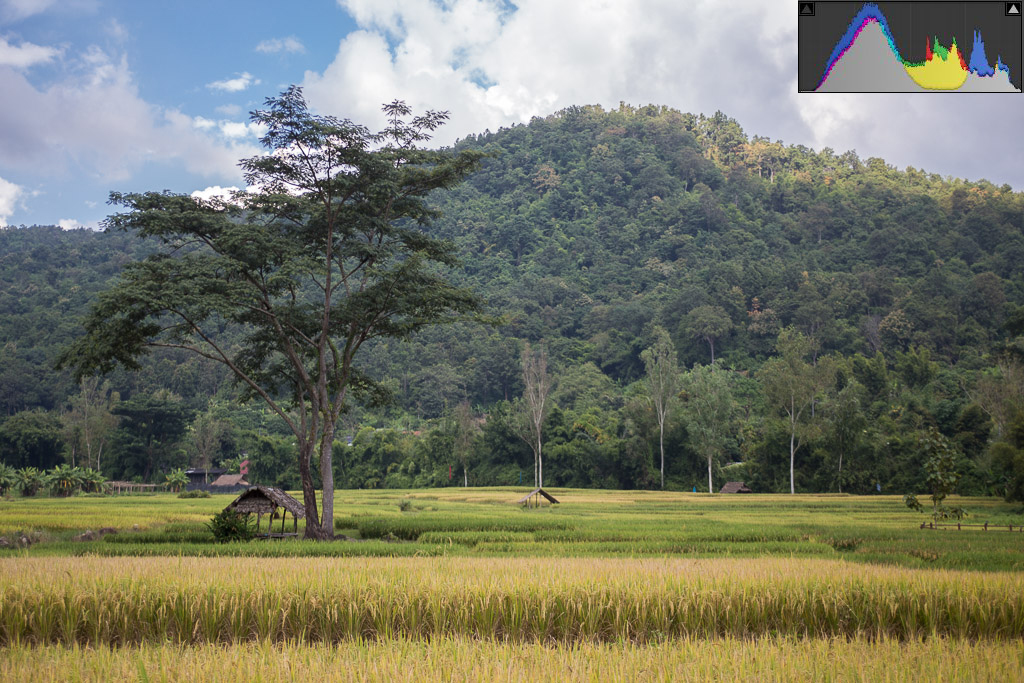 The histogram for this photo is stretched from left to right, creating a pleasing exposure with everything — shadows, midtones, and highlights.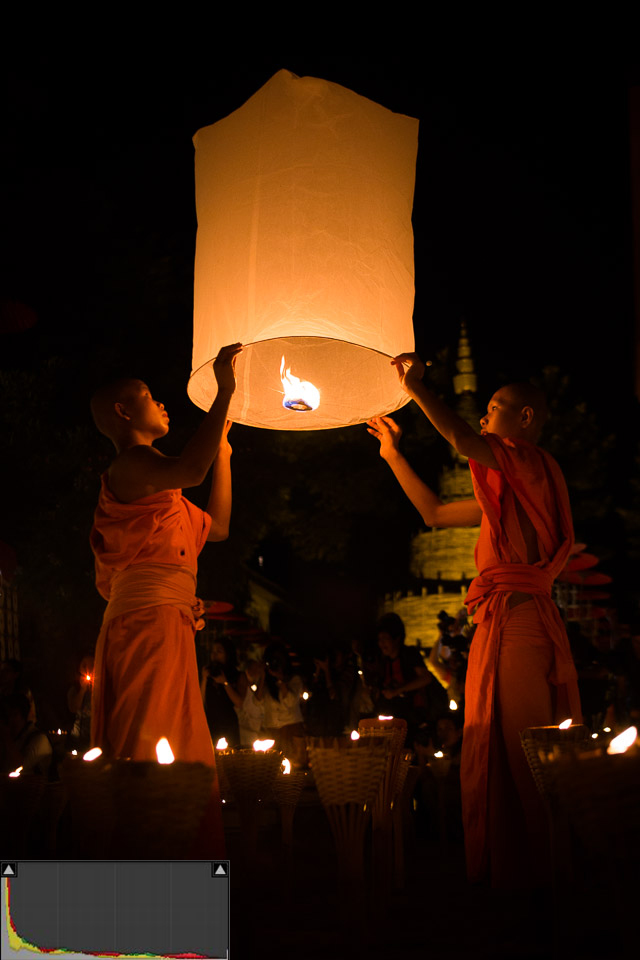 Even though the histogram is completely pushed to the left with almost no pixels on the right, the image is still the way it should look: dark with just the monks lit by the lanterns.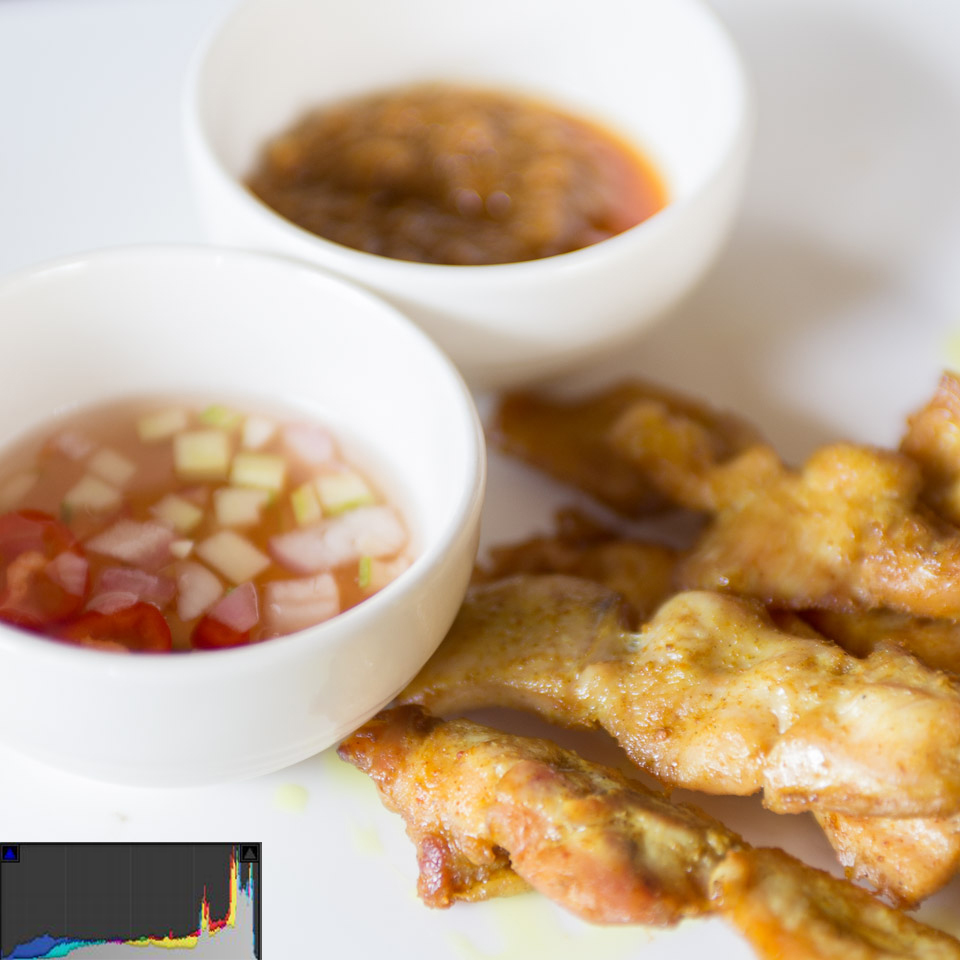 The histogram is pushed towards the right with very few shadows. The image is bright but without any clipping.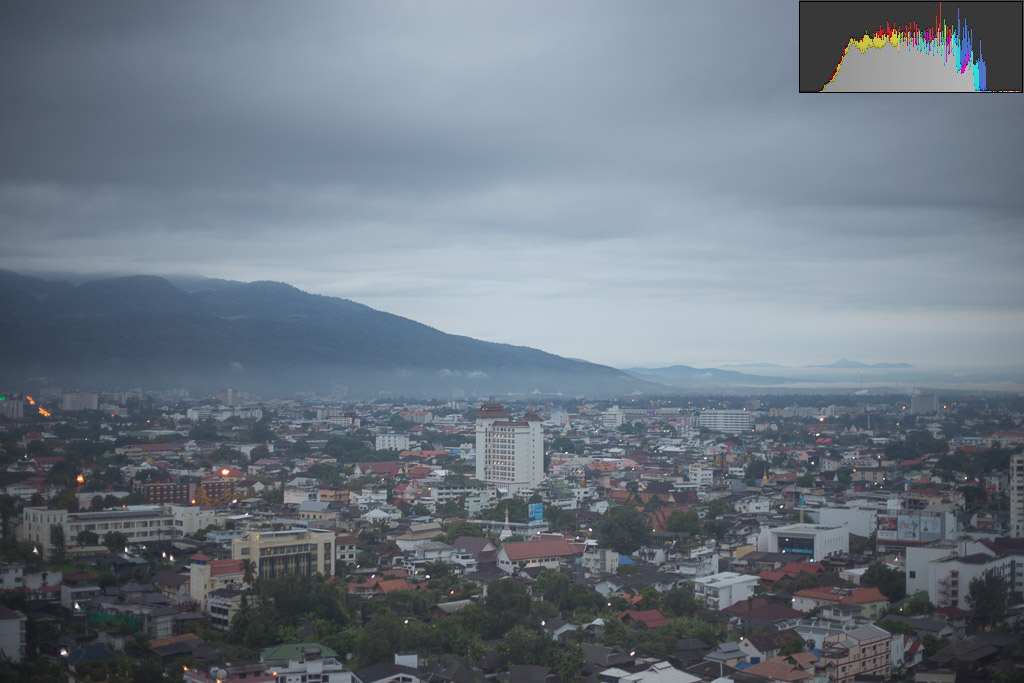 Sometimes, you don't want to stretch the histogram from left to right, and you just want an image that has no contrast, such as this image of a foggy day in Chiang Mai. If we brightened it by adding in more light, it wouldn't look foggy and dark – the way it was that day. In the end, it was up to us on this workshop to create the types of images we want, but it's helpful to know we could check our histograms to find out where the light is distributed in each one. .. Far to the left for our dark and moody shots.  Much closer to the right for our bright food photographs. That's it for me here in Thailand this week. Share on Facebook
[Editor's Note: Learn more about how you can turn your pictures into cash in our free online newsletter The Right Way to Travel.  Sign up here today and we'll send you a new report, Selling Photos for Cash: A Quick-Start Guide, completely FREE.]