Where do you find inspiration for photos? Yesterday, professional stock photographer Shelly Perry talked about creating a "clip file" of photographs that inspire you. Today, let's take a look at a few stock photos that sell well and are already in Shelly's clip file. I've asked her to explain what it is she likes about the photo, as well as give us some insight on how we might use it to inspire our own photography. Details below… Have a great weekend. Stacks of coins… a box of crayons… a goldfish… a smiling young man… an apple cut in half… As simple as these objects sound, pictures of them are some of Shelly Perry's best-selling photographs at istockphoto.com. One, in fact, has sold more than 1,100 times, making her a good chunk of change for her "trouble." Lori Allen Director, Great Escape Publishing HOW TO FIND INSPIRATION IN OTHER PHOTOGRAPHS – PART TWO by Shelly Perry in Portland, Oregon Yesterday we talked about the importance of building a clip file full of photos that inspire you. Today, let's take a look at a few photos from my personal clip file … photos that inspire me in one way or another. Photos like this one that has sold over 20 times at istockphoto.com …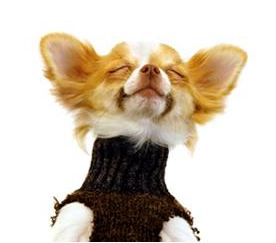 This shot inspires me, because it makes me smile. There is nothing fancy about this shot, yet I love it. For me, it's all about the expression. When I look at the details, I can see it's a straight-up studio shot, brightly lit, isolated on white. The photographer is at eye-level with the dog. There isn't really much to the composition since it's a straight-up head shot of the dog. Focus is great. This shot makes me think that given the right subject, even isolated on white studio (something I typically find boring), shooting could be fun. It challenges me to get the lights set right, with perfect exposure for the subject, while maintaining a blown-out background.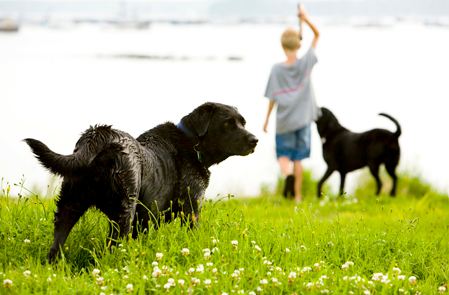 This shot makes me think of childhood, innocence, laughter, summer fun at the beach, vacation perhaps … but it especially makes me think of "boy's best friend." Dissecting it, I can see it's natural light – soft diffused light. It's likely later in the day or there's possibly some cloud cover. The focal point is the dog closest to the camera. The boy and the other dog in the background are out of focus, so a shallow depth of field was used. The photographer used a low vantage point, more or less eye-level with the dog. This shot has "story." It inspires me to look for this diffused kind of light, watch my vantage point, and know that I don't always have to have everything in focus. In fact, shallow depth of field can work better in some situations. Most important, it reminds me that action and real-life situations are fantastic for creating story.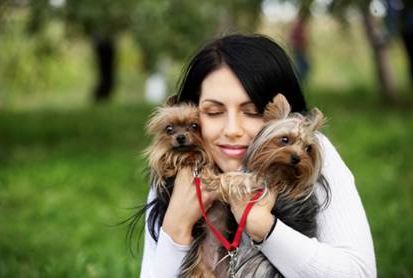 This shot inspires me with its sweet tenderness and relationship of the three subjects. The details appear to be daylight, perhaps with a reflector since there is really nice light evident in the dogs' eyes (catch light is important in human and animal eyes.). The light is perfect, soft and diffused. The focus is spot-on the subject with a shallow depth of field, so everything else falls away. The people wandering around in the background are unnoticeable unless you're looking for them. Having some distance from the background helps set them apart and pop off the page, eliminating any distractions. Nicely balanced composition with the vantage point at eye-level with the subject. This shot inspires me to watch for emotion and connection, to use a shallow depth of field, and to keep watching for soft diffused natural light.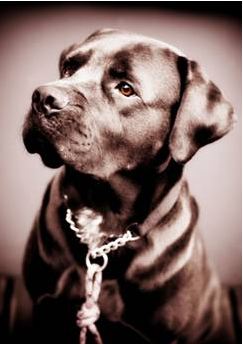 This shot inspires me with the character and expression of this dog. It's such a beautiful portrait. Here again we have a straight-up head shot with excellent composition. The lighting appears to be coming mostly from overhead as the shadows are stronger underneath and could be studio, though I'm guessing natural lighting here. Super shallow depth of field was used with the focus being right on the dog's eye. This shot has something different: selective use of color, which enhances the eyes as the most dominant part of the photo, so post-processing is a big factor with this particular example. This shot reminds me to employ shallow depth of field for the kind of look I like, to be sure to get a catch light in the eyes, and that I need to use post-processing — sometimes it can make a photo a piece of art. [Editor's Note: Learn more about how you can turn your pictures into cash in our free online newsletter The Right Way to Travel.  Sign up here today and we'll send you a new report, Selling Photos for Cash: A Quick-Start Guide, completely FREE.]