When you travel by car, you know it's important to stay in your lane — to stay within the lines. And when you travel by train, trolley, or metro, you trust that these vehicles, too, will stay on the lines. Lines are useful — they provide order and forward motion. And they are, it turns out, just as useful in photography. Here are a couple of great examples of lines used well to draw the viewer in — lifted from this month's photo contest entries…
Photo Composition Tip: Lines with Motion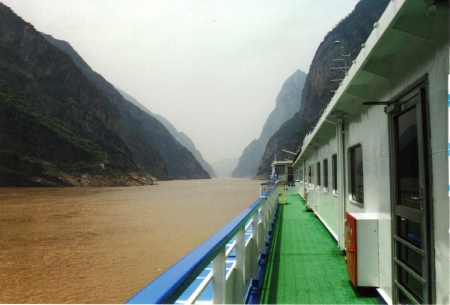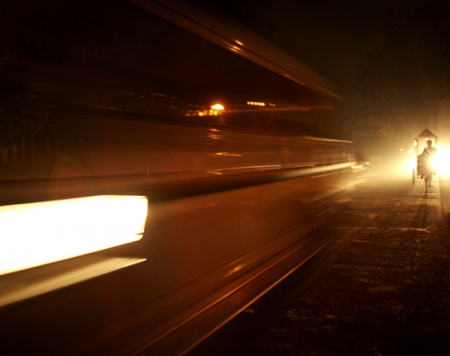 The first one begs you to walk down the rail to the front of the boat and look farther ahead to where the river is going through the gorge. The shot would not be the same without the boat — and its leading lines — included. If you're taking photos to include with an article, this is exactly the sort of shot you'd want to have. It — like your written piece — tells a story. In the second shot, not only does the bus provide a sense of motion and almost urgency, but the lines also lead you straight back to the real subject of the photo — the rickshaw driver. I think this shot could be improved by cropping it to a square and removing the bright area on the far left. This spot is so bright and dominant that it competes with the other bright area, which is the real subject. That left-hand light there causes my eye to wonder back and forth as I'm not sure where to look. So I would opt to remove the distraction.
Photo Composition Tip: Repetitive Patterns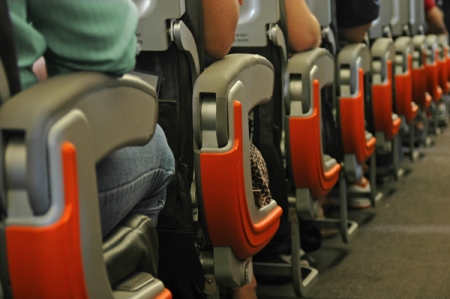 The chairs in this third shot nicely illustrate lines that can be created with repetitive patterns. Patterns and repetition like this really add interest to your images. Then there is THE line or THE BIG line to consider: the horizon line. It's important to be aware of the horizon line in your shots.
Photo Composition Tip: Horizon Lines
Most of the time, you will want to ensure the horizon is straight. Once in a while, you may choose to make the horizon not straight for artistic reasons.  But if you tilt the horizon, make sure you're doing so intentionally — and that the viewer can tell it is intentional. In other words, don't do it just a little. Here are two more examples from this month's contest entries. I like both shots very much. But in both, the horizon was just-off straight. Now, I was able to quickly and easily fix that problem by cropping. But it's best to be aware of the horizon as you compose and shoot.

Let's look at this first example. With this shot, the horizon is tilted so subtly that I actually had to look in Photoshop to be sure of it. It's such a lovely shot, yet it felt a little off balance. Just a small tweak to the horizon by leveling it out makes all the difference. Can you see it?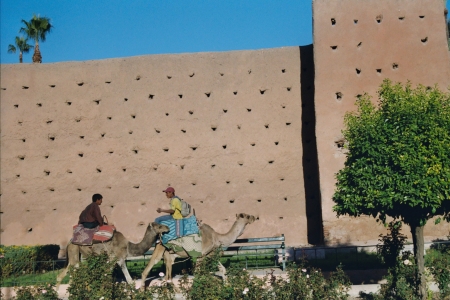 This next shot does not have a visible horizon, but the trees and building tell us the same thing a horizon would. Optimally, I would choose to keep the top of the palm trees at the upper left and as much of the bottom area where the camels' feet rest. Still, by simply straightening the horizon, you can now more easily focus your attention on the wonderful subjects.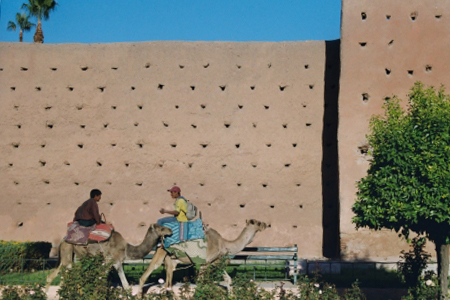 These are just a handful of the terrific shots rolling in for this month's photo contest! Take a few minutes and browse through the gallery… Or, better yet, if you haven't done so already, submit your own photo here: http://www.thephotographerslife.com and register to win. The theme for this month's contest is: "Trains, Planes, and Automobiles." (Just be sure to watch your lines!) ENTER TO WIN! Submit your photos by 8:00 a.m. EST, Monday, June 25. If you're a first-time user, you'll need to register first on the "register" link on the right side bar. Once you have a username and password, click "Enter to Win" to upload your photo. Only one photo per applicant will be considered. [Editor's Note: Learn more about how you can turn your pictures into cash in our free online newsletter The Right Way to Travel.  Sign up here today and we'll send you a new report, Selling Photos for Cash: A Quick-Start Guide, completely FREE.]