This time of year, you might be thinking about apple pie… pecan pie… and of course pumpkin pie.
But me? I'm thinking about this kind of pie….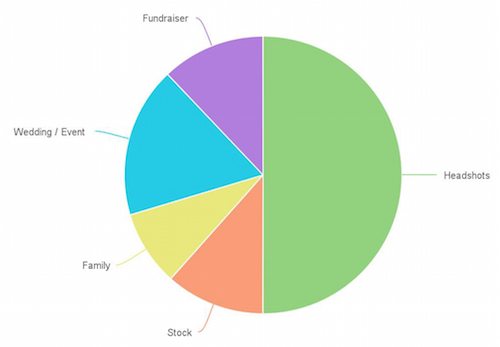 It's a pie chart of all my photo income from 2015.
But what's interesting (and what always amazes me) is this chunk of pink right there at the bottom.
Unlike everything else in this chart, this little chunk of pink (my stock photo income) comes in year after year without much extra effort from me. I'm earning this from photos I took 6-7 years ago and the royalties still come in even though I don't do anything else with them. It's like free money.
Stock photography is a time game. The longer your photos are up for sale in stock sites, the more opportunities they have to sell.
And the longer you wait to get started, the more you're denying yourself a simple, open opportunity to make an income doing something fun.
You need to start today.
If you've already started, great! Let's talk about refining your portfolio with more images that sell and less that don't (so you don't waste your time on images no one is going to buy). More on that over the coming days…
Right now, you should know that September is the start of the biggest photo-buying period in stock agencies. If you upload your photos today, there's a good chance they'll sell well all the way up and through the New Year which will really give your royalties a nice boost.
What are you waiting for? 
[Editor's Note: Learn more about how you can fund your travels and make an extra income with photography, travel writing, blogging, and more in our free online newsletter The Right Way to Travel.  Sign up here today and we'll send you a new report, Profit From Your Photos: A Quick-Start Guide, completely FREE.]