Lise Gagne makes a very good living at stock photography — she's one of the best in the business. But she didn't start out as a photographer. She started as a designer and a photo buyer, which gave her a good sense for what sells.
I called her up yesterday to see if she could give us Breakfast Stock Club members a few tips and she had more than a few to share. Read on to see what she said…
Breakfast Stock Club Interview with iStock Superstar, Lise Gagne
BONNIE: Lise, you started out as an amateur photographer. Can amateurs still sell their shots as stock today? How should they start?
LISE: Yes, absolutely. Start by looking at other peoples' photos — those that sell — and analyze them. Look at photos in TV ads, in magazines, on posters and in stores. Think about why they sell. What about that photo makes it work, and how can you do the same in your photos?
You also have to try. And you have to make mistakes to get better. But if you start with only one thing, start by understanding good photo composition.
BONNIE: Your best-selling photo on iStock — with more than 8,900 downloads — is a business-themed shot of two men and a woman in suits looking at a computer. What do you think makes this photo sell so well?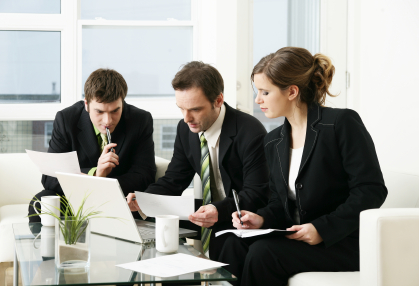 LISE: The people are interacting with one another. Also, it's very white and clean.
It's funny — it's never my favorite image that sells best, so you never know exactly what will end up selling. Though the same elements of a photo that sold before still sell today — business themes and concepts, blue skies, and lots of copy space.
BONNIE: It looks like you took this in a studio. Do you have to have a studio to take stock-quality photos?
LISE: No, not at all! I didn't have one when I started.
Start in your house. For lighting, you can use one external flash unit. I have a Hasselblad camera now, but with my old Canon, I would use a single external flash and bounce it off of the ceiling. That works well, as long as your ceiling is white.
Or even better yet, go outside or use natural light coming in from the window. Just make sure to use a tripod when you're using natural light indoors.
BONNIE: What about working with models? Should we think about hiring professionals?
LISE: When I was first starting out, I shot mainly with friends, family, and acquaintances, instead of professional models. But once you start making money, you may find you like working with professional models. I have a few who I work with regularly.
BONNIE: How do you photograph friends and family who aren't used to being in front of the camera?
LISE: My partner Louis and I like to make them laugh to put them at ease. And we also take 30 minutes to have their make-up done, to talk to them, get to know them, and talk about the concepts in the shoot.
Also, make sure to dress your models in plain or classic clothing so that the photos won't go out of style. For example, with business themes, I photograph people in black suits, the women with a bun in their hair.
BONNIE: Thanks, Lise!
I love talking to Lise. She's so humble that even though she's iStock's top photographer, making six figures a year with over one million image sales… she still considers herself to be an amateur. She believes that if you really want to be successful at this, you can… no matter your background, experience, or current ability.
Remember, our starting goal in stock is to make $20 per week from our photos — enough for a nice breakfast out. Let's do this together. Start by picking an agency and signing up. Then, submit a few photos. Last month I started submitting to iStock, Fotolia, Dreamstime, and Bigstock.
— Bonnie
Bonnie Caton
Great Escape Publishing
Breakfast Stock Club
P.S. Lise may not be an amateur anymore, but she was once upon a time. We all have to start somewhere. Why not start right where you are, today? Pick a few agencies and get the ball rolling with three photos from your collection. The sooner we get going, the sooner we'll start making an income from our photos.
[Editor's Note: Learn more about how you can turn your pictures into cash in our free online newsletter The Right Way to Travel. Sign up here today and we'll send you a new report, Selling Photos for Cash: A Quick-Start Guide, completely FREE.]