Dear Reader,
When you saw the painting on the temple wall, it looked like this: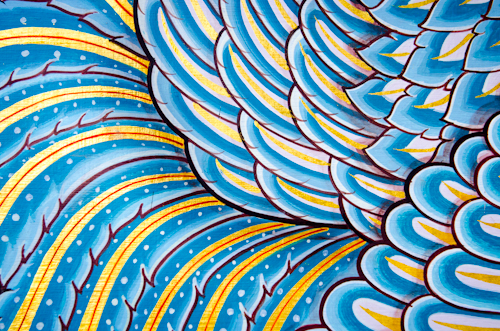 But when it came out of your camera, it looked like this: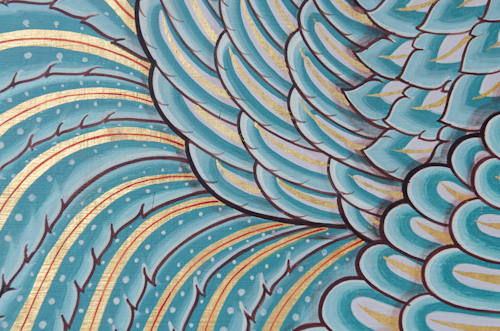 What's that all about?
There's a big difference between what our eyes can see and what our cameras can capture. (And your images will look especially gray if you're shooting in RAW.)
When you process your images, you're trying to bring them back to what you saw with your eyes.
These two examples are the same photo, only the first one is the result of about a minute of processing in Lightroom.
Last week I sent you a quick video introduction to Lightroom 4. If you missed it, you'll find it here.
Today, let's look at some ways this new version of Lightroom makes bringing the goodness out of your photos even easier in this quick video:

Next week, I'll finish this series by showing you two magical tools that you can use to put the finishing touches on an already great shot.
— Bonnie
Bonnie Caton
Creator, Breakfast Stock Club
[Editor's Note: Learn more about how you can turn your pictures into cash in our free online newsletter The Right Way to Travel.  Sign up here today and we'll send you a new report, Selling Photos for Cash: A Quick-Start Guide, completely FREE.]
Your Weekly Breakfast Dish
The latest from your Breakfast Stock Club Facebook Page
From Paula Ohreen: OMG iStock accepted me as a contributor. Don't anybody tell them I only learned how to use the manual mode at the end of January.
Later, from Paula: PS – I honestly don't think that would have happened without being a member of the BSC. I've read every Roadmap and watched every Lightroom tutorial video that Shelly produced and they have been absolutely invaluable. Now the hard work – I have to keep fooling iStock into thinking I know what I'm doing.
Big congratulations, Paula! Keep it up. And thanks for your kind comments.