Last week we announced our February Photo Challenge: Food and Wine. You can enter the challenge on our website, here.
Scroll down to see last month's winning photos…
Lori Allen
Director, Great Escape Publications
NEW YEAR, NEW YOU — WINNING ENTRIES
By Shelly Perry in Portland, OR
Last month's photo challenge theme was "New Year – New You," and we had a lot of unique, interesting, and well-orchestrated photos submitted. The longer we go with the challenge, the better you all are getting. I get to see every shot from month to month, and I've noticed some people's photography improve by leaps and bounds over time. So, keep submitting!
Back to the theme… If the photos are any indicator, we have a very eclectic group of people here, from grandmas to college students, musicians to athletes, bookworms to corporate big wigs, world travelers, and creatives of all types. With so many great shots, this month was especially difficult to judge. December's winner, Charmed Impressions, was our guest judge this time around. Read what she had to say about her choice for first place below …
** First Place goes to bgaras2001 for "Playin' The Blues"
** Second Place goes to jtorms for "A new day with newlyweds"
** Third Place goes to dsphoto62 for "Love Tennis"
** Honorable Mention goes to a.davis for "Something to Reflect Upon… "
FIRST PLACE — PLAYIN' THE BLUES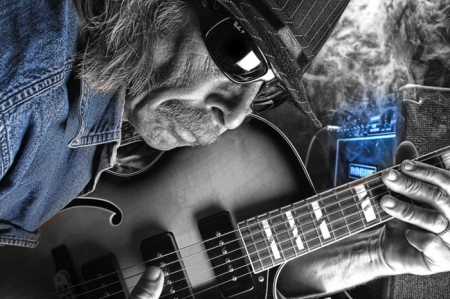 "Playin' The Blues has such detail, depth, emotion, and good use of lighting. With every wrinkle, you can see the hardship that has fallen upon him, but maybe this year will be his year to hit it big. Nice use of color selection and the smoke is a wonderful addition. It captures enough to really give it feeling and closeness to bring you into his music. You can almost hear the blues he is singing as he strums his guitar. Nicely done."
SECOND PLACE — A NEW DAY WITH NEWLYWEDS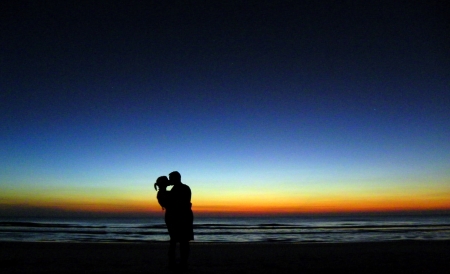 A striking photo in all its simplicity… The colors are beautiful, the kiss is unmistakable, it's moody, simple, and clean. Some might argue that the couple is too far away … and I wouldn't entirely disagree (I'd hope the photographer has varying compositions with some closer shots). But what I like about this composition is the feeling that it's the two people together in a vast, big world, and that seems alright with them. Nice use of rule of thirds, plenty of copy space (good for stock or editorial), and nice use of silhouette.
THIRD PLACE — LOVE TENNIS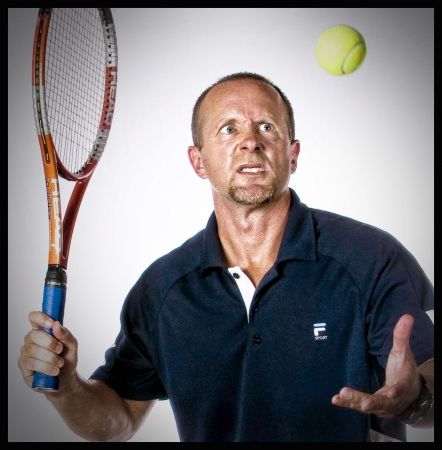 Expression, action, exposure, and processing … this shot has them all.
Expression – the intensity of the subject's expression is fantastic and makes me a believer in the shot. Having subjects that are overly-dramatic and full of expression can be a tremendous asset for stock.
Action – the arm back, eye on the ball, ball in the air, hand out in the toss … they are each one so well placed in the frame and come together great.
Exposure – the exposure on this shot is really well done for the subject. More light on the background would have the subject popping off the page and be very usable for designers. But that's the great thing about photography — it's our art and we can create the shot as we like.
Processing – this photographer has done a really nice job on the overall processing of this shot, from the square crop and border (remember no borders for stock) to the vignette (which darkens down the edges) and draws our eyes into the man's face.
HONORABLE MENTION — SOMETHING TO REFLECT UPON …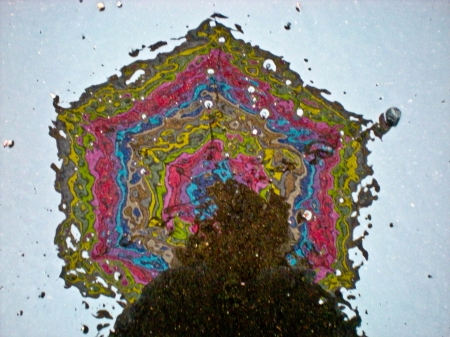 This is shot is a piece of art. I love the reflection of the rainbow umbrella and the broken "bubble" areas that are probably rocks or something. The photographer's description of this shot is also a reflection …
"The self is an individual person as the object of his or her own reflective consciousness.
"There are several plays on reflection in this picture for me other than the obvious: a rainbow is a reflection and refraction of light through the rain, my own colorful personality reflecting back without really seeing me, and the umbrella protecting me from any unhealthy self reflections I may have."
… And, isn't that what most of us do on some level during the new year? We reflect back on the year just past as we look forward to the year ahead and all that it has in store — very fitting for "New Year -New You."
Congratulations to each of our winners!!
And, remember, please read all rules and regulations of any challenge, contest, magazine, editor, agency … or basically any place where you might submit your photos. Read them and follow them. You don't want to be disqualified for not doing so. Hint – you can upload ONE photo per challenge with us. And you MUST be an amateur photographer to have your photos compete for the once-a-year $2,000 Grand Prize.
[Editor's Note: Shelly Perry from Portland, Oregon, specializes in people photography, what she calls documentary or lifestyle portraits. She is known especially for her imaging of children. Shelly's concern for people is reflected both in her sense of purpose and the images she produces. Her images have been seen all over the globe on music CD covers, books, magazines, catalogues, websites, ad campaigns and even on TV. Her work has also appeared in several local exhibits and gallery shows.
Learn more about how you can turn your pictures into cash in our free online newsletter The Right Way to Travel. Sign up here today and we'll send you a new report, Selling Photos for Cash: A Quick-Start Guide, completely FREE.]