Last month's photo challenge theme was "In Your Backyard."
Our guest judge this month was June's winner, mm767cap, see his pick for first place below.
** First Place goes to SARAH for "On the fence"
** Second Place goes to aries09 for "bee house"
** Third Place goes to mwoodbc for "A Breakfast Visitor"
FIRST PLACE — ON THE FENCE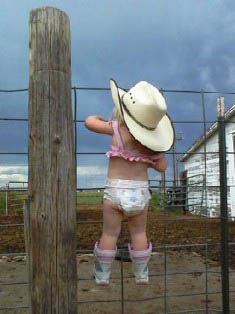 While this was a difficult decision between many exceptional images, I found myself returning to this one several times. The photograph made an instant impact on me, based on the sheer "cute factor." The question for me became: Does it stand up as an exceptional photograph beyond just that strength? I started to explore this by considering the theme. Yes, the photographer did an excellent job of taking a moment in her own backyard and turning it into a memorable photograph. Next I considered the technical aspects of the photograph, something that often gets left behind when capturing a candid moment. The image is well exposed, sharp, with appropriate levels of saturation and contrast. Compositionally, I very much like the fact that the photographer used the posts in the fence to frame her daughter in the scene. Keeping enough sky with some textured clouds above the subject's head allows the viewer to experience the approaching storm referred to in the description.
So, the image works in keeping with the theme and is technically sound. But what puts it over the top of the other excellent images that succeed in those two aspects, as well? What I love most about this picture is that it tells a story without needing words. I know she is wide-eyed without having to see her face. I know she has gumption without ever having met her. I know she loves her life on the farm without ever having to hear her tell me. From the oversized cowboy hat and her cowboy boots, to the fact that she climbed her fence to get a better look, I feel like I captured a sense of who this little lady is…. all from a quick snap in her backyard.
SECOND PLACE — BEE HOUSE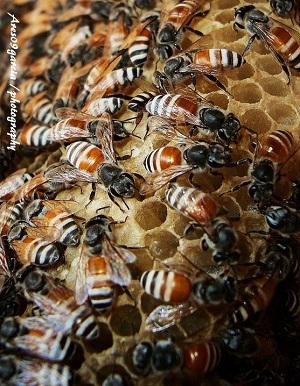 Bee House is a very well executed shot, the entire frame of the photo being filled with nothing but the subject of the bees and the honeycomb. I sincerely hope the photographer had a nice long zoom lens. The center of focus is perhaps a little too centered, but in a shot like this, it's less of an issue. And, in this case, the shape of the honeycomb appears to lend itself to the composition. This shot shows nice use of natural lighting in what I imagine could have been a difficult shooting situation.
THIRD PLACE — A BREAKFAST VISITOR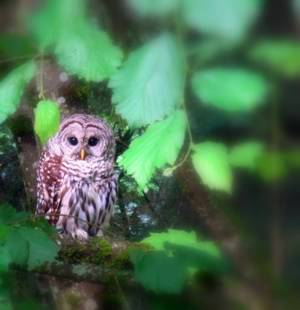 I'm impressed that the photographer here not only saw this owl perched in the perfect place but had the time and wherewithal to grab their camera and get the shot. Looking at the shot closely, it appears the "shallow depth of field" is likely a post-processing blur choice. Of course, I would prefer it had been shot that way, but it works alright as a processing decision, as well. Good composition using the rule of thirds to capture that amazing eye to eye with the owl.
Congratulations to each of our winners!!
The first-place winner will get a $30 gift certificate to the AWAI E-Bookstore, and all winners will be entered into the Hall of Fame to compete for the $2,000 Grand Prize in October.
Photos need to be between 30 and 50 KB in size, or between 300 and 500 pixels in width/height. In Lightroom, you can plug in these size requirements when you export your photo. If you're using a photo-editing software other than Lightroom, simply go to Google.com and type in "how to resize a photo in <fill in the name of your program>" for details.
Remember, this month is "Beat the Summer Heat." Submit your photo by 8:00 a.m. EST, Monday, August 29. If you're a first-time user, you'll need to register first on the "register" link on the right sidebar. Once you have a username and password, click "Enter to Win" to upload your photo. Only one photo per challenge.
[Editor's Note: Learn more about how you can turn your pictures into cash in our free online newsletter The Right Way to Travel. Sign up here today and we'll send you a new report, Selling Photos for Cash: A Quick-Start Guide, completely FREE.]