The word "challenge" took on new meaning with last month's photo challenge theme, The Softer Side of Strength.
Folks were asked to submit photos that included two things:
1. A person in uniform and
2. An act of kindness or compassion.
And while it may have been tough to produce a picture that included both of these things, a surprising number of photographers did — and so with beautiful results. This month's winners are among the best we've seen this year…
** First Place goes to jenniferschnepf for "Fallen Hero"
** Second Place goes to JBryson for "Inner Strength"
** Third Place goes to dwphoto for "The military and the holy man"
As you know, last month's winner, Randy Black, has not only the honor — but the challenge — of being the guest judge this time around.  So read on below for what Randy had to say about his pick for first place.
FIRST PLACE — FALLEN HERO
"This is a difficult task, however, my pick is Fallen Hero.  This photograph solemnly speaks of great strength and community service.  This skilled photographer did an excellent job of capturing the very essence of the scene — you can feel the sorrow of family, friends, and comrades while looking past the moment to appreciate the service rendered.  Technically, I especially appreciate the angle of the composition and the black & white vs. the color of the flag.  Excellent work!"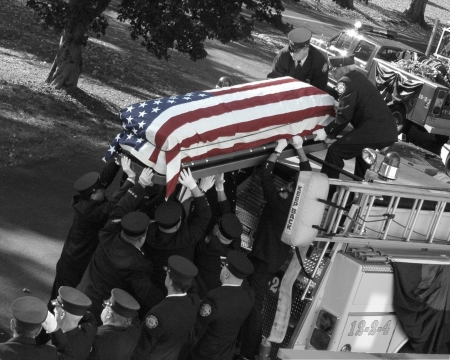 I agree with Randy.  Due to the nature of the subject, this image is incredibly touching. It conveys the message of brotherhood that firemen have for one another.
The composition is interesting; the flag-draped casket is up toward the top third of the frame. Then notice how the line of men almost appear to make an S sort of curve down through the frame.  I like that a lot; it really adds to this shot.
Also including enough of the fire engine, the numbers, the ladder, the truck in front really place this event and these guys as firemen. It's an unusual, but quite interesting, angle.
And finally, I like the choice of spot color — it's really well done and a brilliant choice for this shot.
[EDITOR'S NOTE: In Saturday's issue of The Right Way to Travel, we'll give you a few Photoshop tricks for manipulating this type of image and turning only part of it into color.]
SECOND PLACE — INNER STRENGTH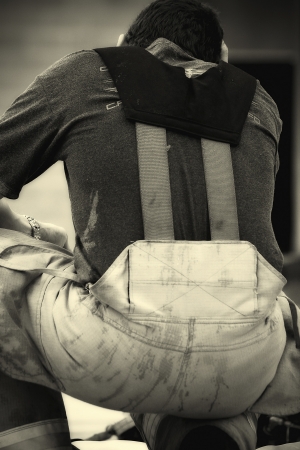 I was drawn to this shot initially by the tones.  The processing here is exquisite.
The idea conveyed with this image — that taking a quiet moment for yourself is sometimes indeed an act of compassion — is really moving.
My only suggestion for improvement is that I wish the image were not quiet so tight.  I wish his helmet was showing or something that told us a little bit more of his story… a hint of who this guy is and what's happening.
THIRD PLACE — THE MILITARY AND THE HOLY MAN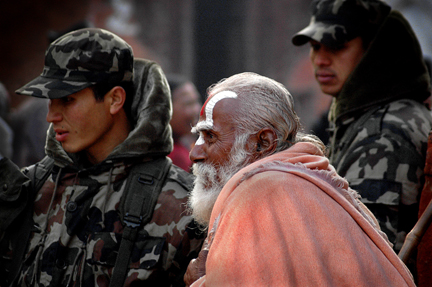 This shot is a study of contrasts and differences. I really like the photographer's use of depth of field.  Notice how each of the two military men are progressively softer, less in focus, while the "holy man" in front, is in good focus?  That is depth of field and it's used nicely here.
I also like the use of the number three.  Three people, just in general, are typically more appealing than two or four.
This shot makes me wonder what they are all looking at, but unlike the fireman picture above, I think that providing enough space to answer that question is probably a mistake.  That would be a different picture entirely.
One of the very best things about this shot is the light that is illuminating the "holy man," that's just perfect.
ENTER TO WIN!
If you have a picture that matches the theme for August — "Home Sweet Home" — log on to our website at: www.thephotographerslife.com and register to win.
First-time users should register first on the "register" link on the right side bar.  Once you have a username and password, click "Enter to Win" to upload your photos.  Only one photo per applicant will be considered.
[Editor's Note: Learn more about how you can turn your pictures into cash in our free online newsletter The Right Way to Travel.  Sign up here today and we'll send you a new report, Selling Photos for Cash: A Quick-Start Guide, completely FREE.]