Last month's Photo Challenge theme, "We the People," brought out a number of photos with winning qualities, making it difficult to narrow it down to the top three. But narrow it down we did — and here they are…
**First Place goes to CM for "School Boys in the Park"
**Second Place goes to Heartsings for "Over Their Heads"
**Third Place goes to Lynnette for "We Like to Have Fun"
**Honorable Mention goes to VanWhite for "The Fire Fighter"
June's winner was Lyn, so she got to pick July's winner. Here is what she had to say about her First-Place pick of "School Boys in the Park" by CM:
FIRST PLACE – SCHOOL BOYS IN THE PARK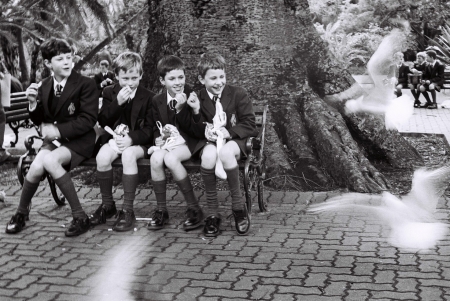 "All the photos are so lovely in different ways but the one that really catches my eye every time I go through them is the one titled, 'School Boys in the Park.'
"The photographer's choice of black and white brings out the contrast in the different textures in the photo and you can almost feel it must have been a chilly morning in the park.
"The blur of the pigeons adds feeling and movement and CM made good use of the rule of thirds. I love the expressions that have been captured on the boys' faces, seemingly totally unaware that they were being photographed."
I couldn't agree more with Lyn. This is an absolutely charming shot!
SECOND PLACE – OVER THEIR HEADS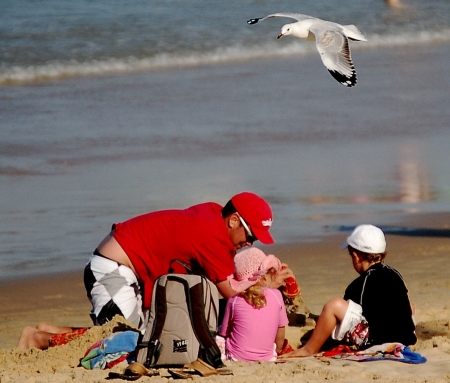 Timing does not get any better than this; it's what Henri Cartier-Bresson (a French photographer considered to be the father of modern photojournalism) called "the decisive moment."
This photographer did a very nice job of being ready for this shot and when everything came together, was able to capture it beautifully. It has nice lighting and exposure, excellent composition, and it's loaded with story.
THIRD PLACE – WE LIKE TO HAVE FUN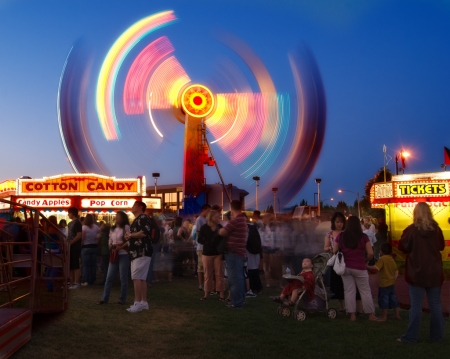 This photographer made excellent use of a slow shutter speed and available light on this shot. The movement of the carnival ride and some of the people in contrast to the solid lights of the booths and the faces of the people who were standing still make this shot interesting and dynamic.
HONORABLE MENTION – THE FIRE FIGHTER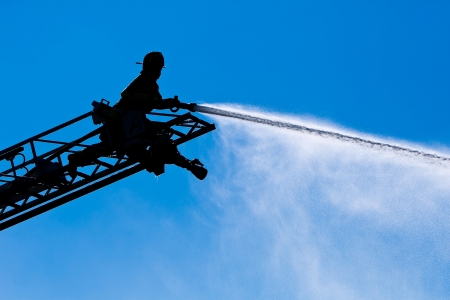 This shot is striking with the stark contrast from the mist of the water, to the slight white outline on the fully silhouetted firefighter, to the icicles hanging off the equipment and the rich clear blue sky. The shot has excellent composition, as well.
Congratulations to each of our winners.
ENTER TO WIN!
"From Birth to Burial – Ceremonies Around the World" is the theme for this month's Photo Challenge. You have until Monday, August 25 at 8:00 a.m. EST, to submit your photo. If you're a first-time user, you'll need to register first on the "register" link on the right sidebar. Once you have a username and password, click "Enter to Win" to upload your photo. Only one photo per applicant will be considered.
[Editor's Note: Learn more about how you can turn your pictures into cash in our free online newsletter The Right Way to Travel. Sign up here today and we'll send you a new report, Selling Photos for Cash: A Quick-Start Guide, completely FREE.]