Last month's photo challenge theme was "Clouds." And, like so many other things we point our cameras toward, clouds can be prolific. So, it's really important to make your cloud shots stand out and be more then "just another cloud," which isn't always easy to do.
Last month, we had a number of really beautiful shots that did just that. Our May winner, Terry Peikin, was the guest judge this time around. See Terry's first place pick below…
** First Place goes to mm767cap for "Descent to Explosion"
** Second Place goes to jimxtrm for "Above the Overcast"
** Third Place goes to cbressan for "Clouds Running"
** Honorable Mention goes to davefrissyn for "A Home on the Water"
FIRST PLACE — DESCENT TO EXPLOSION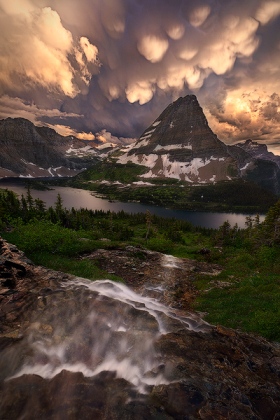 "My First Place choice is 'Descent to Explosion.'
"At first, June's "Clouds" theme seemed a simple enough task. But every cloud tells a story while evoking many different emotions. The image of this magnificent vista struck me on many levels. First, is the remarkable depth of field from your toes clear to infinity. Then the choice of a slower shutter speed yielded the soft veil-like movement of the water against a backdrop of harsher textures. It is that graceful movement of water that enhances an otherwise static image. However, none of this has anything to do with the theme. But then there are those clouds. They are unusual in weather pattern terms, but they are foreboding. They seem to be a creeping, sinister presence that is bearing down on an otherwise peaceful Eden of a world. The camera caught the play of light and shadow within them, furthering an un-nerving menace. Without the clouds, the image is just a pretty picture. With the clouds we paint a different picture that talks to us on deeper levels.
"The photographer captured the many layers of elements found in nature, at once, with perfect composition encompassing earth, water, mountain, and sky. Kudos for the masterful exposure values that are worthy of Ansel Adams mention." — Terry Peikin
I couldn't agree more with Terry. This is a stunning shot. The fact that this photographer even knows the type of these strange "roiling mammatus clouds" and told us so in the description is a bonus. The clearer the description you can provide, the more you help people understand your photo. Sometimes that's the difference between a sale or not.
SECOND PLACE — ABOVE THE OVERCAST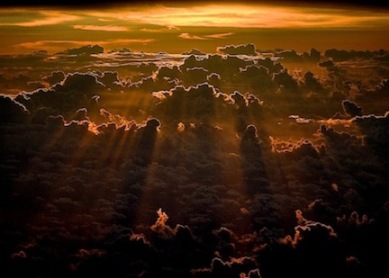 I may be partial to this shot here because I love taking cloud shots from plane windows. It's a vantage point that is so far removed from the everyday—and, sometimes, so surreal looking, as is the case here, that it's almost like seeing another planet … a whole new view of things. For a "purely" cloud shot, this one really stood out. The deep, long shadows, the way the light rims the edges of the clouds, the intense color. It's breathtaking and awe-inspiring and certainly can be placed in the surreal category. Nice composition, too, with the horizon line nice and tight to the top of the frame.
THIRD PLACE — CLOUDS RUNNING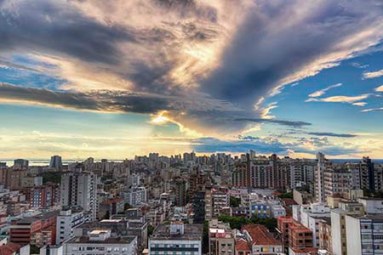 This shot is an interesting one. The composition is perhaps too "centered" overall—it's always better if you can get your horizon line to one of your third lines—but, in this case, I can understand why the photographer made the choice to break the rule. The city is as much a factor here as the clouds which seem to almost reflect it or blanket it … in essence, it feels as though we are peeking between the two down to the horizon line and the tip of the cloud—which happens to be just shy of the thirds line on the right (good placement).
HONORABLE MENTION — A HOME ON THE WATER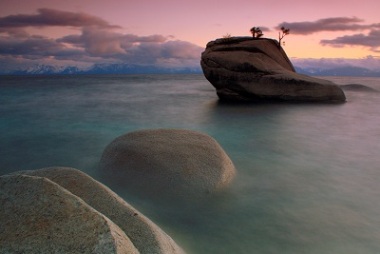 I was drawn to this shot right away: it has fantastic composition. I love the use and placement of the three rocks (three is a very strong number photographically). The slow shutter speed turned the water into a soft, almost misty feel which provides a view that we can't get with the naked eye. I really like the soft pastel colors. This photographer took full advantage of the right time of day to shoot (was it sunrise or sunset?) which helped this shot to be so magical.
Congratulations to each of our winners!!
The first-place winner will get a $30 gift certificate to the AWAI E-Bookstore, and all winners will be entered into the Hall of Fame to compete for the $2,000 Grand Prize in October.
Photos need to be between 30 and 50 KB in size, or between 300 and 500 pixels in width/height. In Lightroom, you can plug in these size requirements when you export your photo. If you're using a photo-editing software other than Lightroom, simply go to Google.com and type in "how to resize a photo in <fill in the name of your program>" for details.
ENTER TO WIN!
Remember, this month's theme is "In Your Backyard." Submit your photo by 8:00 a.m. EST, Monday, July 25. If you're a first-time user, you'll need to register first on the "register" link on the right side bar. Once you have a username and password, click "Enter to Win" to upload your photo. Only one photo entry per challenge.
[ABOUT THE AUTHOR: Shelly Perry from Portland, Oregon, specializes in people photography, what she calls documentary or lifestyle portraits. She is known especially for her imaging of children. Shelly's concern for people is reflected both in her sense of purpose and the images she produces. Her images have been seen all over the globe on music CD covers, books, magazines, catalogues, websites, ad campaigns and even on TV. Her work has also appeared in several local exhibits and gallery shows.]
[Editor's Note: Learn more about how you can turn your pictures into cash in our free online newsletter The Right Way to Travel. Sign up here today and we'll send you a new report, Selling Photos for Cash: A Quick-Start Guide, completely FREE.]