"Laughable photographable" was last month's photo challenge theme and it brought out some very funny shots from our contributors. You can see June's winners on our site, here.
Here are the winners:
**First Place goes to Lyn for "Shakedown"
**Second Place goes to photosue for "Erica"
**Third Place goes to Randy for "Dang Britches"
Last month's winner, Cornelius, had this to say about his winning pick of "Shakedown" by Lyn…
FIRST PLACE – SHAKEDOWN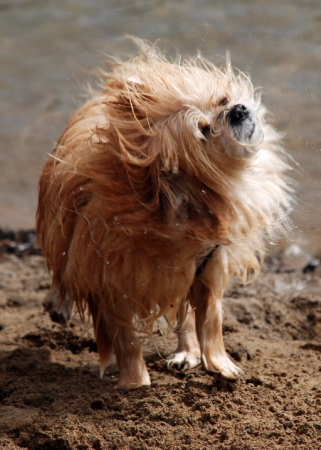 "I chose Shakedown as the winner because it's a great action shot, in focus, and the way the light catches the hair of the dog on the right hand side adds a nice dimension to the image. The simple background is good, and the image makes you both laugh and sigh at the same time. The way the dog's eyes are shut makes it look like he/she is really enjoying the moment, too!"
SECOND PLACE – ERICA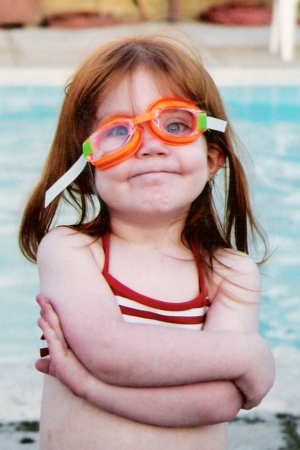 I love this shot! From the slanted goggles, or "snoggles" as she apparently calls them, to her arms overly crossed and that expression – it's all priceless. This was shot with a nice even light and a good shallow depth of field which lets us see the pool water behind her without it being too defined or distracting. It's just enough to provide the setting.
This is one of those shots that should go down as a family classic, and hopefully Erica will maintain that personality as she grows up and enjoy this shot as much as I do. It's also a shot I could potentially see used commercially (depending on technical quality at 100%). However, I would edit out the chair legs on the top right of the frame before trying to sell this shot.
THIRD PLACE – DANG BRITCHES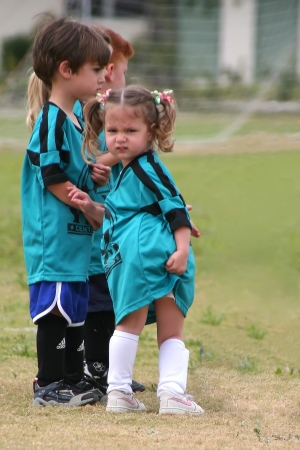 What a catch. I'm not even sure how the little girl in this photo is able to turn her body like that. This shot also has a nice quality of diffused light. It also has good overall composition, with the kids lined up to the left of the frame looking into the picture and in the general direction of the main subject. The depth of field here helps to keep the background soft and subtle. It doesn't distract as it would if it were shot with an infinite depth of field.
Thanks for all the entries. I smiled and laughed my way along as I reviewed all the images submitted.
ENTER TO WIN!
This month's theme, "We the People," is underway. You have until Monday, July 28 at 8:00 a.m. EST, to submit your photo. If you're a first-time user, you'll need to register first on the "register" link on the right side bar. Once you have a username and password, click "Enter to Win" to upload your photo. Only one photo per applicant will be considered.
[Editor's Note: Learn more about how you can turn your pictures into cash in our free online newsletter The Right Way to Travel. Sign up here today and we'll send you a new report, Selling Photos for Cash: A Quick-Start Guide, completely FREE.]