We received a lot of really great photo entries in last month's Photo Challenge Scavenger Hunt.
Scroll down to see the winners…
July's theme is "Red, White, and Blue." If you'd like to participate, you'll find details below…
Lori Allen
Director, Great Escape Publishing
*********************
The Right Way to Travel
July 2, 2010
*********************
SCAVENGER HUNT — WINNING ENTRIES
By Shelly Perry in Portland, OR
Last month's photo challenge theme "Scavenger Hunt," was different from past themes because it gave you the opportunity to get a shot that represents your hometown in a way that only a local could capture it.
We received some fascinating shots and a few that made me want to visit these places. The descriptions were vitally important in this challenge, and I was glad to see that most people gave a nice one (one even sounded like a mini article for the town paper).
Last month's winner hapyday was our guest judge this time around. See what he had to say about it below…
** First Place goes to profjjw for "Fire Island Lighthouse"
** Second Place goes to webertj for "Sailing Lac d'Annecy"
** Third Place goes to ImagesbyJoel for "Sulas Deli in Ibor City"
** Honorable Mention goes to cgilbert for "Welcome to Palo Alto"
FIRST PLACE — FIRE ISLAND LIGHTHOUSE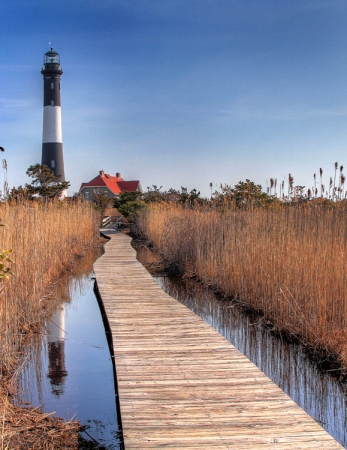 Here's what hapyday had to say about his first place pick…
"Fire Island Lighthouse" has good taste and follows the rule of thirds. It has good color, and the sky is naturally blue. The reflection is clear, and the boardwalk invites the viewer to come and see. This would make a fine calendar photo (fine art). For this month's theme it might have been enhanced by including people in the photo."
SECOND PLACE — SAILING LAC d'ANNECY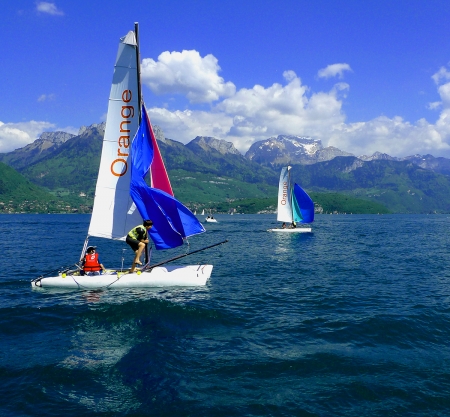 Every time I looked through the submissions for this challenge, this shot caught my eye. I love the colors and the action, nice composition with strong movement into the frame.
Even though the people are small in the overall scope of the shot, I like the human element they provide to the photo, especially the one standing in front with the sail.
This is one of those shots that makes me want to be there, enjoying such a beautiful place on a gorgeous day.
THIRD PLACE — SULAS DELI IN IBOR CITY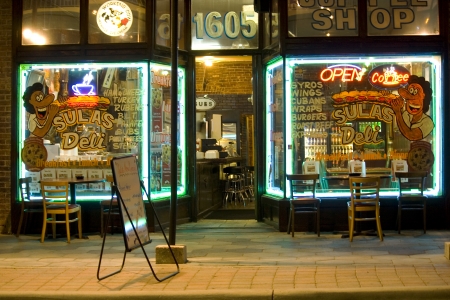 This shot looks like a small town street Deli just before closing.
I really like the night shot using the neon, the street lights, and the lights from the store.
I like the open door, but wish it were less centered. I also really like the painted window signage.
I think this or a shot like it would be great with a person sitting in the store at the bar, or the blur of people walking into or out of the store.
HONORABLE MENTION — WELCOME TO PALO ALTO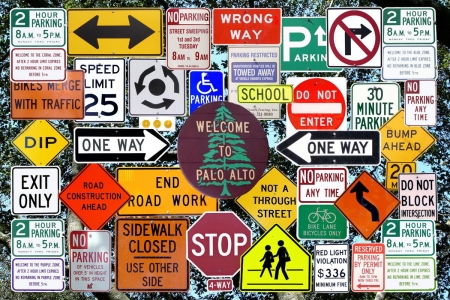 This is a photo montage on the theme of local iconic signs. It's difficult to tell, at this size, if there are production issues, but it appears to be the type of image that could be used with a local tourism piece, or for an article about Palo Alto.
Remove the Palo Alto sign to make it more generic and it might be a good stock shot, too. I found it really interesting and clever.
Congratulations to each of our winners!!
The first-place winner will get a $30 gift certificate to the AWAI E-Bookstore, and all winners will be entered into the Hall of Fame, to compete for the $2,000 Grand Prize in October.
Go here for details about entering this month's Photo Challenge (Theme: Red, White and Blue).
ABOUT THE AUTHOR: Shelly Perry from Portland, Oregon, specializes in people photography, what she calls documentary or lifestyle portraits. She is known especially for her imaging of children. Shelly's concern for people is reflected both in her sense of purpose and the images she produces. Her images have been seen all over the globe on music CD covers, books, magazines, catalogues, websites, ad campaigns, and even on TV. Her work has also appeared in several local exhibits and gallery shows.
[Editor's Note: Learn more about how you can turn your pictures into cash in our free online newsletter The Right Way to Travel. Sign up here today and we'll send you a new report, Selling Photos for Cash: A Quick-Start Guide, completely FREE.]