Watching my daughter's last swim meet this weekend, it occurred to me that it's not really the fastest swimmers who win the race.  It's the fastest starters.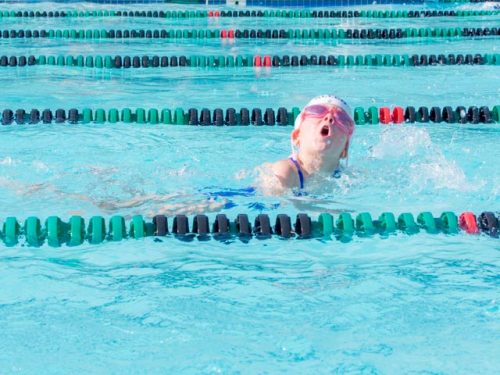 I've written about my daughter's swimming before. Last year Charlie barely wanted to put her head under water.  This year she's competing for the fastest time across the pool.  
But it's not really being the fastest swimmer that counts.  That's the realization I had this weekend.  It's about being the fastest to hit the water — the kid who jumps the farthest when the whistle blows – that's who wins the race.
And isn't this true in photography, too?
When Charlie gets a little older, she'll learn how to properly dive into the pool instead of belly flop.  Her fingers will cut the water with minimal splash.  And even though her entire body will go under the surface, she'll learn to stay as close to the top as possible so her journey up for a breath doesn't cost her the fractions of a second she needs to win.
And the same is true with finding success in photography.
Eventually you'll learn how to fine-tune your camera and develop your individual style.  But at the start, the race is won by those who jump the fastest and farthest—the ones who just get out there, camera in hand, and dare to experiment.  
Success experts always say that imperfect action beats no action every time.  That it's less about being right and more about diving in and figuring the "right" things out as you go.
I'm switching gears this week to some really fun and cool things you can do with your camera.  
Great photography is a choice!  
Photos aren't just born.  They're made with the right mix of learning your camera, understanding good composition, good light, proper exposure, and good photo processing. More tips coming this week to help you on that end. Stay tuned…
But first, what are you waiting for? Get out there today and start playing with your camera.
[Editor's Note: Learn more about how you can fund your travels and make an extra income with photography, travel writing, blogging, and more in our free online newsletter The Right Way to Travel.  Sign up here today and we'll send you a new report, Five Fun Ways To Get Paid To Travel: A Quick-Start Guide, completely FREE.]