Most pro photographers don't want to show you their mistakes and their bad images because they know people judge them by their worst photograph.
Me?  I have no such shame.  I take bad pictures all the time.  I just call it good luck or persistence when I get a good one.
Here are a few of my starburst mistakes in Namibia…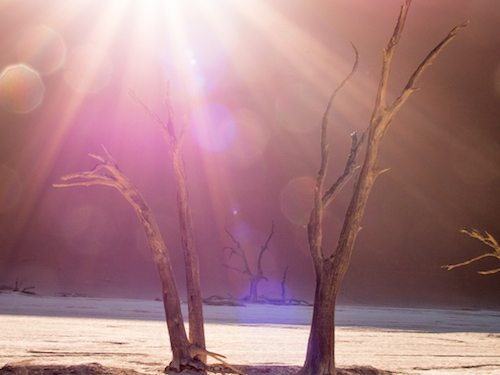 Before I figured out how to control it, most of my photos have this hazy, fish bowl look.
All the dots you see are lens flare because I took my lens hood off (the lens hood is the black round thing that extends past the glass of your lens to prevent lens flares like these and protect the lens if you bump into things).
I liked it at first when I was on the ground looking at the back of my camera.  But when I got home to look at these on my computer I realized that none of these pictures actually look like what I saw there in Namibia.  
The colors are all wrong.  The trees are weird.  I clipped off the bottoms of most of them because I didn't notice that on my screen.  And ultimately, I'm not sure what I can do with these pictures.  They're creative experiments but I don't really want them on my walls or even on Facebook because this isn't what it looks like there.
Here's another example…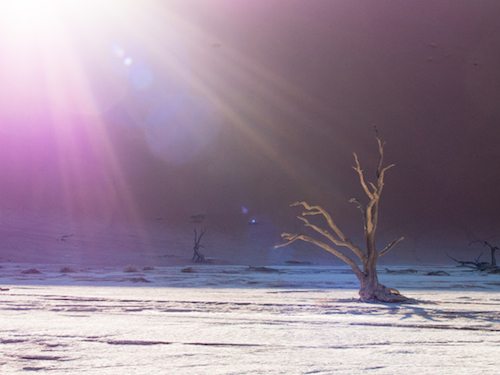 I photographed this area twice – once at sunrise and once at sunset.  And again, before I figured out how to control it, my experimenting made all the colors change.  The sand behind these trees is orange, not blue.  But due to the shade of the dune in front of the rising sun, my images are blue, and processing them in Lightroom to make them orange just makes them look weird.
And finally…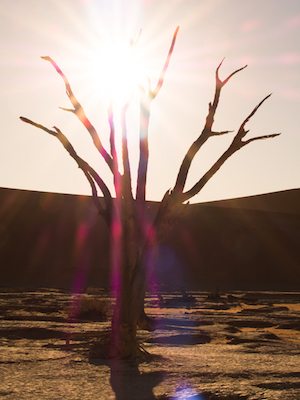 It was here where I realized the sun needed to be lower so I could pinch it and contain it better behind the branches.  I didn't yet know that the morning would bring me such blue light, so I thought returning in the a.m. would fix this problem.  Instead, it just created another.
Now, all in all, I still got some photos I like.  This one, for example, of a few scattered tourists climbing the sand dunes is nice…
It's grainy because I had to hike my ISO all the way up so that I could hand-hold the camera without a tripod.  Using a tripod would have made it better.  But again, at least I learned how to work around that and get the shot with the limited gear I carried with me.  I'd call that a success!
And I was able to pinch the light the way I wanted it in these three…

Playing around with your camera is the fastest way to learn and improve your photos. And, the fun is guaranteed.
[Editor's Note: Learn more about how you can fund your travels and make an extra income with photography, travel writing, blogging, and more in our free online newsletter The Right Way to Travel.  Sign up here today and we'll send you a new report, Profit From Your Photos: A Quick-Start Guide, completely FREE.]