As the sun glittered off the Mediterranean and million-dollar boats shined in the harbor, I ducked into a little shop in Saint-Tropez in search of an ice cream cone. 
The ladies behind the counter thought it was early for sugar at 9 a.m., until I explained it was for a photo shoot just up the street. Then, of course, they got into it and made it extra pretty.
Bonnie, here, with yet another thing I'm thankful for. 
THANKFULNESS, Day 3: Today I'm thankful for life-long learning
Following one of the top stock photographers in the world through the streets of Saint-Tropez at our latest Stock Photo workshop, I learned a ton. Just watching how she set up shoots, thinking about how I could do the same when I get home… something clicked.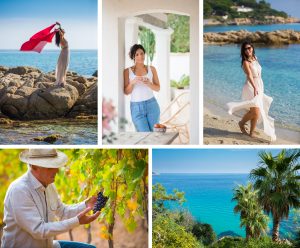 That's another really great thing about the skills you're learning today, this month, this year here at GEP. No matter how long you do this, no matter how well-practiced you feel… there's always room for another thing to "click."
And for that, I'm thankful. 
Boring, repetitive, rote tasks are not my thing.  They shouldn't be your thing, either.  Life is meant to be enjoyed… and it helps that we can make money while we're learning photography skills, too…
After that "click" in Saint-Tropez, I got 30 new photos accepted into my stock agencies. And it feels amazing!
So what can you practice this month to get that click?  Photo editing?  Photo taking?  Writing a story?
I'm willing to bet you'll be thankful you started sooner rather than later.  We almost always are.
[Editor's Note: Learn more about how you can fund your travels and make an extra income with photography, travel writing, blogging, and more in our free online newsletter The Right Way to Travel.  Sign up here today and we'll send you a new report, Five Fun Ways To Get Paid To Travel: A Quick-Start Guide, completely FREE.]