We have all heard the earth is round, but I am here to tell you that from the perspective of your camera, the earth is flat.  (Unless, of course, you're shooting with a wide angle lens in which case the Earth may appear round but that's beside the point.  Stick with me and let's assume the Earth is flat…) So with a flat Earth and thus flat horizon, it's very important to keep the horizon level. It feels a little strange when you're looking at a picture of a lake, for instance, and it seems as though all the water is running to one side. Once in a while professional photographers do shoot with a crooked horizon, but it is for artistic purposes and you can tell it was very deliberately done. Most of us, however, simply don't get our cameras level before we snap the shot. It's one of the most common and yet most overlooked mistakes new photographers make.  And a photo with a crooked horizon is a lot harder to sell.  Luckily, it's super easy to correct. All it takes to fix is to start watching for it in your compositions.  Before you release the shutter ask yourself, "is the horizon straight?" Even if you can't see a solid horizon line, the invisible horizon should be straight, as there are tell-tale signs when it's not.  We've written about this before.  See this past article for more details. But if you still don't get the horizon straight and you want to save the shot, here's how to fix it with Adobe Lightroom:
Lightroom Tip: Steps for Fixing Horizons
** 1.  Open up Lightroom and navigate to the photo you want to fix. I'm using, here, one of my own shots from Ecuador. We were bouncing along a rural dirt road in a bus the only time I saw the top of this volcano (I think it's Mount Imbabura).  I had to open my window and try to get the shot — a challenge at best from a moving vehicle — because it's better to try and miss it than to miss it altogether. Now see how everything in this image slants down toward the left?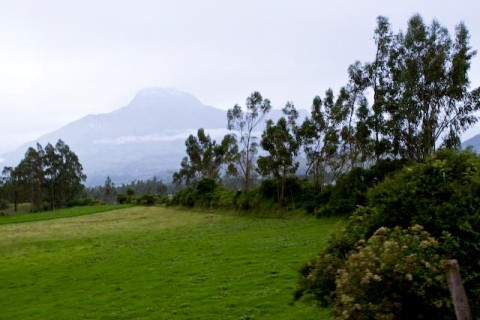 ** 2. Next go to the develop mode.  (See where I've circled "develop" below.)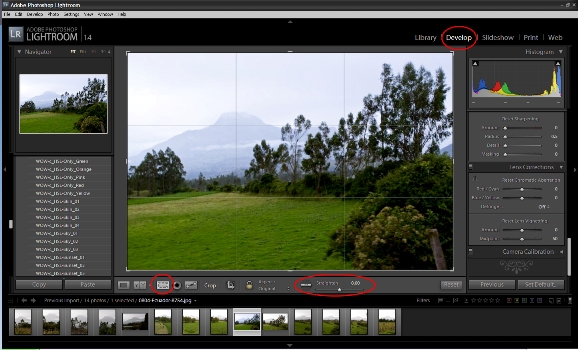 ** 3. Click on the third icon in, the first of your tools just under the image.  This is the crop tool. Now if you look to the right you will see what looks like a little ruler and a slider that says "straighten." ** 4. Grab the slider with your mouse and move it a little.  You'll see a grid appear over the image that can help you see when things are straight. You can do the same thing by placing your cursor near the corner of the image, hold down the left mouse button, and rotate the box into place. (Note: the corners are all dragable.)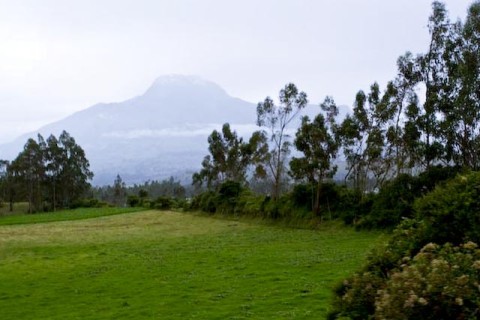 Hint: It's sometimes easier to straighten a picture using your strongest vertical rather than doing it by eye.  What I mean is that it's sometimes hard to line the horizon up perfectly because it's not always a straight line.  If you have a lamp post or the side of a house or anything crossing the picture vertically, you can use that to straighten, instead of a horizontal line.  Just line it up with the grid lines Lightroom puts over the picture when you select the straighten tool.
Lightroom Tip: Voila!
Once you get it straight, that's all there is to it.  Job done and image saved!  It's subtle, but it makes all the difference.  You'll notice also that I cropped in on the image a bit. While I like the post on the right it really shows the movement of the bus so I felt it better to crop it out. Before & After: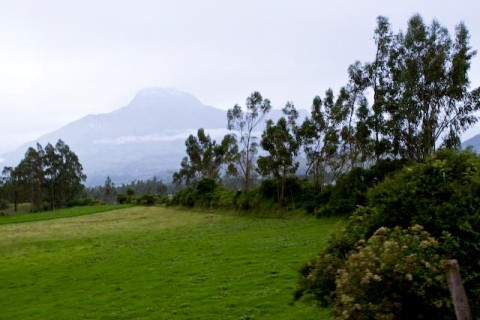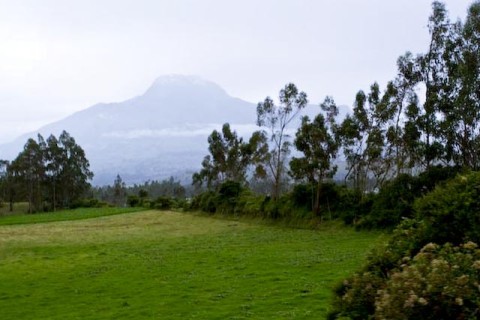 Crooked horizons are one of hundreds of little fixable mistakes that can make your shots harder to sell. Don't forget – you still have a few more days to enter this month's photo challenge "Me Myself and I."  The closing date is next Monday, April 28. ENTER TO WIN! If you have a picture to submit to this month's photo challenge, "Me, Myself and I," log on to our website and click on the Enter to Win tab.  (Note: First-time users need to register on the "register" link on the right side bar first. Once you have a username and password, click "Enter to Win" to upload your photo. Only one photo per applicant will be considered. No purchase necessary to register.) Photos are due by 8:00 a.m. EST, Monday, April 28, 2008. [Editor's Note: Learn more about how you can turn your pictures into cash in our free online newsletter The Right Way to Travel.  Sign up here today and we'll send you a new report, Selling Photos for Cash: A Quick-Start Guide, completely FREE.]