Last month, we decided to focus our photo challenge theme on a color — "Let's Go Green."
Here are the winners…
**First Place goes to Julia Schauer for "The Green Party"
**Second Place goes to chaz61 for "Fern Carpet"
**Third Place goes to rg.intransit for "Bali Green"
Linda DeMarre was our February Photo Challenge winner and, therefore, our guest judge for Let's Go Green. Here's what she had to say about her choice for first place…
FIRST PLACE – THE GREEN PARTY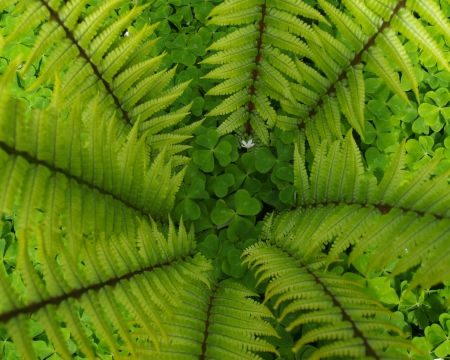 "I like the graphic design elements in this photo. The geometric pattern directs the movement to the center of the composition, but then radiates attention out again to the edges of the picture. There is symmetry and balance in the spokes of green, with nothing to distract the eye haphazardly to some imperfection in lighting or framing. I also like the perspective of shooting downward; keeping the camera parallel allows for uniform focus."
I agree with everything Linda says and especially like the little lone white flower that draws the eye right to it. Julia gave a wonderful, playful description of the image, too… "Spring threw a party. The guests all wore green. Fern and Clover danced over and over."
SECOND PLACE – FERN CARPET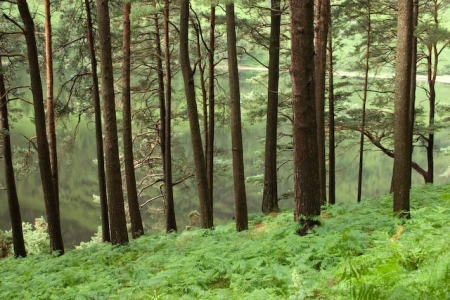 This photo has a nice sense of place. There is strength in the bold, repetitive vertical lines of the tree trunks. Yet there is stillness and softness to the image, too, and the distant reflection on the water in the background adds to this sense of calm. With the exception of the tree trunks, the setting is mostly tone on tone. While the trees are a strong dominant factor, the ferns represent a softer, more subtle element. Good application of the Rule of Thirds on the horizontal… and by placing the largest tree trunk on the thirds as well. Overall, I find the image warm and inviting.
THIRD PLACE – Bali Green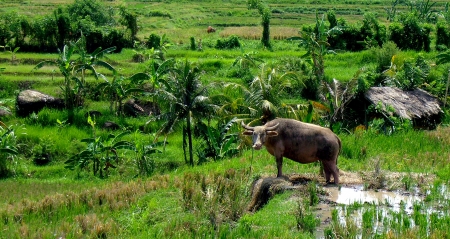 The water buffalo makes this shot. He's standing right on a thirds line, looking at the camera. He seems to be posing and provides a lot of character and a sense of place.
The rest of the composition is also well done, with all the elements coming together to hold the eye in the frame. The hut and the other darker area (hut or rock — I am not sure at this size) work together with the water buffalo to form a triangular shape that provides a pleasing path for the eye to travel.
[Editor's Note: Looking through the entries for our March Photo Challenge, it struck me how many of the photos could have benefited from a human element.
That's not something we've talked about recently, but it is something you should always keep in mind. In fact, it's one of the biggest secrets to taking a saleable photograph. People sell.
We've written about this topic before — you'll find articles about how to successfully put people in your photos in our e-letter archives online.]
Congratulations to all three winners!
ENTER TO WIN!
This month's theme, "Me, Myself and I," is a fun one… and it's already underway. Some very interesting submissions are rolling in… head on over to take a look. And be sure to submit your photos by 8:00 a.m. EST, Monday, April 28. If you're a first-time user, you'll need to register first on the "register" link on the right side bar. Once you have a username and password, click "Enter to Win" to upload your photo. Only one photo per applicant will be considered.
[Editor's Note: Learn more about how you can turn your pictures into cash in our free online newsletter The Right Way to Travel. Sign up here today and we'll send you a new report, Selling Photos for Cash: A Quick-Start Guide, completely FREE.]