DON'T LET THE MYTH OF TALENT GET IN THE WAY OF SUCCESS
by Efraín M. Padró in Santa Fe, NM
In 2001 I attended a talk by photographer Craig M. Tanner titled The Myth of Talent.
During the talk, Tanner told the story of his humbling first attempt at becoming a professional nature photographer. He described how he spent months photographing national parks and returning with exactly zero images (of over 7,000 shots) he felt were any good.
As he showed the audience slide after slide of overexposed, underexposed, poorly composed, and blurred images, I became excited about becoming a professional photographer myself. After all, my pictures looked just as bad as his. Tanner's point, of course, was that anyone with desire and persistence could become a good photographer.
He later showed us a collection of beautiful images he created.
Rather than give in to the idea of the "myth of talent," that talented photographers are somehow born that way, he followed his dream with determination and became the accomplished photographer that stood before us that day.
He later wrote in a follow-up article, "being labeled talented only means one has survived being untalented." Nobody starts out being a good photographer (or anything else, for that matter).
Though at different speeds and to varying degrees, we all go through a similar progression between beginner and experienced. A recent event brought this concept into focus for me.
As I was preparing for a trip to Seville, Spain, I reviewed some pictures I had taken of the city years ago. It was like looking at photographs someone else had taken. Even my wife remarked how bad my pictures were, and I had to agree. But, at the time I took them, it was all I could do given my knowledge and experience.
With time, as I learned the artistic and technical aspects of photography, my images became better, a process that continues to this day.
To give you a visual idea of what I'm talking about, I've included two images of the same subject (the Folk Art Museum in Seville's Maria Luisa Park), taken many years apart.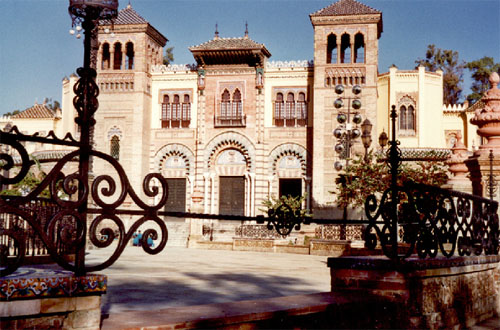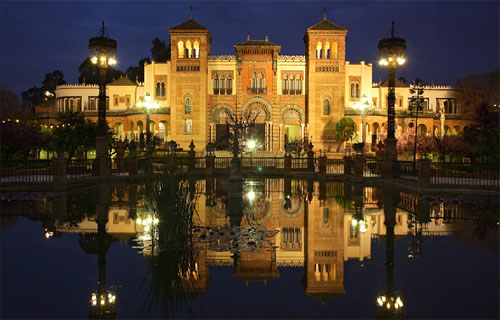 The first image is poorly composed (the lamp post is cut off at the top and there is a gate blocking the eye from entering the picture), and the harsh light is not flattering to the otherwise beautiful building.
The second image was taken at twilight, one of my favorite times to photograph architectural subjects, and I positioned myself in front of the pond to capture a reflection of the building, completing the symmetry of the photograph.
Regardless of where you are in your photographic development, you should always follow Theodore Roosevelt's advice: "Do what you can, with what you have, where you are." No talent required.
[Editor's Note: Learn more about how you can turn your pictures into cash in our free online newsletter The Right Way to Travel.  Sign up here today and we'll send you a new report, Selling Photos for Cash: A Quick-Start Guide, completely FREE.]