We received a lot of creative entries for November's photo challenge, "Orange You Glad." Scroll below to see the winning photos…
December's theme is: Sugar and Spice and Everything Nice. You'll find more details about entering below.
Enjoy!
-Lori
Lori Allen
Director, Great Escape Publishing
ORANGE YOU GLAD — WINNING ENTRIES
By Shelly Perry in Portland, OR
Last month's photo challenge theme "Orange You Glad," focused our attention (and lenses) on a single color–which produced interesting results.
Of course, we received a lot of fall colors, displaying the beauty that surrounds us for a short period of time as the seasons change. We also had a number of other takes on the color — people were clearly watching and being observant for orange this month. Observation is a key tool to keep in mind as a photographer.
September's winner "bening8" was our guest judge this time around, so she got to pick this month's first-place winner. See what she had to say about it below…
** First Place goes to rainyday for "orange or peach"
** Second Place goes to zbeach for "Orange You Glad There's Still Film"
** Third Place goes to Denise Potrzeba Lett for "Fall Foliage Along Japanese Garden Path"
** Honorable Mention goes to saanva for "Orange drops"
FIRST PLACE — ORANGE OR PEACH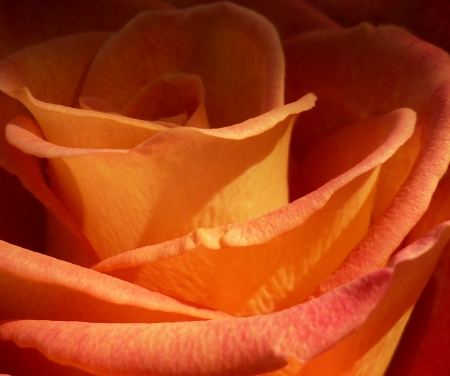 I choose "orange or peach," as this month's winner because it resonates the warmth of the "orange," has good details in the photo, and there's good lighting. Orange flowers give me a sense of happiness. Despite its simplicity, this photo speaks a lot.
SECOND PLACE — ORANGE YOU GLAD THERE'S STILL FILM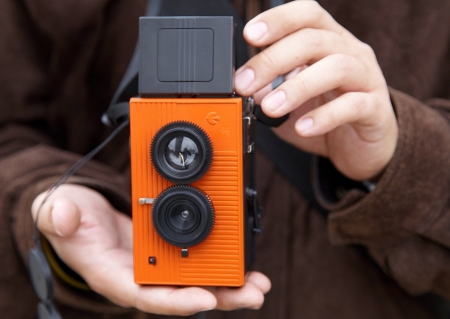 Yes, as a matter of fact I am glad there is still film. I like the color combination of this shot — the orange, the brown jacket, and the hands. The shallow depth of field is really nice here and I like how the hands are positioned, gently holding the camera.
The camera is a wee bit centered, but with the composition I understand why this choice was made: it fills the frame with the jacket, eliminating anything else and leaving nowhere for our eye to wander. I think that's a good call. However, I do wish that the knuckle on the top forefinger was included.
THIRD PLACE — FALL FOLIAGE ALONG JAPANESE GARDEN PATH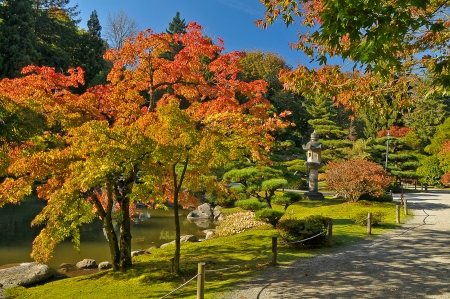 Beautiful fall shot and nicely composed with the winding of both the path and the water, which provide some nice leading lines through and into the photo. The processing is nice; it brightens up the shadow areas and tones down the highlight areas where the sun is the brightest.
The only thing I might change about this shot is the crop on the main tree on the left. I'd like to see either the whole round of the tree on the left or, to bring in the crop a bit more, to where the bottom leaves are dipping to the rock. By doing that, I think it would hold the viewer's eye into the frame a bit more.
HONORABLE MENTION — ORANGE DROPS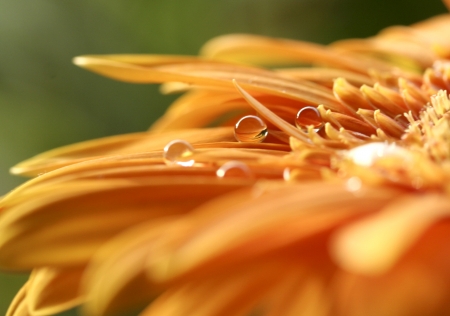 This is a gorgeous macro shot, with those tiny droplets of dew and the reflected world they hold. The shallow depth of field and focus is perfect.
I would like to see this same shot with the dew drops set less centered, farther to the right, perhaps including more or all of the petals as they round on the left. Having said that, I think this shot is extremely well done.
Congratulations to each of our winners!
The first-place winner will get a $30 gift certificate to the AWAI E-Bookstore, and all winners will be entered into the Hall of Fame, to compete for next year's $2,000 Grand Prize!
ENTER TO WIN!
Remember, this month's theme is: Sugar and Spice and Everything Nice.
Submit your photos by 8:00 a.m. EST, Monday, January 3, 2011. If you're a first-time user, you'll need to register first on the "register" link on the right side bar. Once you have a username and password, click "Enter to Win" to upload your photo. Only one photo per applicant will be considered.
[Editor's Note: Learn more about how you can turn your pictures into cash in our free online newsletter The Right Way to Travel. Sign up here today and we'll send you a new report, Selling Photos for Cash: A Quick-Start Guide, completely FREE.]