This is the third group of attendees we've brought to Cotacachi, Ecuador, this year, and this time they got a big surprise.  On the day they arrived, the locals were gathering for a bull fight… and we were invited to watch. The locals didn't kill the bull (which we were all grateful for).  Instead, they just ran from him — which turned out to be quite comical. Later, they put a pig in the ring and challenged all the women in the audience to catch the pig — while also running from the bull.  That's when the real laughter started.  Luckily, no one got hurt. I caught a lot of the event on video, which I'll post on our website when I get back. But I also got some really good pictures at the ring.  And I picked up a cool photo editing tip from Rich Wagner, our lead photography instructor here in Ecuador, too.  You should keep this tip handy if you plan to sell photos as fine art or maybe even for stock.  Certainly, an editing tip like this would be great for photos you want to hang on your wall, too.  So here it is… How to Create an Instant Panorama: Using the newest version of Adobe Lightroom 2.0, along with Photoshop CS3, you don't need special lenses — or even a tripod — to create panoramas.  All you need is three to five good photos that overlap one another. Take a look at the five photos Rich has selected here in Lightroom.  Notice how each photo was taken on the same horizontal plane. You can use a tripod to do this, but you don't have to.  Just hold your camera straight and shoot from left to right – one picture after the next, with each one overlapping the last by about one-third of a frame.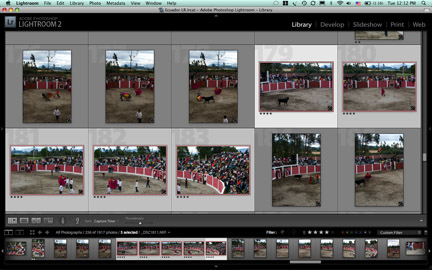 After selecting the shots in Lightroom 2.0, simply go up to "Photo" then "Edit In," then choose "Merge to Panorama in Photoshop" here…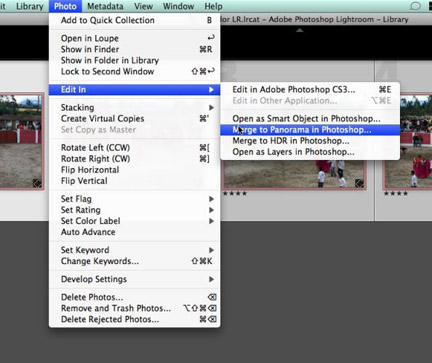 Lightroom will automatically open Photoshop CS3 and place the files in the Photomerge menu box, like this: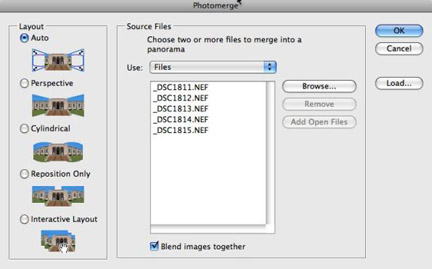 The auto layout button at the top should be checked automatically — and that's exactly what you want. All you have to do is click "OK" and wait. Once you see the final result, just hit "save," and, in a few minutes, Photoshop will automatically transfer it back into Lightroom where you can crop and continue to edit it if you want. Here's the result back in Lightroom: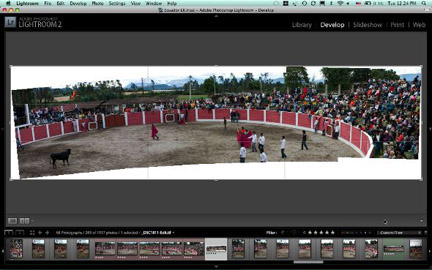 A quick use of the crop tool in Lightroom, and your panorama is complete.

Now you can easily make flawless panoramas whenever you want. — Lori Lori Allen Director, Great Escape Publishing [Editor's Note: Learn more about how you can turn your pictures into cash in our free online newsletter The Right Way to Travel.  Sign up here today and we'll send you a new report, Selling Photos for Cash: A Quick-Start Guide, completely FREE.]