Yesterday, I told you that you could earn $9,000 at home by selling your hometown photos to a group of photo buyers who buy them in bulk.
Professional photographer, Mark Langford has done this six times – selling photos of his hometown, San Antonio, TX.
Here are his five tips for making sure you have the right kinds of photos in your portfolio to send.  And remember, they require hundreds, if not thousands, of images. So check this list twice if you're out of ideas on what to shoot…
1. SHOOT FOOD: Which foods or restaurants are popular in your town? Are there local farms close by? You could take all kinds of food-related photos: images of fresh fruits and vegetables at a farmer's market. Photos of farmland, such as the apple orchards in Washington state. Pictures of a local chef preparing a gourmet meal inside the restaurant's kitchen. A photo of the restaurant itself, showing the location (especially if it's somewhere scenic). Or, even close-up images of the dinner you're served at a restaurant, or a delicious-looking dessert. Just look at this Tex-mex meal…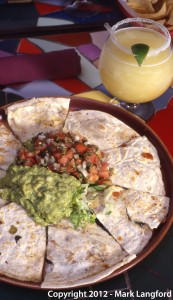 2. PHOTOGRAPH YOUR DOWNTOWN AREA: Whether you live in a quaint rural town or a bustling city packed with skyscrapers, every community has a downtown. To get the best shot of your community's downtown location, you want to find an elevated spot – whether it's a steep hill or towering landmark that looks down onto the area. In Colorado, for instance, the Denver Millennium Bridge is a landmark said to have a great view of the Lower Downtown and the Potter Highlands historic district. And, Mark likes renting a helicopter to get stunning skyline shots of his downtown, like this one: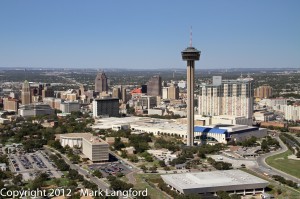 3. TAKE PICTURES OF WILDLIFE: You can take photos of more commonplace wildlife: deer or rabbits, and even insects like dragonflies and butterflies. This adorable cottontail rabbit, for instance, is one of Mark's published coffee table book photos: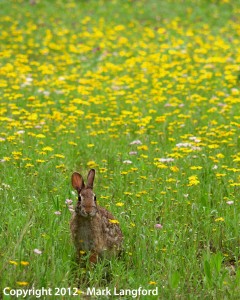 You also want to photograph unique wildlife in your region. What's your state bird, for instance? In Nevada, you could photograph the Mountain Bluebird, and if you're in New Mexico, it's the Roadrunner you'd want to capture. In South Florida, geckos clinging to the side of buildings are a distinctive sight. In Texas, where Mark resides, there are Texas Longhorns, peacocks, and armadillos.
4. PHOTOGRAPH FALL FAIRS: Fall Fairs are just around the corner again. This is a fantastic opportunity for you to go and enjoy the "kid in you" on rides, enjoy the festivities, and take photos while you're at it. Local art shows… the circus… annual events… all qualify, too. And, you'll find you'll get complimentary – and even exclusive access – when you're working on a coffee table book project. What if you could get permission to photograph away from the crowds? You can. Mark, for instance, got this dramatic Riverwalk parade shot because his press credentials gave him access to a better position to shoot from: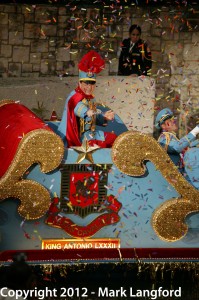 5. DON'T FORGET CHURCHES: The beautiful architecture outside… and the stain glass or religious statues, inside, are a few examples of what you could photograph. In this church photo, Mark waited for the perfect placement of the sun, creating a halo near the top. With a little patience, and a little experimenting with dramatic light, you too could capture the peacefulness and serenity a local church provides for your community.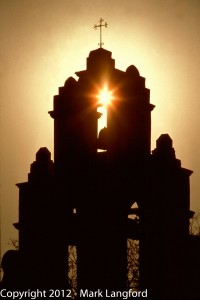 [Editor's Note: Learn more about opportunities to profit from your travels (and even from your own home) in our free online newsletter The Right Way to Travel.]