Not many professional photographers show you their bad images. But I have no such shame.
We're all learning. No one is perfect. Just because you're in a different place on your journey doesn't mean we can't celebrate or commiserate (or laugh) at where I am on mine.
I made lots of mistakes in Tanzania. Joe and Kristen, our instructors on this trip, did, too, I'm sure. You can't get everything right, all the time. Sometimes things happen and you're not prepared.
For example, here's a fun cheetah moment I grabbed without enough time to compose…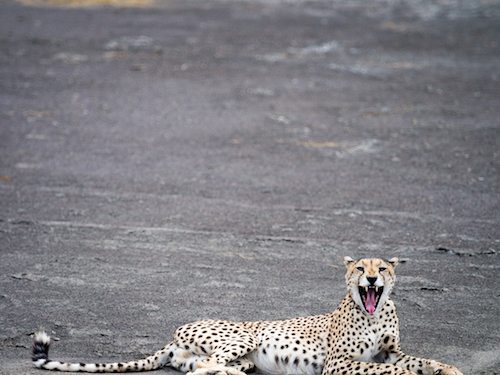 But one thing I learned from Kristen that has helped is this idea of "f8 and be there."
I typically spend my days shooting on low f-stop numbers. F4, f5.6… that's typically where I hang out because I like my subject in sharp focus and my background nicely blurred. I switch to f11 or f16 when I want a good landscape with everything in focus.
But in Tanzania, sometimes things are really far away and you're using really big lenses. Some animals are in trees or surrounded by other elements, so those low f-stop numbers can be tricky.  
I struggled with my focus on this leopard because my camera kept wanting to focus on the big branch in front and not the leopard's head which was putting him in soft focus…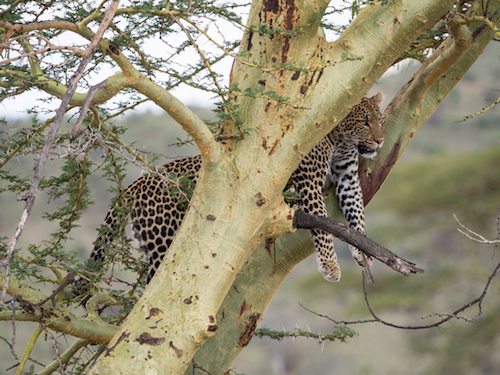 But a quick switch to f8, per Kristen's suggestion, opened up my depth of field (bringing more into focus) enough that even if I got an occasional branch, my leopard would still be sharp.
I used it here to be sure I didn't accidentally catch a focus spot on another lion's nose…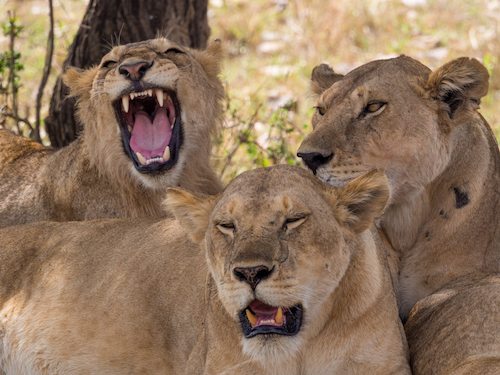 Here to catch all three elephants…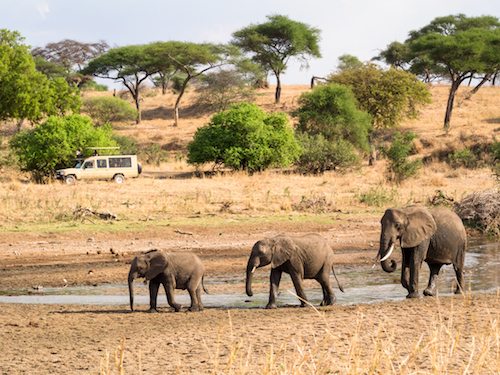 And here because they were playing around a lot and I wanted to be sure I got both of them…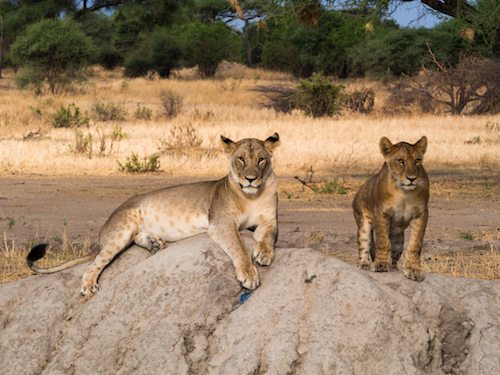 "F8 and be there" isn't something Kristen made up. It's actually an old photography expression to help with focusing your photo. When you're shooting on the fly and you need parts of your image to be in focus, but you still want some blur in the background, using f8 opens up your depth of field just enough to ensure you get a sharp image of your subject as well as some surrounding elements.
Tomorrow I'll explain more about f-stops next time. 
[Editor's Note: Learn more about how you can fund your travels and make an extra income with photography, travel writing, blogging, and more in our free online newsletter The Right Way to Travel.  Sign up here today and we'll send you a new report, Five Fun Ways To Get Paid To Travel: A Quick-Start Guide, completely FREE.]