As a professional photographer, I enjoy taking action portraits like this: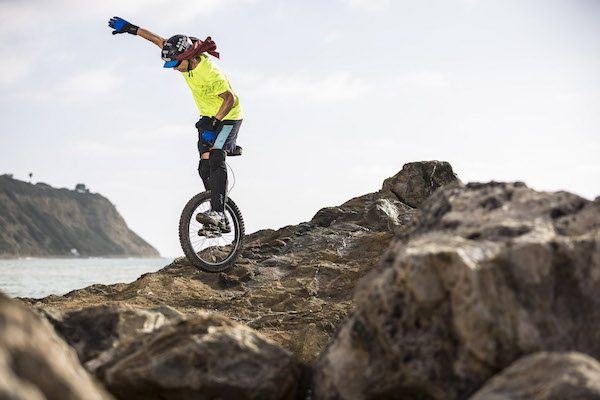 Shooting outdoors on location is the best way to achieve dramatic lifestyle and action portraits.
When composing action photos like this, I like to think of myself as a movie director and envision the location as a large movie set. I try to find interesting visual elements that can be used as foreground, middle ground, and background and that's where I place my subjects.
Typically, I start in the back and look for a dramatic background first. I place the subject in front of this background (in the middle ground). I then look for an element that can be a good foreground. This is often a rock, tree branches, the ground or even another person.
Now, here's the same photo, with those areas labeled: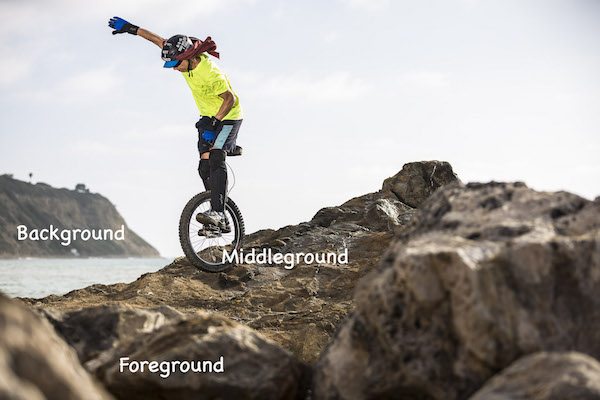 These layers add to the feeling of three dimensions on a two-dimensional surface.
Another trick that really helps to add depth to your image is by using a large aperture or small f-stop number. This creates a shallow depth of field where more of the foreground and background are out of focus–similar to the way our eyes work.
This technique is really effective for portraits as it helps to visually separate the subject from the background and foreground.
Here's another example where I've used this technique…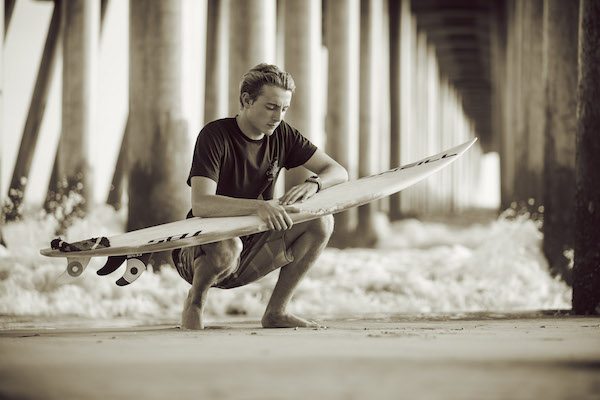 To create this effect, it's best to use a long telephoto lens, 85mm or longer, to compress the space from the foreground to the background. Then you need to get as close to the foreground object as possible. If it's the ground, get down as low as you can. For this surfer shot, I was lying on my belly on the sand and got soaked a few times by incoming waves.
Can you see how the sand in the foreground is in soft focus and the pilings in the background are also in soft focus? Can you imagine how I set this up, looking first for a good background, then a good foreground and then putting my subject in the middle of the two?
Because I shoot this way frequently, I've invested in a yoga mat to use on rocky and uncomfortable surfaces (which also helps to keep my clothes clean and prevents cuts and scrapes).
On this next shoot, the grass was soft enough to lie on, so no yoga mat needed…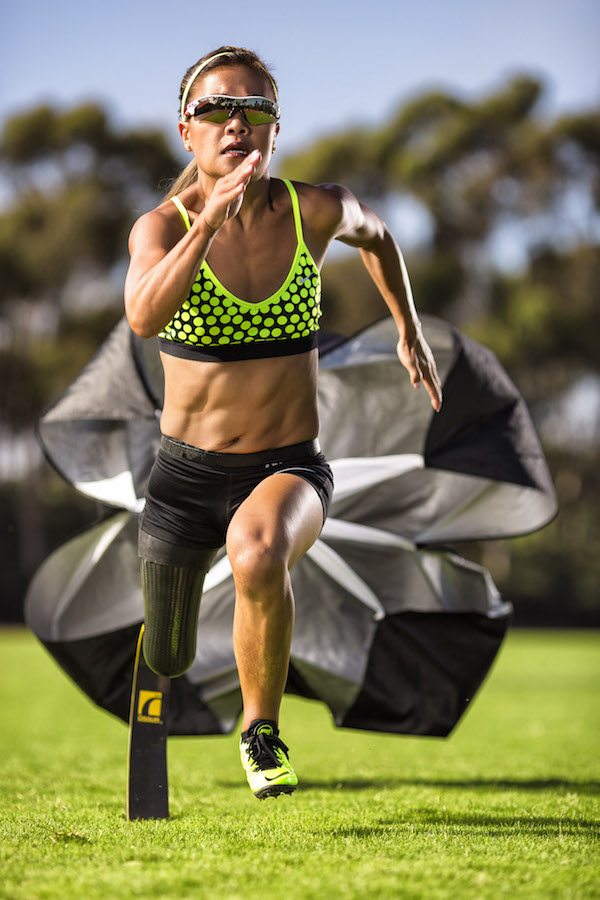 And, here's a final example where the foreground and middle ground elements of the railroad tracks create depth and visually lead your eye to the subject.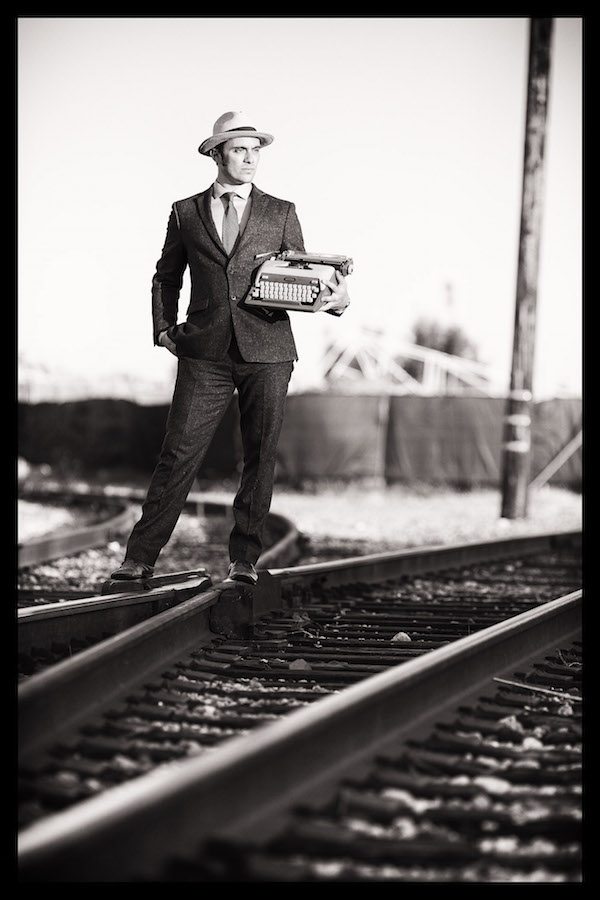 You can take photos like these, too.
First, just take time to scout out a suitable location. Then apply the above techniques to create depth in your images.
It's a simple enough technique but most people don't think of their photos this way. They think only of flat, snapshot-style images where everything is the same distance away from them. Or they focus only on two dimensions – the subject and the background. But really, you should think of all three.
[Editor's Note: Learn more about how you can fund your travels and make an extra income with photography, travel writing, blogging, and more in our free online newsletter The Right Way to Travel.  Sign up here today and we'll send you a new report, Profit From Your Photos: A Quick-Start Guide, completely FREE.]