Yesterday, a family friend asked me to "work my magic" on a couple of photos that she took with a point-and-shoot. She wants to print and frame them as a gift to her parents. Since she's a great friend and a headshot client, of course I said yes! (Besides, playing in Lightroom is fun.)
Here's one of them, straight out of the camera: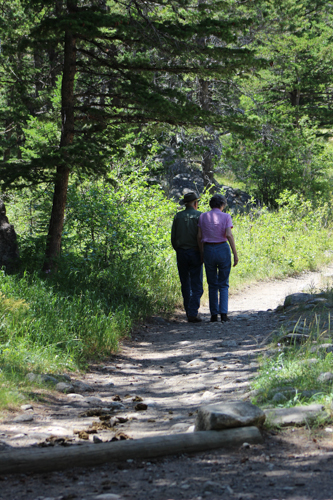 I love the theme and the subject of the photo, but it could use a few tweaks.
When you sit down to edit a snapshot, ask yourself a few questions before you dive in:
How's the exposure?
Are there any distracting elements that overshadow the subject? How can I reduce them?
Is the horizon straight?
Is the white balance correct?
How else can I draw attention to the subject and make the photo look its best?
For this photo, the main things I wanted to improve were:
Distractions/Clutter – The log and the bright path take away from the main subject.
Exposure – The couple is too dark and could use some brightening.
Color Balance – Overall, the photo looks a little too blue.
Here it is again, after some quick edits in Lightroom: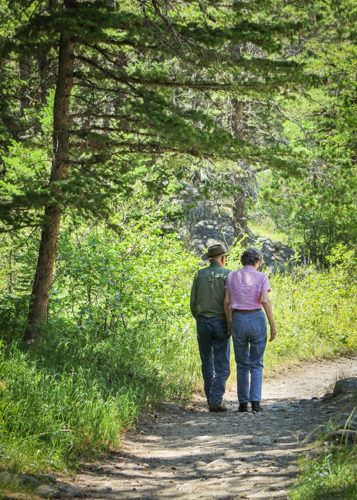 Much improved!
This was easy, and I made a little how-to video to show you exactly what I did. Premium Members can watch it in the "Video Reports" section of your Premium Member page, here.
I liked the result, and thought I'd see what I could do with some selective blurring in Photoshop. Here's how that turned out: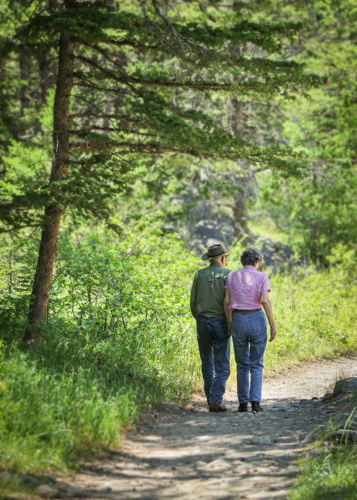 Too fun! I could do this stuff all day.
Since I'm not selling this as stock, I'm not worried about noise and other issues. When you do edit your photos for stock, just make sure you always view them at 100% to make sure you're not introducing any technical problems with editing.
— Bonnie
Bonnie Caton
Creator, Breakfast Stock Club
P.S. Not a Breakfast Stock Club Premium Member? Try it out for a month and watch your photos improve fast, here.