"There is no greater gift you can give or receive than to honor your calling. It's why you were born. And how you become most truly alive." — Oprah Winfrey
Ginger's job came to an end when her boss stopped paying his employees. If she wanted another job in the same field, she'd have to move to a new city.
Not wanting to leave, she decided to delve into an old passion: photography.
Now, Ginger has two stock portfolios up and running… with a portfolio of over 100 images up for sale on one site, and a second portfolio catching up.
On top of that, her stock photo pursuits led to a lucrative photo side-project…
Read on to see how she did it, and what she loves about her new, photo-filled life in our interview with her, below.
And …
Ginger lost her job… but now she's having fun getting paid to take photos. Shelly Perry, whose high-stress job was literally making her sick, left it and made a life for herself with photography. Stock photo superstar Lise Gagne got fired from her design job and ended up doing what she REALLY wanted… stock photography. If you want a life that makes you happy… you want to wake up in the morning excited for the day to come… and you want to make a living doing something you enjoy… there is no better time to start than right now. Not sure how? The Turn Your Pictures into Cash program will show you how to turn your passion and skill for photography into an income.
A HUNDRED STOCK PHOTOS PLUS TWO-THOUSAND MORE
Interview with reader and stock photographer Ginger Sanders
TRWTT: What were you doing before you got into photography?
GINGER: For years I had a job in green energy, where at any given time, the phone would ring with some disaster that had to be fixed RIGHT THEN or either people would suffer, or great financial loss would occur, or both.
It was hugely stressful, exciting, scary, and frustrating, and I was important. On a moment's notice, I could be off to Washington D.C. to meet with the very top people in the land.
Then, one day, the owner lost his mind and quit paying people. The shareholders sued, and the roof fell in, so to speak. Just like that, it was over.
Newly broke, I decided it was time to take that Canon my husband bought me for Christmas two years before out of the box and follow my dream and go back into the photography I had enjoyed as a young woman.
TRWTT: How did you go from new photographer to stock photographer?
GINGER: In order to get back into green energy I would have had to move. I have grandchildren here and I like the freedom stock offers.  So I started from the beginning and took a class at the local college on "Getting to know your DSLR."
I tried to become a contributor to a number of stock sites. After a couple of turndowns by the bigger agencies, I thought maybe I should educate myself a little more than reading Internet blogs. So I bought the 2010 Ultimate Stock Photo At Home Workshop Package with the very last of my savings.
Reading Kevin Lohka's section on picking the right stock agency, WOW, I was talking back to the computer! "YES! That happened to me too! YOU ROCK!" I applied to Dreamstime that day and, by the next morning, I was an accepted stock photographer! I got a sale fairly quickly, which spurred me on.
TRWTT: That's great! We looked through your portfolio and  you look like you're having a lot of fun with your photo shoots at home. Which photos are your favorite to shoot?
GINGER: I find new favorites every week. The charity polo match last Sunday was a ball. I had several editorial shots accepted and a few regular stock shots. And, there is always fun to be had at the dog park!
I also had a lot of fun with the Breakfast Stock Club Premium Challenge last month. This Christmas-themed shot that I took for the Challenge is a favorite because I combined it with illustration…and it has sold.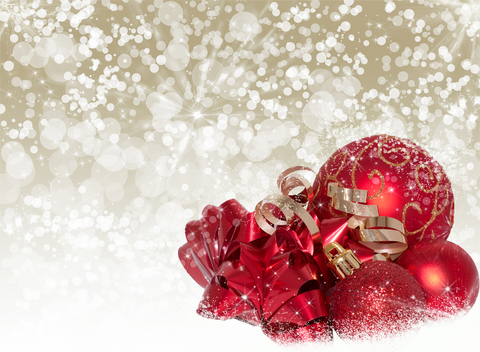 I would say though, that this one has the best story and is still one of my favorites.  I love the heart-shaped stone…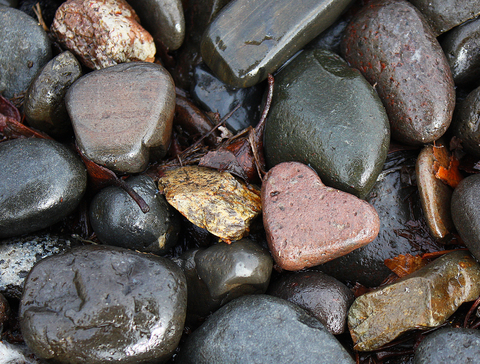 TRWTT: If you could take your stock photography anywhere in the world, where would you go?
GINGER: There's no place like home. Most of us take where we live for granted. This is the first time since we moved here 10 years ago that my husband and I have gotten to be tourists in our own state. Go to the Visitor's Center sites for your area and find out what is going on. Check with your local college extension office, Master Gardener's Club, local animal clubs, the dog park, etc.
TRWTT: How many agencies do you sell your photos in now, and how many photos to you have up for sale in them?
GINGER: Just two agencies, because I'm working on a big private project (2,000 images) that is taking up all my time.
As of this morning, I have 146 on Dreamstime and another 20 sitting in the review. And I have 38 on Fotolia with 20+ sitting in the review queue.  I will maybe give the two other big ones (iStock and Shutterstock) another run when I get done with my private project.
TRWTT: Can you tell us about the big project you mentioned?
GINGER: Thanks to the stock portfolios and my private website, a man who is setting up a private stock agency in another country found me. He needed 2,000 exclusive images. Mostly I am working on that, right now. It's a lot of generic household goods, fruit, veggies, etc. on white, but I'm finding I'm even enjoying the whole clean look of those, and I know that getting very competent at that and good isolation techniques will pay off for me. Right now everything is fair game. My son walks in and I say, "Give me your watch and sunglasses, I'll be right back!"
TRWTT: Have you hit the $20 week Breakfast Stock Club goal yet?
GINGER: The big project is paying L*O*T*S. Because of it, I'm buying new L series lenses and going to Alaska, so I would say, yes, if it turns into a permanent position, then I have met the goal. If not, then I need to have a back-up plan ready in a few months.
TRWTT: Do you have any advice for those who are just starting out?
GINGER: Carry your camera ALWAYS. If not your big one, then a decent pocket camera. This morning, a few of us went to a local breakfast spot and the way the tea sat in the cup in the morning light… that was money in the bank. Also, I have traveled a lot and knowing what I know now, I would never again take only a point-and-shoot to Europe, or anywhere else for that matter.
I know some people stress "Find a Niche," but I say SHOOT EVERYTHING. Take lots of pictures. THOUSANDS and thousands. There is no substitute for practice. (I eat a lot of cold breakfasts because I have to photograph it at every angle.) I think at some point a niche may find you, but in the meantime, learn every aspect of everything. The people at Olive Garden now know where to seat me for the best lighting.
Join your camera club. Take workshops, even if it's just a local photo walk with the Sierra Club.
Tripod, tripod, tripod. Just get over it, and take it everywhere. My main tripod weighs as much as a dog, and not a purse dog, a REAL BIG dog. I don't even own a purse; I hate carrying stuff. I haul it on many mile hikes to shoot waterfalls. If you are not using one, you're wasting a lot of your time.
Get the funny books on your DSLR stuff like DSLR Photography for Dummies. Put them in your bathroom. I bought them for my husband, because, of course, I know everything about my extremely complicated camera right? Wrong! These cameras have so much STUFF in them. Every day I learn something else. My husband sometimes pops up with something about MY camera that I didn't even know. I know what he's reading in the bathroom.
Last, participate in the blogs and message boards of the stock agencies where you contribute, or plan to contribute. You can learn a lot and it's nice to be part of a like-minded community of people who understand why you have to lie on the ground in the rain and photograph some rocks.
[Editor's Note: Learn more about how you can turn your pictures into cash in our free online newsletter The Right Way to Travel.  Sign up here today and we'll send you a new report, Selling Photos for Cash: A Quick-Start Guide, completely FREE.]