This month's Photo Challenge is also a cover photo opportunity! Here's the scoop… Great Escape Publishing needs a cover photo for the first issue of its new magazine, The Barefoot Writer. They're offering $100 for the cover shot, plus a photo credit in the magazine.
So, to pass this opportunity to you, this month's Photo Challenge theme is: The Barefoot Writer. Just like our normal Photo Challenges, this month's winner will get a $30 gift certificate to the Great Escape Publishing's e-bookstore. And the first-, second-, and third-place winners will all be entered in the running for the $1,000 Grand Prize in October. But this month, the winner will ALSO get a check for $100 and a photo on the cover of a magazine.
The Barefoot Writer is a magazine for writers who want to work when they like and however much they want – from home or anywhere in the world they wish to travel. Thanks to the lucrative freelance writing opportunities in the magazine, they'll have the freedom to do just that. It'll be published monthly and delivered online.
The cover shot should portray the lifestyle of someone who loves what they do, gets to set their own hours, live wherever they please, and travel on a whim. In other words, they are living "the dream." You can set up a shot that literally shows someone barefoot in paradise, scribbling in a notebook… or you can show your own interpretation on the theme. However you do it, keep in mind that this is a COVER photo.
It's got to be good. So, before you submit a photo, make sure that it: ** Fits the theme of the magazine ** Is beautifully composed ** Is properly exposed ** Is vertical, rather than horizontal ** Is clean, optimistic, and dreamy (avoid photos of just feet or "funny" interpretations) + Copy space is a plus Here are some photos that fit the theme, for inspiration: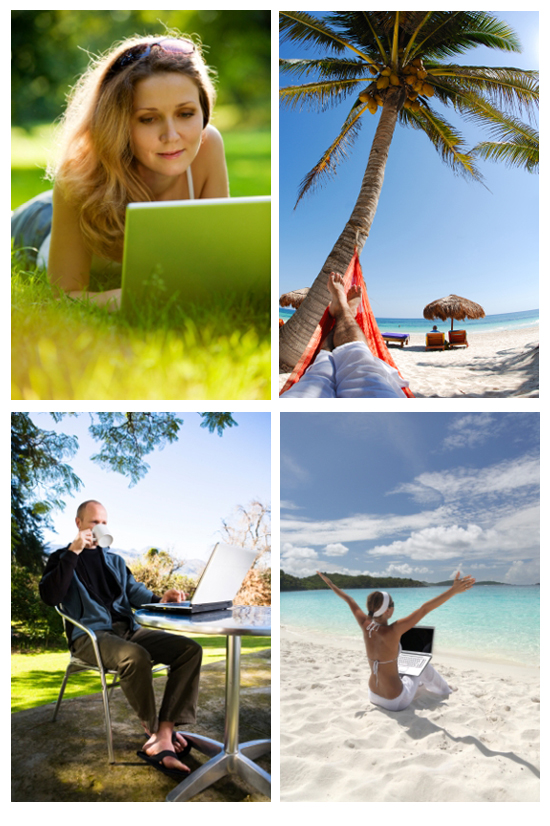 For more tips on how to take a great cover shot, here's an article in our archives from professional photographer Efrain Padro. Submissions for September's Challenge are due by 8:00 a.m. Eastern Time on Monday, October 3. You can submit your photos by clicking on the "Enter to Win" tab on our website. The editor of The Barefoot Writer will choose the winner this month.
[Editor's Note: Learn more about how you can turn your pictures into cash in our free online newsletter The Right Way to Travel.  Sign up here today and we'll send you a new report, Selling Photos for Cash: A Quick-Start Guide, completely FREE.]