Here's last month's photo challenge winners…
Remember, next week you'll be able to vote for your favorite photo of all of this year's monthly Photo Challenge winners and honorable mentions. The grand prize winner will take home $2,000! (I'll send you more details next week with instructions for casting your vote.)
In the meantime, scroll down to see September's Photo Challenge winners. We got some really great entries last month…
Lori Allen
Director, Great Escape Publishing
***************************************
HOW WE WORK — WINNING ENTRIES
Last month's Photo Challenge theme was "How We Work," and, through the images submitted, we saw people hard at work from Bali to South Africa. We saw molten metal in Mexico, a window washer from the 88th floor in Shanghai, and a bear riding a snow-mobile, proving that the ways in which we work are certainly diverse and intriguing. August's winner, Van White, acted as our guest judge and chose our first-place winner…
**First Place goes to Lynnette for "Up on the Roof"
**Second Place goes to Dave Stelmach for "Did Ansel Adams work this hard"
**Third Place goes to benoitpi for "Working at the Elephant Farm"
**Honorable Mention goes to Eye Spy for "The Artist"
Here is what Van had to say about his favorite photo…
FIRST PLACE — UP ON THE ROOF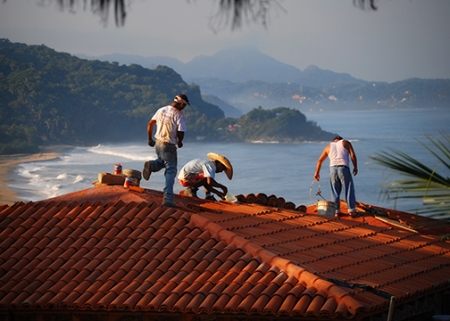 "First, the color is strikingly beautiful without looking fake. The sun, very low in the sky, casts a beautiful golden glow. Also, the angle of the sun is perfect for showing the shape/texture of the workers, the mountainside, and the tiles. In keeping with the theme, these workers are focused on their job, not posing for the camera.
"The image perfectly combines a beautiful scene with a great storytelling image. Here you instantly see that these guys are installing the roof…and you can see the locale, too.
"I love the contrast of one guy's golden-colored straw hat against the blue water. Very nicely composed and very well exposed, I would be proud to have this displayed in my house." — Van White
SECOND PLACE — DID ANSEL ADAMS WORK THIS HARD
Judging by: Shelly Perry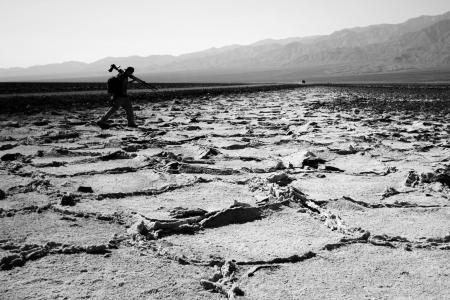 This shot is beautiful. The composition is fantastic with the person on the Thirds line, vertical leading lines that draw the viewer into the image, and the rich texture of the foreground, which is reminiscent of the mountains in the background.
There's only one thing I would change – I'd prefer that the silhouetted photographer carrying the camera and tripod were slightly closer to the camera. But that's just personal preference on my part. Nothing technical. And nothing that keeps this photo from telling its story.
THIRD PLACE — WORKING AT THE ELEPHANT FARM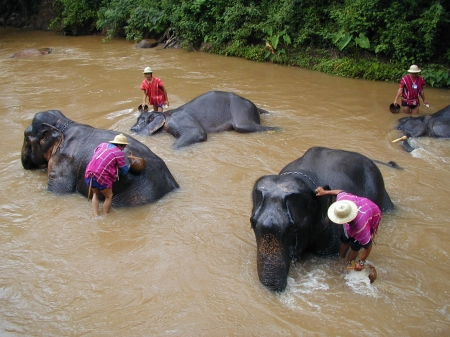 This shot definitely fits with the theme of "How We Work," as it must be some job to bathe an elephant! I was immediately intrigued by this photo because it tells a story all on its own. This would be a great shot to accompany a travel article. I really like the colored shirts and hats on the guys — along with the elephants, they provide specific points of interest to draw our eyes into and around the photo.
HONORABLE METION — THE ARTIST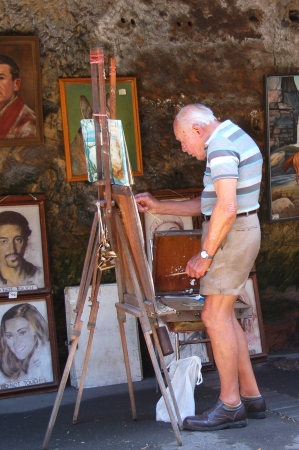 Sometimes I wish we could have several winners… this shot, "The Artist," could easily be first, second, or third. It's a terrific shot — another one with its own tale. Another thing this shot has that sets it apart is "feeling." It evokes a response — it's almost as though the artist is the art. A shot to be proud of in every way.
Congratulations to our winners!!
The first-place winner will receive a $30 gift certificate to the AWAI bookstore, and all of the winners this month, and from the rest of the year, will be entered into our 2008 Hall of Fame, where, starting next week, you'll be able to vote for the yearly grand prize winner.
More about that next week.
[Editor's Note: Learn more about how you can turn your pictures into cash in our free online newsletter The Right Way to Travel. Sign up here today and we'll send you a new report, Selling Photos for Cash: A Quick-Start Guide, completely FREE.]