Yesterday, professional stock photographer Shelly Perry told us which reader photos she liked best for sale as stock photography. If you missed her slideshow, you'll find it here. The great thing about selling your photos as stock is that submitting and selling photos is easy. You don't need your own website. You don't need to do any marketing. And you don't need to print or frame anything. All you need is the basic know-how to determine what sells and what doesn't, and you need some tricks for simple photo edits. Shelly's in Ecuador this week leading our photo expedition there. But that's exactly what she taught the attendees today. I asked Bonnie Caton, who's there with her now, to give us a quick rundown on what Shelly taught today. You'll find her report on these simple photo edits below. And, of course, if you're coming with us to Nashville you'll not only learn these editing tricks first hand, you'll also get what's called a "Lightroom Preset" from Shelly. With the click of a button, your photograph will automatically edit itself (saving you from having to learn most of this). Scroll down below for Bonnie's report… — Lori Lori Allen Director, Great Escape Publishing P.S. Don't think you can get away with submitting photos for stock that haven't first been edited.  Stock inspectors can tell right away if a shot hasn't been processed. Straight out of the camera, most shots have what Shelly calls a "gray film," or grayish tone over the whole photo. It's a quick, one-minute fix in Lightroom. And it HAS to be done. ******************* February 19, 2010 The Right Way to Travel, Weekly Photo Tip *******************
Simple Photo Edits: Three Quick and Easy Post-Processing Tricks
By Bonnie Caton in Cotacachi, Ecuador We're lucky to have professional photographer Shelly Perry on hand at these photo expeditions and workshops. Not only is she an amazing photographer, but, up until a few months ago, she was also an official inspector for iStockphoto.com. She was the one behind the scenes deciding which photos were accepted for sale, and which ones were rejected. Shelly will tell you that one surefire way to get a photo rejected is to upload one that hasn't been processed. [Note: We use Adobe Lightroom for post-processing because it's become the industry standard for professional photographers. Nashville attendees will get Lightroom lab time with a professional AND take-home video tutorials on post-processing. Learn more about the workshop.] Here are some bare bones Adobe Lightroom maneuvers you can use to quickly and simply process your photos to sell them as stock. If you're not coming with us to Nashville, you'll need to keep these steps handy each and every time you want to sell a photo as stock… BARE BONES PHOTO EDITING With your photos in Lightroom, in the "Develop" mode, start at the top of the editing options and work your way down. STEP 1: Look at the histogram, and adjust your exposure. The histogram is the graph at the top of your tool palette, over on the right. It looks like this: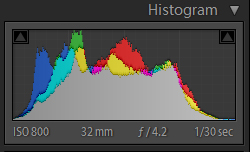 If your image is over- or under-exposed, the colors inside the histogram will be "clipped" on either end, looking as though they extend beyond the border of the graph. "Clipped" means that there are areas of total black or total white. If that's the case, stock sites won't take your image. Here's a histogram for an image that has clipped black areas: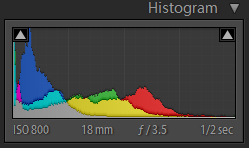 If you want to find out exactly where in your image there is too much white or black, just hover your mouse over the little triangle at the top left (indicating the blacks in your image) or the top right (indicating the whites) of the histogram. When you do this, any areas that are totally black will show up as blue, while any areas that are totally white will show up as red on your screen. Now, adjust your "exposure" slider until the clipped areas disappear. As you start to make adjustments to your photo, you can refer back to the histogram to see how the exposure has changed and whether or not it needs further tweaking. STEP 2: Adjust the tone. Next, move on down to the tone section, shown below, where you can make slight adjustments to the exposure of your photo, use the Recovery slider, bump up the fill light, darken the blacks, and/or play with brightness and contrast.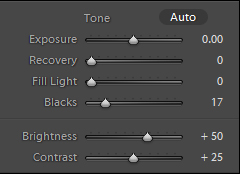 Recovery works with the highlight areas and can bring back spots that are blown out or appear too bright. (You'll see the result on your histogram.) Fill Light adds a little more brightness to the mid-tone areas, and the Blacks slider will darken your dark areas, sometimes giving your image a little more definition. As a stock inspector, Shelly warned us that with all sliders, we should use gentle, easy adjustments when processing for stock. Too much fiddling and you risk introducing other issues. STEP 3: Adjust your Tone Curve. Shelly tells us she adjusts the Tone Curve for EVERY image she processes. Slightly bump up the lights and down the darks in your image by grabbing the parts of the line circled below — dragging the upper part up a little more and the lower part down. This stretches out the contrast a bit more and helps eliminate any flat dullness to the overall image.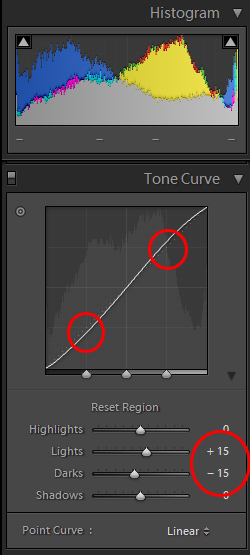 Again, notice how the histogram is changing. Once you do these three simple photo edits — the real bare bones of processing — you can start to play around with rotating your image, cropping it, making adjustments to the color, and other changes. But for now, this may be all you need to make your shots polished and clean for stock. [Editor's Note: Learn more about how you can turn your pictures into cash in our free online newsletter The Right Way to Travel.  Sign up here today and we'll send you a new report, Selling Photos for Cash: A Quick-Start Guide, completely FREE.]