An Interview with Photographer Pat Stevens
BONNIE: Pat, I understand you're a self-taught photographer. How did you get into photography?
PAT: I've loved taking pictures ever since I was a kid. And I'm a bit of a technology geek – so I've always purchased nice equipment. I was never one for reading the instruction books and manuals, though.
I learned much of what I know through trial-and-error, but I was also fortunate enough to be able to attend a couple of AWAI Ultimate Photographer's Workshops. Hearing advice from real professionals — as well as commiserating with other amateurs like me — was extremely helpful.
And, now that I've been published, photography has morphed into a full-on addiction. Of course the cash is nice too, although much of it has been funneled back into more gear. It's a vicious cycle, but a fun one.
BONNIE: Do you mind if I ask how much money you make for your photos when they're published in an in-flight magazine, cover included?
PAT: The pay rate varies by publication, and also by how many photos are used. Most publications use a sliding scale based on image size. For example, a quarter-page image will bring in about one quarter the money a full-page image does.
I make between $1,200 and $1,500 for a two- to four-page article, including the cover shot.
BONNIE: Had you ever sold any photos before you started taking photos for Jen's in-flight magazine articles?
PAT: No – and I didn't have the foggiest idea how to even go about trying. But getting that first one published was motivating and certainly made getting published again much easier.
BONNIE: So how did you get from having never sold a picture to getting on an editor's good side?
PAT: The key thing I learned was to start thinking like an editor. Or at least to try to make the editor happy. Since my wife has experience as both an editor and a publisher, this was not a new experience for me.
Reading publications' photo guidelines helps, but the important thing is to focus on what types of photos a magazine used in past issues. I also searched publication archives for layouts that won industry awards. Looking at the best is always a great way to learn. Once I developed a feel for what the editors like to see, life got much easier.
BONNIE: How many photo assignments have you had now?
PAT: In July I get to marry two of my loves – golf and photography – by shooting at the Broadmoor Country Club and the men's US Senior Open. Then, Jen and I fly to Arizona to do a cover story on Tucson. That will be my seventh assignment.
Past assignments include stories on Colorado Springs, Omaha, Mueller State Park, Old Colorado City, and the Garden of the Gods.
BONNIE: What would you say are the top few things you've learned that make your photos desirable to editors?
PAT: Well, first, I've learned to provide a wide variety of shots. It's difficult to know exactly what angle the editor and art director are going for – so you want to give them a good variety to choose from. A mix of horizontal and vertical shots is important – even of the same subject – so the art director has the freedom to use the shots in different layouts.
Second, take both landscape shots and macro shots. An entire article with landscape shots can be very boring, so mix it up with close-ups. A flower arrangement, an apple, a hand… even something as mundane as a fork. Macro shots can provide a feeling of intimacy, and, paired together with a more informative landscape shot, the result is a more interesting story.
Here are a couple examples – one provides a nice vista of Pike Peak but the other makes you want to sit down and have a bite to eat: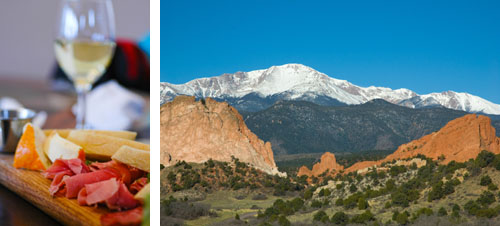 Third, don't forget to add people. Adding people to your shots humanizes a place and makes it feel more inviting. Readers are able to envision themselves in a place if they see other people there.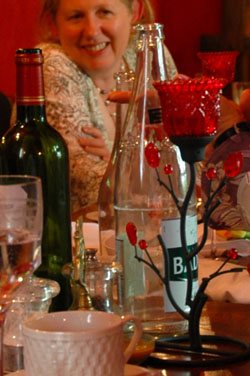 Photographing strangers can be one of the hardest aspects of magazine photography, but it's well worth the effort.
Take a look at this example on the left.
I love the clutter surrounding a good meal and take lots of shots like this.
And finally, tell a story. The AWAI photo course, Turn Your Pictures into Cash, emphasizes that every picture should tell a story. And that's certainly true, but the thing to keep in mind here is that you're sending in eight or 10 pictures bundled together.
It's important that the pictures support each other and collectively tell a story, rather than each one individually standing on its own. See the example from an article on Colorado Springs, below.
It's a simple photo of some chairs, but together with the written story about dining possibilities, as well as the other photos, you get a real feel for the place.
BONNIE: Have you met with any surprises or difficulties along the way?
PAT: Shooting on assignment has its pressures. In the past I could walk the streets of Paris and casually look for good shots, which is great fun. But arriving in a new city and knowing that I need to produce 10 publishable shots plus a cover shot – and in only two days – is a daunting task.
You need to capture that cover image in a way that tells the story. When you find an interesting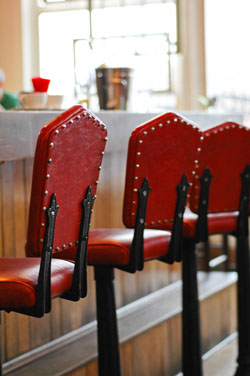 shot, you have to make darn sure you got everything right. There is no coming back tomorrow to correct the exposure or to move the piece of trash you didn't notice the first time.
One thing that really helps me is that, just like Turn Your Pictures into Cash recommends, I shoot everything in the RAW format. Even shots of my own kids playing in the backyard. RAW produces big data files that are a bit more trouble to work with, but with Photoshop or Lightroom you can recover from a multitude of sins with all that data. It's simply invaluable.
BONNIE: What do you like most about getting your photos published along with Jen's articles in in-flight magazines?
PAT: The thing I like most is the feedback from the editor and art director. I might submit 35 photos for a story, and they will choose eight to 10 photos from that group.
The same goes for a cover shot. I might submit 10 photos, and they will mock up two or three into sample covers to test them out. Seeing what images they choose and responding to their follow-up questions has been invaluable to me in improving my eye for taking future shots.
Every time I go through the process I get a tiny bit smarter, and I get a better appreciation for how much more there is to learn. It is a fun journey.
[Editor's Note: Learn more about how you can turn your pictures into cash in our free online newsletter The Right Way to Travel. Sign up here today and we'll send you a new report, Selling Photos for Cash: A Quick-Start Guide, completely FREE.]