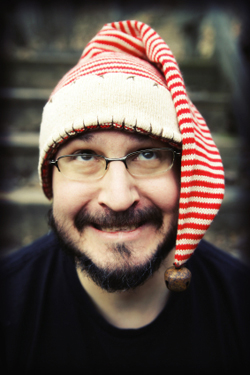 "What do you want for Christmas?"
It's hard to answer this question when as a stock photographer, what you want for Christmas includes a bigger camera, a faster lens, and a nice photographic vacation somewhere exotic.
Since Black Friday is coming up in less than a week, here are a few ideas for your wish list that fit a range of budgets. Drop a hint… or pick up something for your budding stock photographer friends.
$10 – $30 Budget:
Reflector – A must-have tool when photographing people outdoors in natural light. Impact makes a 5-in-1 collapsible reflector with gold, silver, white, and translucent surfaces for about $25 at B&H Photo. They also have two-sided reflectors for around $17, and plain white/translucent for around $10.
Bigger/Faster Memory Cards – SD card users can go for an SDHC card (the HC stands for High Capacity), which go up to 32GB. When you buy, look at the card's class. Class 6 means the card can store data at 6MB per second, and Class 10 at 10 MB per second. Check in your camera manual or online to see how fast your camera can write data before going for the more expensive Class 10 card.
When buying CF cards, look at the size (they go up to 32GB) and also the read/write speed. The speed ratings on CF cards are measured by 1 x 0.15MB/second. So a speed rating of 66x is about 10MB/second, and 133x is about 20MB/second. Again, check your camera's write speed before springing for a super-fast card. Check Amazon.com for good deals.
The Lazy Man's Guide to Stock Photography – If you're itching to sell photos online as stock, but you don't have a lot of time to spend figuring out how it all works, drop a hint that you'd like a copy of the Lazy Man's Guide to Stock Photography for easy tips that you can use to turn your everyday activities into stock photo income.
The Quick and Dirty Guide to Stock Photography – A great companion to the Lazy Man's Guide, with The Quick and Dirty Guide to Stock Photography you'll get easy-to-follow instructions on applying and submitting to over 20 approachable agencies.
$30 – $60 Budget:
Hardware Store Work Lights – You can create a near-instant studio space in your home with some hardware store work lights and a big roll of paper. Though not as bright as studio flashes (and they do get hot) you can get started photographing people or objects with two or three shop lights. Workforce makes a halogen portable work light which sells for $15 at Home Depot. Pick up three for a complete set.
Seamless Paper Roll – Seamless paper backgrounds come in a flurry of colors — though you might start out with white — and run around $20-$50 on Depending on the width and how many yards you want. You'll find them at B&H Photo or Amazon.com.
Photo Tip Cards – The AWAI-exclusive Photo Tip Cards make it so much easier to take beautiful photos when you're out in the field. Get your settings right the first time, and cut down on your processing, produce striking images, and get accepted more quickly to stock photo agencies. They make a great stocking stuffer — even if you're stuffing your own stocking.
$100-$300 Budget:
Adobe Lightroom – If you don't yet have the photo processing program Adobe Lightroom, go get a 30-day trial version from Adobe.com. You can use a fully-functional version of the program until your 30 days are up, at which point it'll stop working and ask for a serial number. Lightroom not only allows you to process photos beautifully, but you can also organize them, keep them in "collections," add keywords and titles, and more. It's well worth it if you truly want to sell stock photos… and even more worth it if someone gives it to you as a gift!
The 2010 Ultimate Stock Photo Workshop-At-Home Package – Now here is an awesome gift — the next-best thing to being at our biggest stock photo workshop in person, The Ultimate Stock Photo Workshop-At-Home Package lets you virtually attend from home. Get up and running with stock photography and start making sales sooner with professional tips and advice from the 3-day workshop. You get all of the recorded sessions, PowerPoint presentations, hand-outs, video processing tips, and more… and you can do it all in your pajamas, if you want.
The "I'll Love You Forever" Budget:
Hint Dropper Alert: Huge photo workshop deals are coming up in our Thanksgiving Sale this week. Nothing gets you started faster than picking up your camera and taking photos alongside a professional. Our workshops speed up your learning while you're out shooting — plus, they're a blast. Stay tuned for more info on workshop destinations and deals this week and maybe "accidentally" link to one in an email to that special someone. Did I mention spouses and guests get to join in at the biggest discount of all?
— Bonnie
Bonnie Caton
Great Escape Publishing
Breakfast Stock Club
P.S. This time next week, I'll be on our Thailand Photo Expedition with professional photographer Rich Wagner and 10 fellow shooters out soaking up the sun, perusing markets, photographing glittering temples, elephant trekking through the jungle, and generally having a blast. Stay tuned for updates and tips on taking travel stock photos.
When I'm back in mid-December I'm cooking up something special for Breakfast Stock Clubbers involving more stock-focused monthly challenges, more professional photo reviews, more lessons, and more stock photos to upload for everyone who gets involved. More on that in coming weeks, too.
Your Weekly Breakfast Dish
The latest from your Breakfast StockClub Facebook Page
BSC-ers have been busy this week learning, experimenting, trying new things…
From Caroline Maryan: Just finished Kevin's "Stock Sales Made Simple." I learned a lot and it got me thinking and exploring on the stock sites. The 2 sites that have specific Travel categories, Dreamstime and Fotolia, are the ones that have accepted more of my photos — mostly travel oriented. And that's where I've sold the most. So, maybe the rejections at other sites are more about what sells at those sites and less about the quality of my photos. 🙂
From Joy Ciaccio: I am loving the adjustment brush in Lightroom!! I went back through my library of rejections and others that I never submitted because of exposure, gray backgrounds, etc., and just spent a couple of minutes with that brush and voila!! More potential uploads…
[Editor's Note: Learn more about how you can turn your pictures into cash in our free online newsletter The Right Way to Travel. Sign up here today and we'll send you a new report, Selling Photos for Cash: A Quick-Start Guide, completely FREE.]