The camera doesn't make the photographer. However, some good photo gear can go a long way to help you shoot your best shots out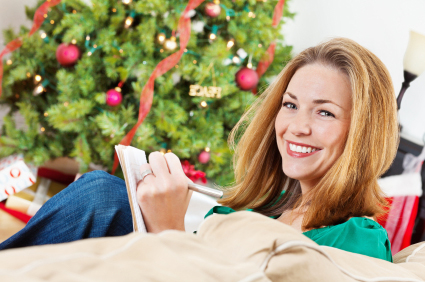 in the field.
I asked stock photographers Andrea Gingerich, Shelly Perry, and Danny Warren what they'd put on their holiday wish list if they were just starting out in stock.
Here's what they said:
From Andrea Gingerich
1. A good camera strap that doesn't put all of the camera weight on your neck for long shoots. And one that holds extra memory cards or business cards is even better. I use a Black Rapid strap. It's great for all types of photography and they even make one specifically designed for women. I keep business cards in the strap pocket that I can hand out when needed.
2. The Giottos large size Rocker Air blower. This is what I use for clearing dust off of my sensor on a regular basis. You don't want to use any kind of compressed air or any other products that may damage the sensor. For under $10, this is a perfect stocking stuffer.
3. Op/Tech RAINSLEEVE. These are very affordable and come in packs of 2. These are great for shooting in the rain because they cover the camera and most lens sizes.
From Shelly Perry
1. A softbox for my off-camera flash, so that I can photograph people with flash, and have a softer, more diffused light. I'm looking at the Lastolite LL LS2438M2 Ezybox M2 Hotshoe (15-Inch x 15-Inch) on Amazon for $158.00.
2. Candy Stylus & Pen for iPhone and iPad, both of which I use every day. This one is both a stylus and a pen… and it looks nice, too. It's $34.95 on the Hard Candy Cases site.
3. Lastolite HiLite Illuminated White Background (6 x 7′) – This makes it much easier to isolate people on a white background, since the light is coming from the background, itself. Price: $474.50
4. Lastolite Medium Skylite Kit (White/Silver) – For diffused light when shooting outdoors in direct sun, or in a studio with lights. Price: $254.95
If I were dreaming… the Leica – M9 Rangefinder
And a fun one, if I wore a watch, would be this cool F-Stop Watch $35.95
From Danny Warren
1. A solid mid-range DSLR with one or two sharp lenses [Ed. Note: See our Camera Buying Guide for some suggestions.]
2. Photoshop Elements – At $100, it's much cheaper than the full version of Photoshop, and you can still do everything you need for stock.
3. The patience to stick with it and learn – Priceless.
As for me, I want an "R Strap" from Black Rapid, same as Andrea suggested. Specifically, I want to try the RS-W1 version, which is designed for women.
I also want a Lensbaby Composer, which is a special lens that keeps one area of your photo in focus, while the rest goes into a wild, creative blur.
And a new pair of poofy down slippers from REI so that my toes will stay toasty while I'm processing and uploading photos.
[Editor's Note: Learn more about how you can turn your pictures into cash in our free online newsletter The Right Way to Travel. Sign up here today and we'll send you a new report, Selling Photos for Cash: A Quick-Start Guide, completely FREE.]
Your Weekly Breakfast Dish
The latest from your Breakfast StockClub Facebook Page
I asked readers what they're putting on their stock photo holiday wish list. Here's what they said, from the Breakfast StockClub Facebook Page:
From Stri Der: Nikon D7000!
From Lynn Allen-Michels: The Nikon D700, and I still need to upgrade my Lightroom to 3. And just more traveling…
From Joy Ciaccio: Lynn, I just saw an advertisement for Lightroom 3 for half off on Adorama. And the D700 is a completely wonderful camera…
From Kathleen Groeneveld: A new lens would be great.
What's on your list? Add it to the Breakfast StockClub Facebook page.