Lightning is by far the most exciting thing I've ever photographed. The thrill of being close to a storm… seeing giant bolts split the sky… and then catching them in your camera. There's nothing like it. And it's very saleable.
This one shot alone, taken by weather and nature photographer Kristen Bentz, sold as a fine-art print for $1,300!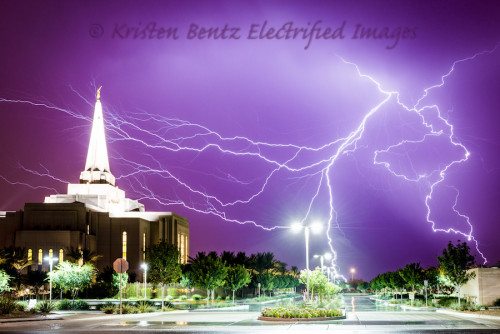 Bonnie, here, coming to you on Day 4 of our Tucson Storm Chasing Expedition. Everyone in our group is high off of the excitement of learning how to shoot lightning. And everyone is walking away with great shots.
Earlier, I told you how to stay safe while shooting lightning by keeping out of the "Thunder Zone." Today, here are a few of Kristen's secrets for getting great lightning photos:
When the wind picks up, shoot. Typically, the wind will pick up before lightning strikes. So if you feel it blowing, get ready to hit your shutter.
Get with the rhythm. Lightning tends to have a rhythm, sort of like ocean waves. It doesn't always strike at even intervals, but it comes pretty close. If you can observe it for a while, you'll start to get a feel for when it'll strike next.
Go with the flow. Watch which direction the storm is moving and place yourself to the side of it. That way, it won't move directly OVER you (which would be dangerous) or AWAY from you (which would be too bad).
Here's one of the shots I got using the above techniques: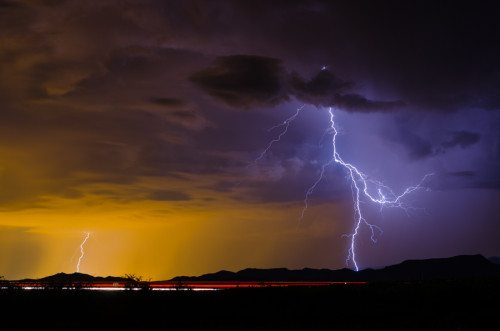 I can't wait to print it, and maybe put it up for sale on a fine-art website!
More from Tucson tomorrow… 
[Editor's Note: Learn more about how you can fund your travels and make an extra income with photography, travel writing, blogging, and more in our free online newsletter The Right Way to Travel.  Sign up here today and we'll send you a new report, Five Fun Ways To Get Paid To Travel: A Quick-Start Guide, completely FREE.]