Gone are the days of perfectly-staged model photos.  Photo buyers don't want stuffy and fake, anymore. In are the days where photos of real people doing real things, having real emotions sell best. Two of my top-six selling photos have people in them and are photos you can easily create this holiday weekend…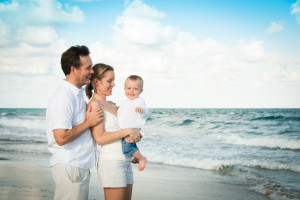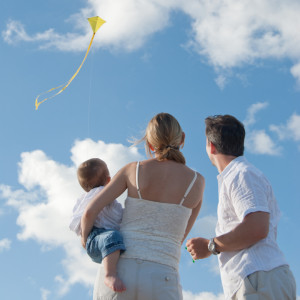 Just keep these things in mind:
The lighting must be right.  Blue skies with clouds are great.  But so are rainy and overcast days if they fit the theme of your image.  If it's nice outside, head out early or stay out late and avoid those hard sun hours (I think these two photos above were shot around 4:30pm with the sun peeking in and out behind the clouds).  If it's raining or overcast, you have a little more freedom.  Just make sure it's right and it fits your theme.
Your images must be clean and clutter clutter-free. Remove all deserted beach towels, trash, etc.  Hold the camera to your eye and scan from top to bottom.  Say out loud what you see: sky, kite, cloud, baby looking up, mother looking up (with possible logo on her shorts, must check that), father (with possible watch logo, must check that). Say it out loud and you'll find you notice more.  (And, of course, follow through by checking on those logos. They sometimes hide on buttons, watches, shoes, and sunglasses.)
Quantity is your goal this weekend. Quality is important, of course. But when you're first starting out, shoot for quantity so you can learn from your mistakes.
Whatever you do, don't be afraid to experiment and try different things. Sometimes, when your goal is just to learn from your mistakes, what you actually come home with is a new skill…and a beautiful photo you didn't even know you could take. Share on Facebook
[Editor's Note: Learn more about how you can turn your pictures into cash in our free online newsletter The Right Way to Travel.  Sign up here today and we'll send you a new report, Selling Photos for Cash: A Quick-Start Guide, completely FREE.]