Now you can sell your lunch AND eat it, too.
Bonnie here, again, with a few tips for taking high-selling stock photos. 
This week's theme: Food!
According to Google's latest trend report, food is in.  And at the top of the list for rising food trends is ramen noodle soup. 
Now, I love noodles so this is GREAT news for me. It means I can photograph my lunch and eat it, too (which I did after taking the pictures below).
For the sake of illustration, I don't have any ramen in my cabinet, so I used udon noodles, instead.  Here's my lunch, before I dug in: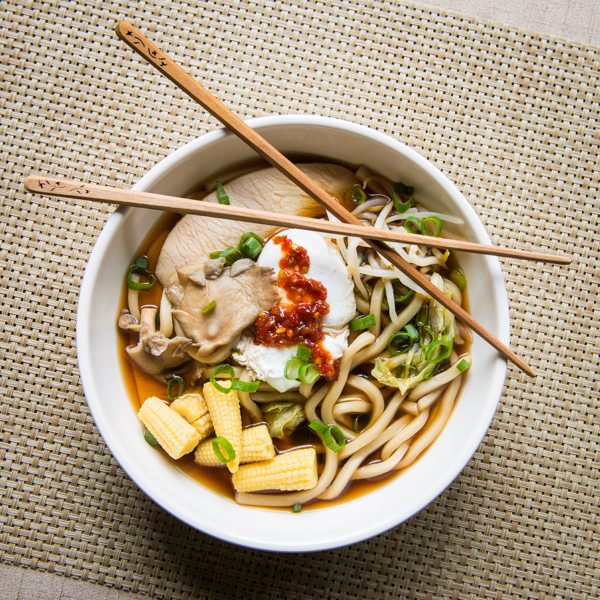 Now, if I had more time, I'd run to the store and get ramen as that's really the trend. But the great thing about stock is that I can upload both and see how they do. Udon today. Ramen tomorrow.
When you work with a food photography client, you don't have this kind of freedom. They'd either supply you with the ramen or you'd have to run to the store and get it. But with stock, anything goes.  No one is looking over your shoulder to correct you. You can photograph your lunch all week if you want to.
This photo has already sold twice for me since I uploaded it last week.
And a chef I am not.
Next time you plan on making your own meal, set up a little scene on a table next to a window with indirect light and turn it into a stock photo shoot!
Tomorrow I'll tell you the number-one easiest, most impressive food photo trick to make your food shots look amazing.
[Editor's Note: Learn more about how you can fund your travels and make an extra income with photography, travel writing, blogging, and more in our free online newsletter The Right Way to Travel.  Sign up here today and we'll send you a new report, Profit From Your Photos: A Quick-Start Guide, completely FREE.]