It's THANKFULNESS, DAY 4 and today I'm thankful for repeat and new clients.
I don't advertise my photography business. But clients tell friends, who become clients, who tell friends who become clients… and business just kind of rolls in.
When I moved from Portland to the Oregon Coast, I knew I'd lose some headshot and family photo gigs… but I've still been able to shoot gigs for my old clients and the referrals they send me when I visit Portland. 
Which leads to a solid chunk of change in my pocket!
How much change?  Well, the year hasn't ended yet but I suspect my final year-end photo income will be around $12,000.  This is all part-time income I collected outside of my full-time work hours.  It's all icing on the cake and for that I'm incredibly thankful.  Not everyone has $12,000 icing or a skill they can use to get it.
My clients have become friends and their friends have become clients, too, which is fun.
Over the years I've watched babies turn into toddlers in front of my lens.  I've photographed families with new dogs and very, very old dogs.  And I'm basically peeking into their life every year and documenting the changes, which feels good.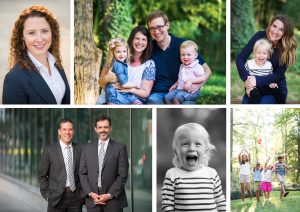 Taking and selling headshots is super-formulaic… and once you get it down, it can snowball into a solid side- or full-time income. 
It's thrilling to make income doing something you really enjoy. And it's certainly validating when the same clients come back again and again.
Want to try it?  Here's what you need:
A solid hour or two and a willing model…
A camera with a good lens…
An outdoor location with good light—best to scout one out ahead of time, at the same time of day you plan to shoot…
A piece of foam core board from the craft store.
Go here for instructions on using that foam core board to get a good headshot.  
Happy shooting!
[Editor's Note: Learn more about how you can fund your travels and make an extra income with photography, travel writing, blogging, and more in our free online newsletter The Right Way to Travel.  Sign up here today and we'll send you a new report, Five Fun Ways To Get Paid To Travel: A Quick-Start Guide, completely FREE.]