ADD DYNAMISM AND SALEABILITY TO YOUR SHOTS WITH A TWIST OF THE WRIST
By Efraín M. Padró in Santa Fe, New Mexico
One of the most important principles when photographing for a magazine article, for stock, or while on assignment, is to work the subject.
Take all kinds of shots — wide angle shots, close up shots, detail shots, vertical shots, horizontal shots, shots with people, shots without people, day shots, night shots, and whatever else you can think of.
One thing a lot of people don't consider is taking shots on a diagonal. Angled shots, where the subject is not straight, will add dynamism to your images and offer more options down the road.
However, there is more to taking angled photographs than simply tilting the camera. Here are some tips for better angled images…
**1. Pick the right subjects. Not all subjects are created equal, and some will look better at an angle than others. In general, there are two types of subjects that look good at an angle: subjects where there is some sort of movement going on, such as a sporting event or activity; and subjects that are otherwise static but have some nice angles that you can use to create a more dynamic composition, like a church spire or other graphic element.
** 2. Do not be subtle. If you are going to photograph subjects at an angle, be bold about it. Nothing bothers the eye more than an ever-so-slightly tilted image with a strong horizon — such as the ocean — since it looks like you made a mistake.
** 3. Do not overdo it. Tilting your images is a little gimmicky and should not be done every time you take a picture. A good exercise is to look through your viewfinder while angling the camera this or that way to see whether a subject looks good angled or not. If in doubt, take the picture and decide later if it is a keeper.
Here are two examples of successful angled shots I took while on assignment in Puerto Rico: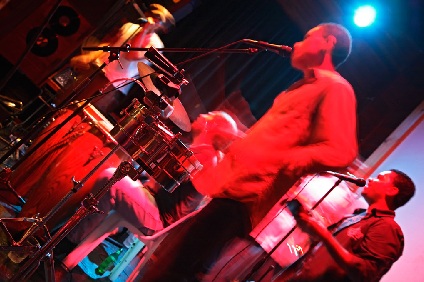 This first one depicts a salsa band in an Old San Juan nightclub. Obviously we can't hear the music, but most people know that salsa is full of life, movement, and intensity, and tilting the camera emphasized the dynamic feel of the scene.
By contrast, I also had the opportunity to photograph the Puerto Rico Symphony Orchestra during the assignment, and, on that occasion, I leveled my camera to best depict classical music's more conservative tenor.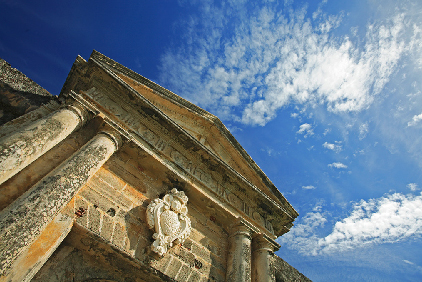 This second image depicts the entrance to San Felipe del Morro Castle in Old San Juan. While nothing says "straight" more than a fortified stone entrance to a castle, I felt the columns and triangular entrance top created a nice arrow pointing toward the sky, making an otherwise static image more dynamic. I also took some traditional images to round out my collection.
After my trip to Puerto Rico, I had the opportunity to send a selection of images to a photo editor of one of the local tourism magazines on the island. A few days after he received the images, he remarked on how much he liked the tilted versions of my pictures and decided to use some of them in an upcoming tourism publication.
From now on, I'll always consider taking angled images as part of my routine when photographing any subject… and you should, too.
[Editor's Note: Learn more about how you can turn your pictures into cash in our free online newsletter The Right Way to Travel. Sign up here today and we'll send you a new report, Selling Photos for Cash: A Quick-Start Guide, completely FREE.]