Danny Warren and his friends love to get outside. As a grad student in the Pacific Northwest, he likes to hike, climb, and camp with his wife and friends and then take pictures of what he's doing to sell as stock photography for a nice side income. Which photos sell best for him? Find out below. — Lori Lori Allen Director, Great Escape Publishing THE FIVE CHARACTERISTICS OF A STAND-OUT STOCK PHOTOGRAPH By Danny Warren in Portland, OR The online stock photography industry has grown tremendously in recent years and there is an increasing market for a wide variety of images. I've found a niche photographing things I do for fun — hiking, camping, climbing, and traveling. Capturing marketable stock images of these activities has proven both enjoyable and challenging and I've learned a few tricks along the way. Buyers have thousands of images to choose from in virtually every subject matter and competition is strong. "How do you make them choose my picture?" is the question we all ask ourselves. Through time, I have found that the most successful stock photos share some basic traits.  Whether you are also photographing your hobbies or some other subject matter, make sure your images possess these five characteristics to help them stand out from the crowd. ** 1) A CLEAR THEME This is possibly the golden rule for all types of stock photography and is especially true when you are photographing activities and recreation. If you can't get this right the rest doesn't matter. Someone looking at your photo should instantly be able to identify the subject and message the photo intends to convey. Try to think beyond basic descriptive themes like travel or cooking and see if you can capture conceptual ideas like adventure, fun, or success. ** 2) REALITY Even if your shot is staged, it needs to look like it could be real. Buyers want a stock photo that doesn't look like a stock photo and they're savvy enough to sniff out fakes. How many camping shots have you seen that look like they are taken in someone's backyard with nice looking models with their hair done?  Who looks like that when they're camping? Here's a shot that I took on a real camping trip and better conveys a genuine concept of camping trip in my opinion: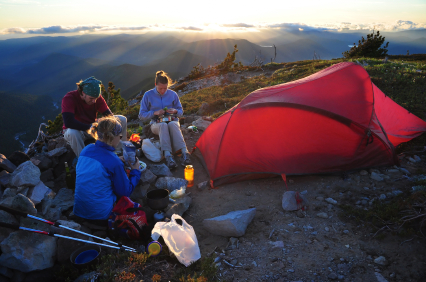 Keep in mind that an obvious market for your images are specialty publications focused on the subject of your photo — for instance, many of my pictures appear in advertisements and articles in outdoor recreation magazines and websites. Pay attention to the accuracy of the little details (props and other visible items) to ensure authenticity and maximum usage potential of your photo in markets like these. ** 3) PEOPLE Shots with people generally sell better than shots without, especially when the subject is a recreational activity. The challenge is to show genuine human interaction and make your subjects look natural an unposed. You want to time your photos to capture the best facial expressions and body positions. Choose clothing and accessories that are appropriate for the situation. For instance, with hiking photos, I like to use solid colors (remember to avoid logos) that contrast with the surroundings to help draw attention to the people. The image below is a simple shot, though it took me 25 takes to get it the hikers positioned just right and find the best overall composition. The final product is a clean image with two natural looking hikers that look like they are just strolling by: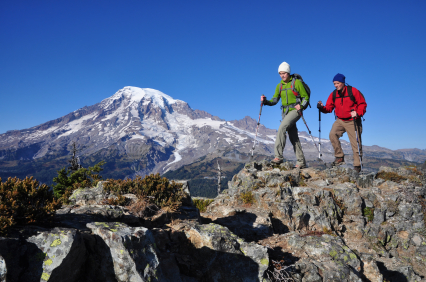 ** 4) STRONG COMPOSITION Either fill the frame with the subject, or artistically leave room for copy with clean blank areas like the sky or out of focus backgrounds and foregrounds. You want to avoid having any elements of the image distract from the central concept. Shoot a scene both vertically and horizontally if possible to give designers more flexibility and increase your sales potential. Your overall goal should be to have all of the elements of the image work in concert to capture the essence of the activity, people, or place you are photographing. ** 5) A CAPTIVATING SCENE Whether it is a mountainous landscape, the beach, or a kitchen, you want your images to be visually stimulating — something that grabs the viewer. Having an intriguing setting is the icing on the cake if the other points are met. It will set your image apart from others and make it highly saleable. This shot is among my best-selling images because it has all of these elements. It conveys a sense of adventure and exploration, it looks like it is real (it is — I took it before I started shooting images for stock!), attention is drawn to the person, the composition is both artistic and gives a designer options, and finally, the scene is beautiful and unique.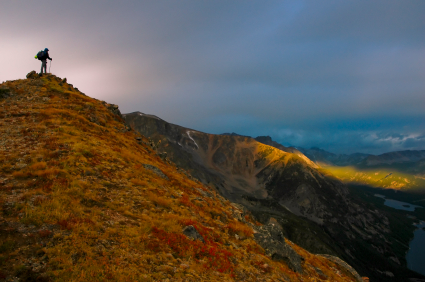 [Editor's Note: Learn more about how you can turn your pictures into cash in our free online newsletter The Right Way to Travel.  Sign up here today and we'll send you a new report, Selling Photos for Cash: A Quick-Start Guide, completely FREE.]