When you purchase a new camera, the first thing that most people want to do is photograph everything… the produce on the table, the flowers in the yard, family and friends, textures… the list goes on!
But what you may not know is that those simple photographs could actually be saleable stock images.
Not long after I became a stock photographer and was still learning the ropes, I uploaded this simple stock photo of some blurred lights just to see what would happen.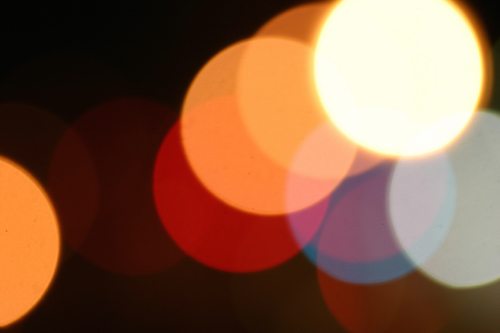 As you can see, this image is all out of focus. I expected that it would get rejected, but somehow it got in.
And I'm glad it did. Because, while this photo was taken 12 years ago, it continues to sell to this day. Overall, it's sold over 500 times… which comes out to well over $500 in income for me… and counting. Just from this one blurry photo.
Unfortunately not ALL of my stock images do this well, but this is an example of how one simple photo could actually be a money-maker for you.
Why is this simple photo a hit with buyers?
With stock photography, it helps to think like a designer. While this photo doesn't feature any main subject, it has a lot of use, from backgrounds to layers that could be incorporated into other designs.
It could also cover a variety of themes: holidays, birthdays, party, entertainment, nightlife, etc.
In fact, this very photo was used as a background image for a movie by Francis Ford Coppola!
When shooting stock, use your imagination. Think broadly. There are an endless number of subjects around you to be photographed. Not all of them may be your money maker… but some of them certainly could.
[Editor's Note: Learn more about how you can fund your travels and make an extra income with photography, travel writing, blogging, and more in our free online newsletter The Right Way to Travel.  Sign up here today and we'll send you a new report, Profit From Your Photos: A Quick-Start Guide, completely FREE.]