Breakfast Stock Club Premium member Theresa St. John is on a roll. She's selling her photos as stock… getting them published in magazines… selling them to restaurants… and having a blast while she's at it.
What's her one habit that makes it all come together for her?
I'll let her share, below…
— Bonnie
Bonnie Caton
Creator, Breakfast Stock Club
The Power of Asking
By Breakfast Stock Club Premium Member, Theresa St. John
As photographers and travel writers we are always looking for new ideas to add to our portfolios. A by-line! A picture! Our names in print! A paycheck!!
In retail I do not have a lot of free time, but have a love for photography and writing and always try to spend my free time practicing both.
Recently, I have had some sweet success and am starting to make real money. Money to me is stability — I need to pay my bills and have some left over for fun.
The trick, I've found, is in asking. Here's what I mean…
Last week I photographed a bridal shower for one of my best friends. It was held in a mansion right here in town. When she told me it was going to be catered, I was in seventh heaven! It was an opportunity to take more stock photography — of FOOD! I asked if I could arrive early to take some pictures.
The lighting was perfect! The caterer had all sorts of pies and cakes for desert. She had several burners with stainless steel pans full of delicious Italian dishes for the 60 plus guests.
While I was shooting, the caterer walked behind me and saw one of the shots in my viewfinder. "We need to talk," she said. "Can I pay you for a copy of these?"
I was amazed and thrilled and said "of course." (I never say no to money!)
When I finish editing the photos for my friend, I'll make an extra copy for the restaurant and get a paycheck for it.
Last weekend a friend and I went to Boston. We found a wonderful bakery, picked out a couple of cupcakes, and set up a little place in the corner window to take some pictures before we ate. The owners were fine with us taking a few shots (being polite and asking before you take the picture goes a long way). Now my cupcake photos are up on my stock sites AND we got a scrumptious desert before a healthy lunch.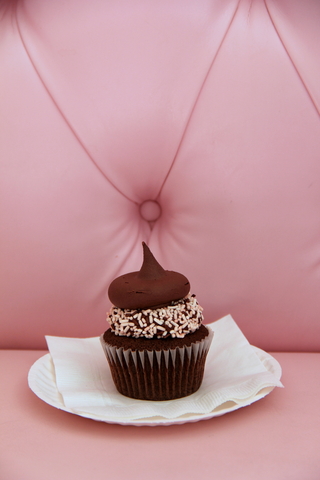 This Sunday I have off, which is rare in retail. I looked on-line to see what was going on in Saratoga and found a farmer's market. I LOVE farmers markets! Fruit! Vegetables! soap! So I Facebook messaged them and asked if they would let me come early and take pictures and maybe interview some vendors. I want to finish up a travel article I have been working on about things to do in Saratoga, regardless of the weather.
I got a wonderful response, and had an interview with the head vendor of the market. Took notes and got a feel for what I will see on Sunday. She is sending an email out to 35 vendors, telling them that I will be there and to help me promote the market in the community.
I wrote to a local magazine that I already work with and asked if she could see an article about the "little people" in farming, rather than the big conglomerates and she wrote me back with a deadline! Now my article and photos will be published in June's issue!
So, it is about asking. And not missing all of the wonderful opportunities that are right outside our front door. I ask all the time. People are receptive and almost always say yes. When they say no, just move onto your next idea.
You will be surprised at how fast you get propelled forward in this love of photography and travel writing. YOUR town is as full of beauty as mine is — go out there and grab it!
[Editor's Note: Theresa's an avid participant in all of the Breakfast Stock Club Premium Challenges, always taking on the month's theme and getting stock photos she can sell. Join her and see what Premium Membership can do for your stock photo success, here.]
Your Weekly Breakfast Dish
The Latest from Your Breakfast StockClub Facebook Page
Here's what your fellow Breakfast Stock Clubbers are shooting right now:
Karen Padilla: Easter eggs maybe. Shot some photos on Mon. while at wine tasting (thank you Christina from GEP). Did learn that when tasting wine you should always take photos first – not after testing 5-6 different wines. Practicing with my monopod to get used to using it. Like it but need practice with it. It's heavier than my tripod but very sturdy and less intrusive than a tripod. Makes a good walking stick when walking in deep snow. (Another thing you shouldn't do after tasting wine.)
Deidre McConnell: Some Easter, spring gardening and green smoothies!
Luc Brousseau: Just finished processing 995 pictures from our vacation in St-Kitts, I'll be busy uploading to agencies for a little while.
Caroline Maryan: Istanbul while it's not raining… spices, textiles, lamps… Oh… and hanging around with fellow BSC member, Elizabeth Coughlan. Maybe we can be each other's models!
Elizabeth Coughlan: Great idea, Caroline. You will be a great model, I'm not sure about me! By the way, you forgot to mention photographing scarves in Bonnie's favorite scarf shop in the Grand Bazaar!