Lessons learned in the interior of Alaska:
1. Snot crackles when you breathe in through your nose.
2. Bubbles freeze instantly. If you blow on them after they're frozen, they explode into a million shards and float away like glitter.
3. Twilight lasts for hours.
4. Those are probably wolf tracks in the snow.
5. After experiencing a string of -20 degree mornings and nights, 0 degrees feels balmy.
Bonnie here, again, coming to you from our Northern Lights Photo Expedition at Chena Hot Springs.
Last night we hit the jackpot. After grinding up a mountain in a snow cat, we packed our stuff into a yurt and headed out into the cold. There it was… though we had some clouds here and there, the aurora was COOKING, with multiple bands of green spanning the entire sky.
Our cameras even picked up pinks… purples… oranges… and a few shooting stars!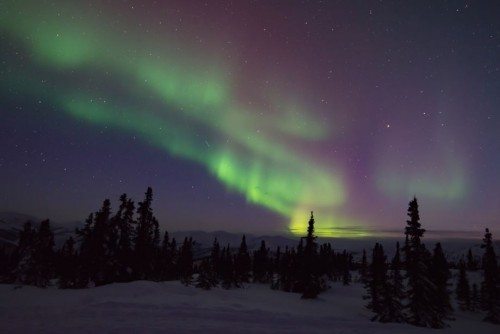 Lynanne Foster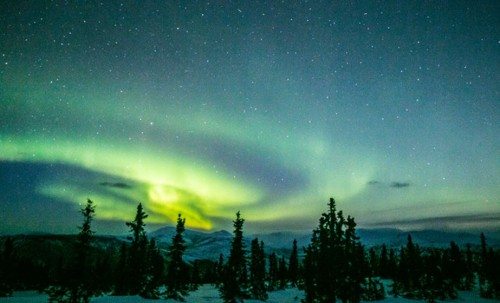 Courtney Edwards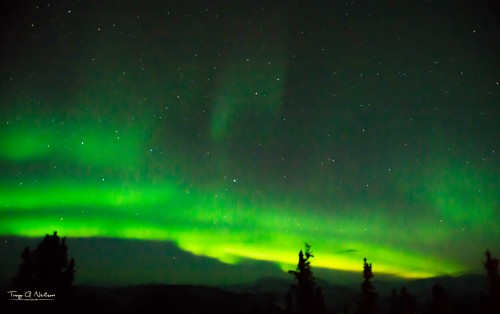 Troy Nelson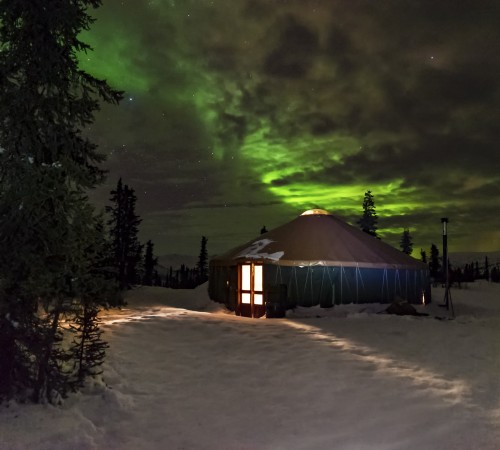 Terry Granger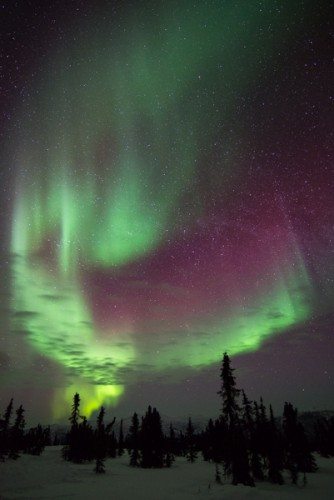 Bonnie Caton
Shooting photos at night is a completely different experience than shooting during the day. It's slower. More methodical. And you have no idea what kind of photo you're getting until it shows up on the screen.
But with or without the aurora, you can take some pretty awesome star shots, or play with light painting or drawing… like we did in these: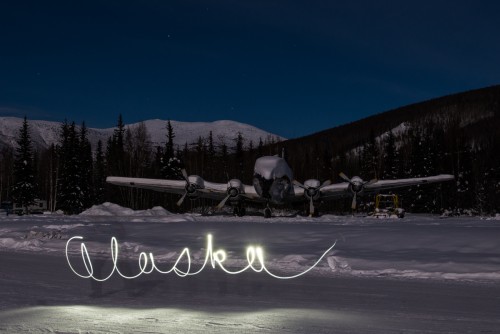 Linda Nicol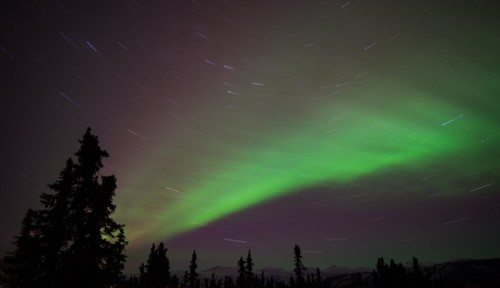 Bonnie Caton
Here's what you need to give it a go:
1. A sturdy tripod. Our instructor, Kristen Bentz, recommends this one by MePhoto.
2. A remote trigger or cable release for your camera. This way, you can take a photo without touching your camera… which greatly reduces your chances for jiggling it and getting a blurry shot.
3. Extra batteries. At night, when it's cold, batteries don't last as long. Stick a back-up in your pocket where it'll stay warm.
4. Dark. Get away from city lights and wait for a moonless night to shoot stars or the aurora.
5. Foreground. Find a mountain ridge… some trees… or another element to include in your photo besides the sky, to add interest to the shot.
6. Electrical tape. To make sure you're in focus, take your camera outside during the day, set it on the tripod, and turn your lens to autofocus. Then, focus on something really far away, like a mountain or hillside. Next, switch your lens to manual focus and tape down the focal ring, so you can't accidentally bump it. This will set your focus for night.
Finally, you'll need a little patience. The first few times you shoot at night, it might take a while to get your settings right. Take your time, slow down, and give yourself a few days and a few tries to get it right.
The end results are worth the wait!
[Editor's Note: Learn more about how you can fund your travels and make an extra income with photography, travel writing, blogging, and more in our free online newsletter The Right Way to Travel.  Sign up here today and we'll send you a new report, Five Fun Ways To Get Paid To Travel: A Quick-Start Guide, completely FREE.]