I always say that if you like to photograph people, you should start with friends and family.
But sometimes friends don't want to stand on a ladder in the middle of a city park on a cold day, wearing a 1970's wedding dress.
That's where models come in.
Last Saturday I met with a model for a "levitation" shoot. Here's how it turned out:
This is one of my favorite Photoshop tricks. I'm definitely looking forward to trying it again with more dramatic surroundings and poses.
While we were at it, we took advantage of the low winter sun for some creative silhouettes: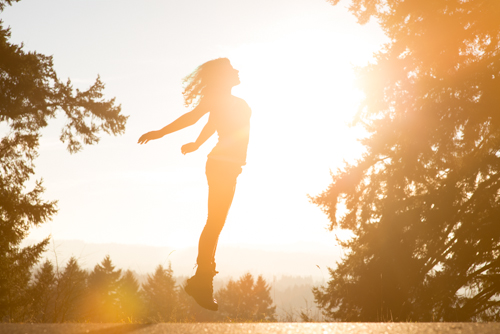 And did some straight head shots, too:
It was awesome.
Shooting with models is different from shooting with clients or friends. Many models want to build their portfolios, so they're willing to get creative — within reason, of course. And many will bring their own creative vision to the shoot, too.
If you want to give it a try, a good place to start is ModelMayhem, since you can search in your location and find models at a variety of experience levels.
Tomorrow morning I've got a very different kind of shoot: a corporate headshot. I can pretty much guarantee that no one will be levitating. But I will collect a check and get closer to my yearly income goal — and that's something to get excited about.
How are you doing on your yearly goals?
Let's check in next week.
— Bonnie
Bonnie Caton
Creator, Breakfast Stock Club
Your Weekly Breakfast Dish The Latest from Your Breakfast StockClub Facebook Page What are you up to this weekend? Share on the Breakfast StockClub Facebook Page. Here's what everyone was doing last weekend…
From Suzanne Gasaway: Kindschy Art and Wine Festival!!
From Theresa St John: I have a country gift shop in a neighboring town that has been kind enough to let me wander through the rooms occasionally to take pictures. In return I make a CD for them of the images. We both make out like a bandit and I usually walk away with many stock-worthy photos. I have not been there in awhile, so that's what I am hoping to do.
From Amy Muschik: Not for this weekend as I am getting ready for a big shooting event at the end of the month.
From Renee Rojas: Heading to San Francisco Monday… fabulous place for shooting photos!
From Jo Mujica: Just bought my first DSLR camera this month and I'll be taking my first basic camera class on Sat.
From Luc Brousseau: I'm experimenting with night photography, went out tonight for some practice and tomorrow I'm meeting with a group who are going snow shoeing in the woods at night. That should be interesting. I might even get some good pics for the Breakfast Club challenge #36!
From Elizabeth Coughlan: I did a portrait photography workshop this past week, ready for my imminent trip to Australia to meet and photograph my new grandson, and his big 4 year-old sister. As I am busy packing this weekend, I don't really have time to shoot. But next weekend…!